The catalyst for all pixel art that followed; CryptoPunks are a living part of NFT history. If you're one of the informed few that have been around crypto prior to 2017, you've witnessed the story for yourself firsthand.
From the original contract issue to their second biggest single day of transactions when they hit 127,293 ETH volume in a single day back in August 2021, it's time to zoom out and look back at how far the NFT market has come through the lens of CryptoPunks.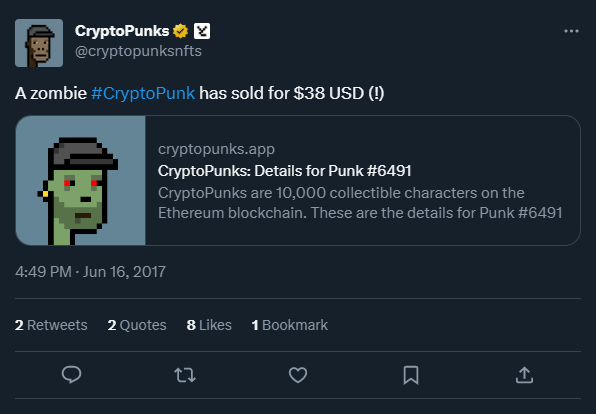 The Beginning
What a different world it was for web3 in 2017. Metamask was only a browser extension, ETH started the year at a whopping $10 and nearly hit 40x by June topping out around $372 the week of June 12th, and most of the world was still sleeping on cryptocurrency, let alone knew the possibilities of NFTs. It's amazing to look back and realize the web3 space most of us enjoy daily has come a long way in a debatably short amount of time.
CryptoPunks came to being thanks to a team of two Canadian software developers know to be Matt Hall and John Watkinson. They created the company known as Larva Labs, which inadvertently created the face of the Android global brand with their app known as Androidify.
June 9th 2017, the original CryptoPunks contract is deployed. The first official 10k NFT PFP collection with around 1k kept in possession of Larva Labs and the remaining available to everyone as a free mint (with gas fees of course). It took a little over a week for them all to get claimed, the majority of which came from the peaked interest that came with this Mashable article.
Shortly after, Larva Labs activated a marketplace so people could buy and sell their CryptoPunks. Prior to the marketplace launch, this was the process to obtain a CryptoPunk: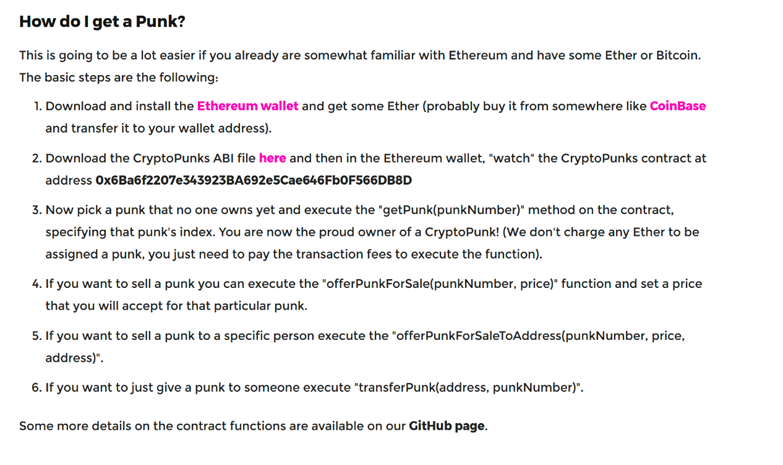 Unfortunately, upon launching the marketplace, a bug was detected.
The following excerpts come from nfthistory.org. Kudos to Leonidas.og and all the contributors that helped compile the detailed origin stories of CryptoPunks and other original collections.
"Once the entire collection was claimed on June 17, the marketplace was enabled and at this point it was discovered that the marketplace function contained a bug allowing the buyer, rather than the seller, to withdraw funds from a sale. Official trading was halted and seven days later the V2 contract was published and 10,000 new CryptoPunks were airdropped to the original claimants. CryptoPunks V1 remained on-chain but in the eyes of Larva Labs were effectively deprecated."

"On June 23, 2017 Larva Labs published a new contract containing a duplicate 10,000 CryptoPunks called "CryptoPunksMarket" which resolved the sales bug and added an additional bidding feature allowing people to make offers on punks that were not yet listed for sale. A line-by-line comparison of the two contracts[14] shows this was not simply a copy and paste update but rather significant upgrades were made in the new contract."
Here Comes the Boom
CryptoPunks organically grew for years after the initial launch. Avg sales per day were fairly low as was the price (ex: Ethereum Transaction Hash (Txhash) Details | Etherscan shows #6718 selling for a whopping 0.1 ETH valued at roughly $47 at the time). Once the NFT market in general took off back in January 2021, momentum really grew for the project.
Numerous recognizable names, along with other early crypto adopters, led to the meteoric rise in popularity of the collection with some purchases breaking the seven-figure mark. Let's do some quick breakdowns of some noteworthy purchases in 2021:
March 2021: CryptoPunk #3100, one of the 9 alien punks, sells for 4200 ETH (roughly $7.5M)
May 2021: The notoriety extended well into the art world. Christie's, one of the largest auction houses on the planet, sold nine CryptoPunks in a single lot for nearly $17 million. This was a major milestone for the NFT market being the first time in history a traditional art auction house sold purely digital artwork.
June 2021: Pransky purchases CryptoPunk #8601 for 800 ETH (roughly $1.5M) Their account data on OpenSea shows their earliest purchase of a CryptoPunk for .35 ETH (roughly $93) back in May 2019.
July 2021: Gary Vaynerchuk buys CryptoPunk #2140 for 1600 ETH (roughly $3.7M). Mere hours later, CryptoPunk #5217, one of the 24 Ape Punks in the collection, sold for 2250 ETH (roughly $5.5M).
When a web2 business announces they've taken a massive step into the web3 space, there's bound to be some new media awareness surrounding the news.
Quick fun stats on the Visa CrytoPunk purchase:
Purchased for 49.5 ETH ($150,000 at the time)
It's one of the 38% female trait CryptoPunks
It was originally minted on August 3rd, 2017 for 0.3 ETH (roughly $67 with a gas fee of .09 cents)
Just to round out the numbers game, the highest sale ever was for 8,000 ETH ($23.7M) CryptoPunk #5822 on February 12th, 2022.
Naysayer Soapbox Season
For all the positives and awareness that NFT projects bring to web3 technology, there's been plenty of opposition to the movement. Art communities offered their fair share of criticism of NFTs.
New York Times writer Amanda Hess wrote in March 2021, "The promise of NFTs is that anything can be art as long as it's one of a kind, but in the process, we risk losing sight of what made art valuable in the first place."
Continuing the same sentiment, Scott Reyburn wrote in an article for ArtNet News that NFT hype has led to a "distortion of artistic values," with people becoming more interested in financial value of art vs aesthetic or cultural significance.
Let's not forget about the concerns surrounding environmental impact. Liz Pelly, writer for Vox, argued NFTs environmental impact is "a crisis in the making. As the NFT craze continues to balloon, it's important to recognize that it's not a sustainable solution for artists, collectors, or the planet."
While some may call this FUD in print/digital form, let's at least consider some of the numbers for a moment. In an article published by Jiahui Qiu on Earth.org, they break down some intriguing stats for comparison. Using 33.4kg CO2 as the estimate for a single Ethereum transaction and an estimate of 48kg CO2 for a single NFT transaction, here's a short list of comparable items and their carbon footprint:
One NFT transaction = 14x larger carbon footprint of mailing an art print (estimated 2.3kg CO2).
One ETH transaction = 74,000 VISA transactions.
Thankfully, in the case against environmental impact, proof of stake resolved many of these concerns based on the modest energy consumption used in comparison to proof of work. More people participating as validators removes the need to have costly computing systems consuming electricity at a large rate.
Okay, okay I know. Let's continue the CryptoPunks story.
New Qwnership + NFTiff Pendants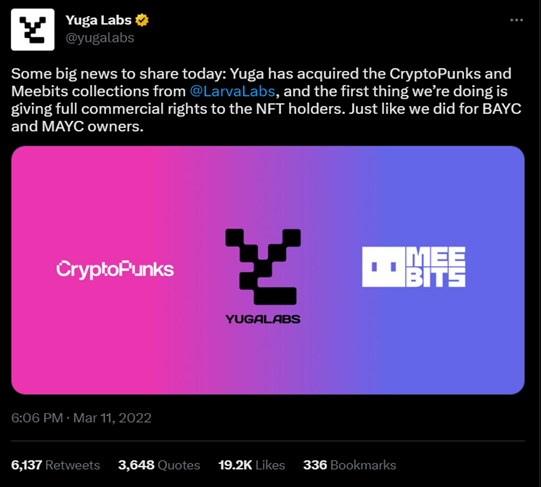 The buyout heard 'round the NFT world. March 11, 2022 solidified Yuga's dominance in the space when they acquired CryptoPunks and Meebits from LarvaLabs. A move of this scale hadn't been achieved previously and hasn't been replicated since.
While full commercial rights provided to the NFT owners is awesome, what's even more impressive is that Yuga intended to leave each project's ecosystem intact.
"What we don't plan to do is shoehorn these NFT collections into the 'club' model we've developed for BAYC. We view BAYC as the center of the universe we are building at Yuga, and CryptoPunks as a historic collection.

While we will work to bring additional utility to both the CryptoPunks and Meebits collections, we intend to do so as thoughtful stewards. We're not in a rush here. We'll be listening to the community before we decide what comes next."

mirror.xyz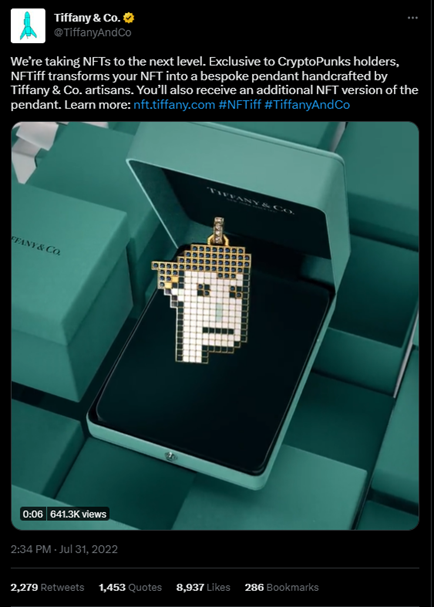 While 2022 bore the burden of what many called "crypto winter", CryptoPunks remained dominant in the space along with its new Yuga counterpart collections.
The announcement of NFTiff CryptoPunk pendants gave doubters of adaptation of Web3 by established Web2 companies a reality check. The limited collection of 250 sold out for a price tag of 30 ETH ($50k) each; pretty impressive way to generate $12.5M in sales almost instantly.
Should we have expected anything less after Noah Davis joined as the Brand Lead for CryptoPunks? For those that don't remember, Davis helped orchestrate the sale of Beeple's Everydays, the First 5,000 Days for $69.3 million back in 2021.
After resigning from his position as lead of digital sales at Christie's auction house, Davis made a massive splash signing on under the Yuga umbrella. His insurance of integrity of IP usage of the collection provided confidence to the community.
"I WILL NOT F*** WITH THE PUNKS…What does that mean? It means no Punks on lunchboxes or cringe TV shows/sh**** movies. It means no arbitrary rushed utility or thoughtless airdrops"

@NonFungibleNoah
A few recipients have revealed their one-of-a-kind jewelry.
Rounding out a strong year despite the bear market, the CryptoPunk collection netted nearly 500M in sales in 2022.
V1 Resurgence: Provenance Matters
While the V2 collection has been in the limelight for the majority, the V1 collection has been quietly garnering attention. Once again, credit is due to Leonidas for not only the following information, but for being the catalyst that brought the V1 collection awareness once again back in December 2021.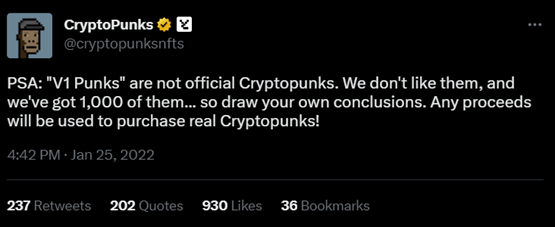 The following excerpt comes from NFThistory.org:
"On January 17, 2022, a developer named FrankNFT published a new updated CryptoPunks V1 wrapper which included more accurate metadata to make searching easier. This wrapper also discarded the "stripe" used in Foobar's prior wrapper and instead used a lavender background as the differentiator, the color having been decided on by a community vote on Discord. Kicked off a number of discussions around provenance and authenticity.

Larva Labs initially used this wrapper, to wrap and sell several V1 punks on the open market in January 2022 and made a number of conflicting statements about CryptoPunks V1 before deciding to take action to try and stop their sales in February. In February 2022 LarvaLabs sent a DMCA notice to the NFT marketplace OpenSea in an attempt to prevent the trading of CryptoPunks V1 causing the new wrapper to be delisted. A legal team hired by a member of the CryptoPunk V1 community began working on an appeal to the DMCA takedown notice almost immediately."
For more information on the wrapping process, you can read the steps here:
Wrapping – The CryptoPunks Wiki (gitbook.io)
While sales somewhat stagnated after the first month, continued wrapping and purchasing of the collection continued. December 2022 brought about the first +1000k ETH month in sales since January 2022, and has picked up even more steam through March 2023.
Where the collection's floor price goes from here is anyone's guess, but the provenance matters movement has made a positive impact without detracting much from the V2 collection.
Fun CryptoPunk Stats:
There are 5 Punk types in total (Alien, Ape, Zombie, Female, Male).
CryptoPunk #8348 is the only one with 7 attributes.
The least common attribute is the beanie, while the most common is earring.
As of this writing, there are over 80 wallets holding over 400 CryptoPunks that have no activity in over 5 years.
Currently, CryptoPunks is the only NFT collection to eclipse the 1M ETH volume mark on OpenSea (BAYC being the close second with 959k ETH in volume). Only 17 NFT projects in existence have generated over 100k volume via OpenSea.