Since its initial release date in 2020, Decentraland (DCL) has emerged as an unequivocal leader in not only the decentralised living space, but also the digital fashion sector.
More specifically, the platform has continuously committed to developing the Web3-come-digital fashion world- an intersection that possesses limitless potential when it comes to the future of online virtual living.
In doing so, it launched its inaugural Metaverse Fashion Week (MVFW) in March of last year, and is set to host the event's second edition in the coming weeks.

Metaverse Fashion Week 2023
Running for four days across March 28-31 in the platform's 'Luxury District,' the theme of MVFW 2023 is reported to be 'Future Heritage'- which as the following participants will suggest, revolves around traditional fashion brands taking their first steps into the world of Web3.
To put on the landmark showcasing, DCL will be teaming up with fellow metaverse platform Spatial, as well as digital fashion house UNXD and augmented reality (AR) company OVER.
More (brand) specifically, designer labels Dolce & Gabbana and Tommy Hilfger are penned-in to launch virtual activations- with the former said to be hosting a 'Future Rewards' digital design competition, whilst the latter will be releasing new NFT Wearables alongside artificial intelligence (AI) powered products.
Also debuting DCL NFT Wearables will be the likes of Adidas and Coach, with DKNY poised to open a pop-up art gallery called DKNY.3.
For a more extensive lowdown on this year's participants, visit the MVFW 2023 page on the DCL website.
The Inaugural Show- Metaverse Fashion Week 2022
If this year's edition is to be anything like last's, fashionistas will be in for an unforgettable few days of realm-transcending creativity and entertainment.
This is because MVFW's 2022 edition saw participation from numerous high-fashion labels, including the likes of Forever 21 and Estée Lauder and Forever 21, as well as returning brands such as Tommy Hilfiger and Dolce & Gabanna.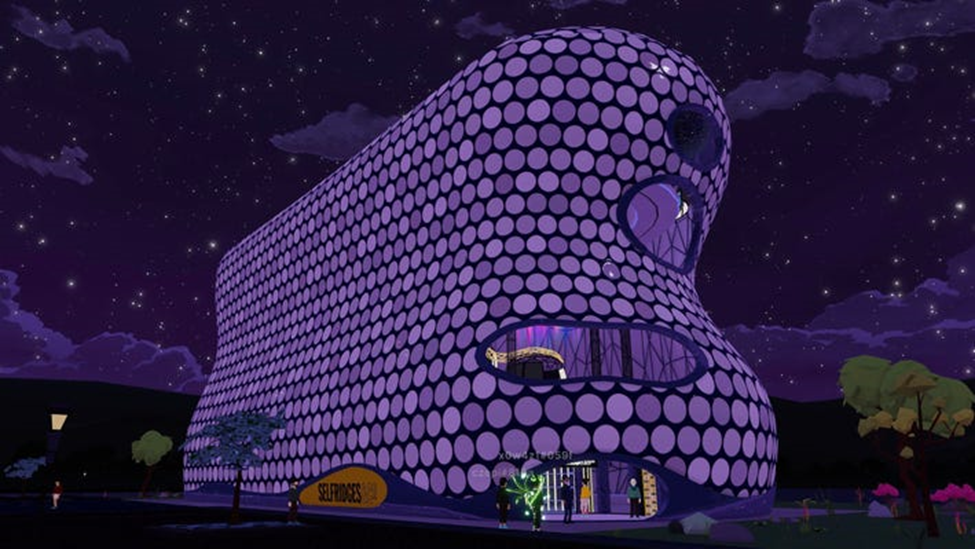 The event kicked-off with the launch of fashion retailer Selfridges opening a virtual store through an immersive experience in partnership with Paco Rabanne and Victor Vasarely. As British shoppers may've recognised, the store was inspired by Selfridge's eye-catching location in Birmingham's Bullring shopping centre.
The event also included an array of other virtual location openings, as well as the genesis of DCL's Luxury District- i.e. the location of this year's MVFW. Several panel discussions with industry experts also took place, as well as high-fashion runway shows and an appearance from world famous humanoid robot 'Sophia'.
Digital Fashion in Decentraland
As with the case within the physical realm, clothes within DCL serve as an exciting and creative medium for users to express their personalities and identities. They are purchased, sold, and traded as 'NFT Wearables' on the platform's integrated NFT marketplace, however in ensuring that acts of public nudity aren't a prevalent theme, users without a crypto wallet are also able to sport various 'default outfits'.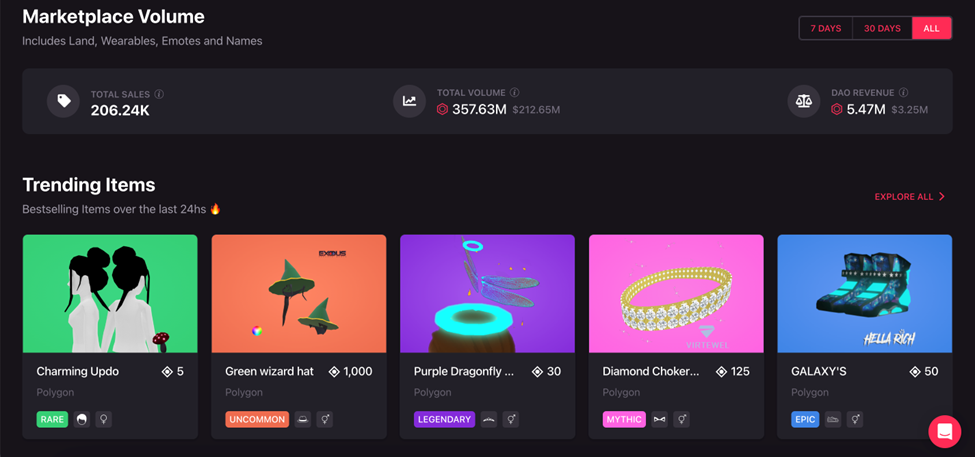 When it comes to DCL fashionistas wishing to express themselves via the latest vogue outfits, there are reported to be over 72,000 'tokens' (i.e., garments) on the DCL Marketplace (per data from NFT Stats). Such assets not only cover the basics of human clothing- such as upper body, lower body, feet, and an array of accessories- but also 'heads,' facial features, and 'skins'.
As is the case with other elements of the DCL platform- such as its innovative Emotes NFTs- users can curate these assets from scratch. Not only does such offering democratise the opportunity for users to manifest their stylist tendencies into tangible (albeit digital) and monetizable items, but it also allows them to do so whilst not having to abide by the laws of physics (meaning creativity can become virtually limitless).
In turn, numerous infamous fashion creators have emerged from the DCL NFT Wearable ecosystem, with some of the most notable being HelloNico#4a46 , ArtifactStudios, HirotoKai, Malloy and Kriskay.
As explicitly showcased via its Metaverse Fashion Weeks, DCL's novel and extremely creative fashion scene has also caught the attention of many traditional designers and labels, as the likes of Tommy Hilfiger, Dolce & Gabbana, Forever 21, Nike, Estee Lauder, and more all have branded and fully-licensed garments on the platform.
At the time of writing, a little over 11,000 users own a DCL NFT Wearable, with the average price of a virtual garment being $71. Here, prices can largely depend on an asset's rarity (i.e. an item with 5 versions is more desirable than an item with 1000), as well as other factors such as its specific designer or brand.
And in addition, what makes the DCL fashion scene even more interesting is the fact that it already entails 'retro' items. This is due to the fact that NFT Wearables were initially minted on the Ethereum blockchain, however with the emergence of its more-proficient sidechain Polygon, the DCL team decided to switch from the Layer-1 protocol to its Layer-2 counterpart. In turn, this meant that NFT Wearables residing on Ethereum (which therefore require ETH to be purchased) can emerged as sought after retro pieces that have a vintage appeal to them.