Despite Drop Issues, Gutter Cat Gang Got It Right
After my critique of the Bored Ape Yacht Club (BAYC) Mutant drop, it's only fair I unpack the Gutter Cat Gang new species drop. If you aren't familiar with the drop, here's the breakdown:
Gutter Cat Gang announced a couple weeks ago that owners of both a Gutter Cat AND Gutter Rat would be able to mint a third species for free.
This past week, they announced the drop would be happening on Saturday, September 4. They also said that there would be a public sale, and current cat/rat owners would have some sort of leg up.
On Saturday, they had the drop. The big surprise was the introduction of two new species, not one.
Instead of a live mint of the two new species, Gutter Cat Gang sold mint passes to redeem one of the two new species in the future.
Cat/Rat owners could get a mint pass for each cat/rat pair they owned (so if you had three cats and three rats, you could get three total passes) for free plus gas.
People who owned a cat or a rat, but not both, could snag a mint pass for 0.75 ETH plus gas.
Non-owners could mint for 1.5 ETH plus gas.
The mint pass will have additional utility at some point before you redeem the new species.
The redemption will be sometime in the coming weeks.
They said that cats will remain king, with other species (including rats) being lower tier memberships.
Owning all four species will have advantages in the future.
Issues with the Mint
There were a couple issues when minting went live. Perhaps the biggest issue was somebody used a bot to beat the system. There was supposed to be a limit on the number of 0.75 ETH private sale passes you could mint, but one person minted 300.

To rectify the situation, they put out another 300 for the community to go get.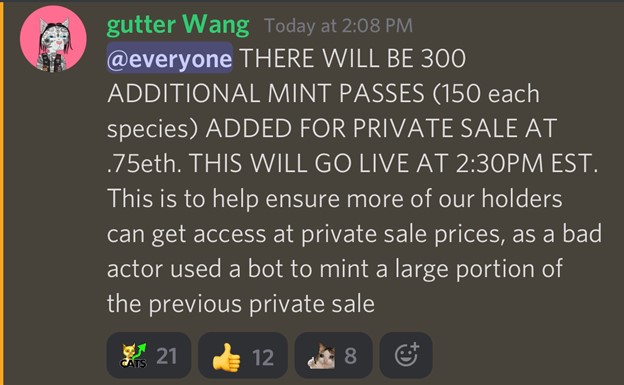 Another issue with the minting – they said in an announcement two hours before the drop that they did not recommend having your cat and rat on a cold storage hardware wallet. I have a Ledger, so right before the mint, I had to ship my Gutter Cat and Gutter Rat to my hot wallet. This isn't ideal, and I imagine it's a pain for people with several cats (especially at current gas costs). And let's face it – nobody likes sending a high value asset through the blockchain. It's anxiety inducing.
Reading the Room
I'm not going to mince words here – I love the Gutter Cat Gang leadership. They always listen to the community, they're transparent, and they're willing to be open and honest. Immediately after the mint, they issued a series of updates. In one of those updates, they owned these two snafus.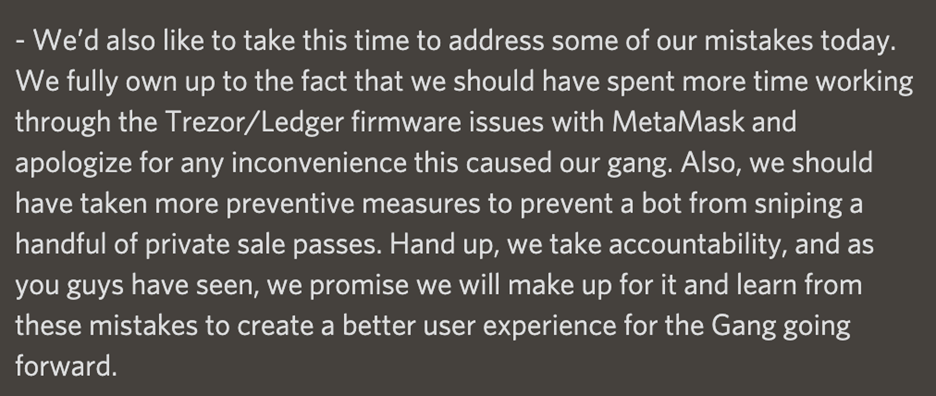 I love this statement. Nobody's perfect and owning up to where you made a mistake goes a long way. It doesn't just show you're listening; it shows you're ready to learn for the future. They didn't hedge in their statement. They didn't make excuses. I've spent about a decade of my career working in communications at large Fortune 500 companies, and this is the type of statement I would have written. Well done.
Overall, a Solid Job
The tech issues are obviously the biggest opportunity here, which they addressed in their post, so I won't spend too much time on it. Both the bot buying and the aforementioned hardware wallet issues have to be fixed for next time. Simple as that.
With those critiques, I don't want to downplay my overall excitement about the drop. I own one Gutter Cat and one Gutter Rat, so I minted one mint pass for species #3. Minting was smooth and worked with zero issues. The Gutter Cat team communicated decently up front, the site held up, and they acknowledged their issues after the drop. They gave multiple benefits to current cat/rat holders and immediately rectified the contract hack with additional supply. That was quick thinking on their feet and doing what they could to make things right as soon as possible.
I also think the mint pass concept is smart. It'll help them raise more money on secondary sales, and it lets me get into the mint lottery if I buy a mint pass for species #4. People with multiple cat/rat combos, or those that got in on the 0.75 sale, will be able to turn a profit as anticipation for the mint nears, and as new utility for the mint passes is announced.
If my math is correct Gutter Cat Gang just secured $15M-$20M in new cash. I'm confident they'll continue to invest that back into the community. The Gutter Cat art has been great, and if the Gutter Rats are any indicator, these next two species are going to be great.
It's impossible to avoid comparing this drop to the BAYC Mutant Drop last week, and in my mind, the Gutter Cat Gang drop was executed much better overall. But, to be fair to BAYC, the tech was stronger (I minted my mutant from my Ledger) and their genesis drop was smoother than Gutter Cats. So, pros and cons on both of these fantastic projects, which is to be expected.
Put all of that aside, though, and look at the bigger picture. I absolutely love Bored Ape Yacht Club and Gutter Cat Gang, and I'm super excited for the future. Seeing Bored Ape Yacht Club get $80M-$90M in funding and Gutter Cat Gang get $15-$20M in funding in the last two weeks has been amazing. Blue Chip NFT projects are starting to establish a war chest for the future. They're becoming very real companies that bring very real value to people's lives. The difference both of these projects have made in my life is already immeasurable. I cannot wait to see what they do with this newfound funding.
Disclaimer: This article is not financial advice. The NFT and Cryptocurrency markets are very volatile. Please don't invest what you can't afford to lose. Always do your own research before investing.