Streaming powerhouse Spotify has partnered with Web3 music collective 'Kingship' to offer holders of the band's 'Key Card' NFTs with access to an exclusive music playlist.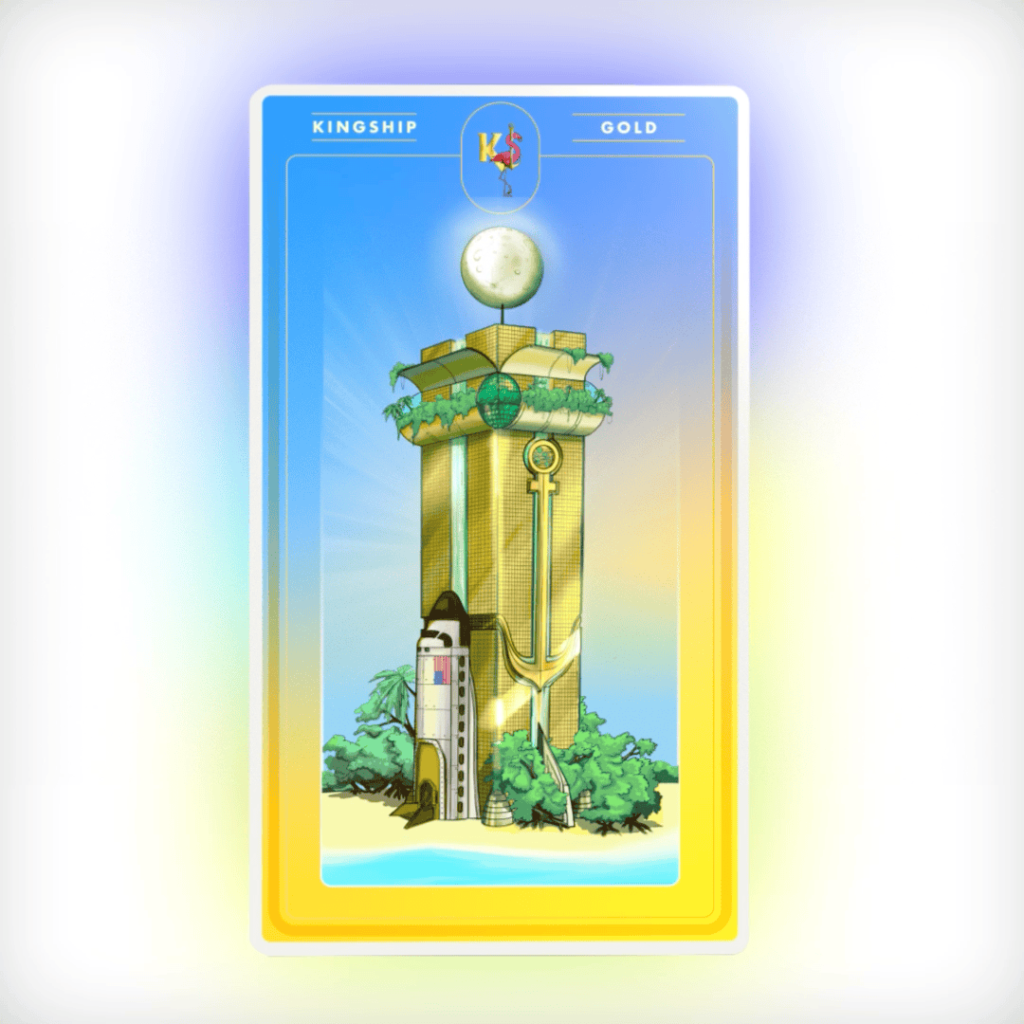 Access-enabled utilities have become a common theme across the NFT ecosystem, as through such mechanism, community members can experience events such as concerts, parties, and other exclusive showcases through their ownership and loyalty.
With digitalisation being at the core of Web3, NFTs can enable access to both physical and virtual events- with some perks being as little as being able to join a Discord server- or as is becoming increasingly common, they also can offer 'phygital' access- that is, access to initiatives that take place in both the physical and digital realms.
With such dynamic becoming increasingly popular across NFT use cases, it was only a matter of time until major Web2 brands entered such proceedings.
Kingship
Web3 music collective Kingship is comprised of three Bored Ape Yacht Club (BAYC) and one Mutant Ape (MAYC) band members, as well as an overseeing BAYC manager known as 'Noët All'. Through forming in November 2021, the band is known for being one of the first virtual and NFT-artist led entities to grace the music scene.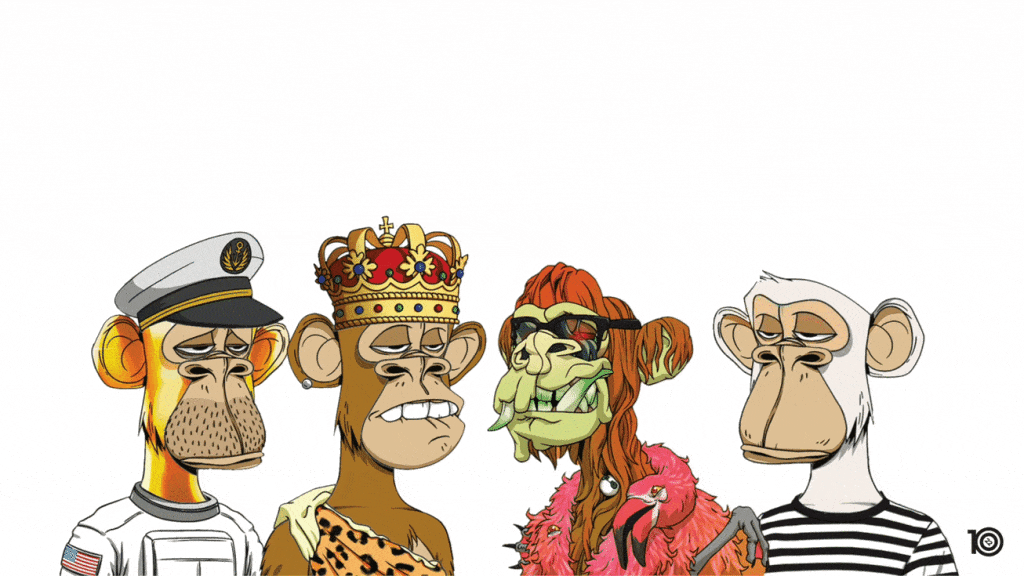 The band is already working alongside major multimedia companies, as it's signed to Universal Music Group's subsidiary Web3 music label 10:22PM. It's also already well-accustomed to access-enabled NFTs, as in May of last year it launched 5,000 'Key Card' NFTs which each serve as a portal into the band's community ecosystem- including access to its music, exclusive events and behind-the-scenes rockstar antics.
Given its ties to the BAYC and MAYC NFT collections, holders of such NFTs were given allowlist access to the collection's mint, as well as holders of NFTs from the Doodles, SupDucks, World of Women, The Littles, and AvaStars collections.
Throughout its 14+ months of music making, the band has also teamed up with chocolate brand M&Ms to launch a collection of 10,000 limited edition packs of the world-famous spheroid treats.
More recently in September 2022, the band announced world renown music pioneers Hit Boy and James Fauntleroy as its co-executive producers and songwriters. Such pair have helped create songs for the likes of Jay-Z, Beyonce, Bruno Mars, Kanye West, and Ariana Grande, meaning through such deal, the band essentially expressed its intent to one-day make an imprint on the mainstream music world.
Kingship's Token Enabled Playlist with Spotify
Through a new collaboration with industry-leading streaming platform Spotify, Kingship is now piloting a playlist that can only be unlocked through the ownership of one of its Key Card NFTs.
Serving as a 'special curated playlist exclusively for Kingship Key Card NFT holders,' the collection of songs features hits from the likes of Missy Elliott, Queen, Led Zeppelin, and Hip-Hop's most notorious Web3 evangelist, Snoop Dogg.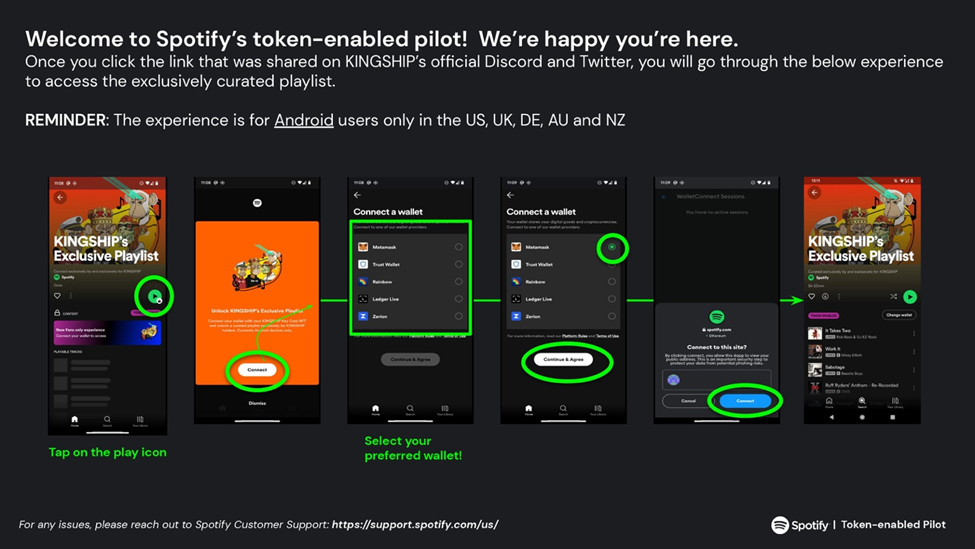 After locating the playlist on Spotify, Key Card NFT holders must then connect the crypto wallet that holds the asset- with wallets such as MetaMask, Trust Wallet, Rainbow, Ledger Live, and Zeroing being options. Once connected, users will seamlessly be able to enjoy the playlist as they please.
Given that the playlist is only in pilot mode for now, it's currently only available to Key Card NFT holders who reside in the United States, United Kingdom, Germany, Australia, and New Zealand. In addition, it's only available to users who use Spotify on an Android device.
Per the words of the virtual band's announcement, the birth of the token-gated playlist is a 'special moment,' as the band is "all about unlocking real value for our community and pushing the boundaries of music and blockchain, and having our holders be at the forefront of this space".
Spotify's Web3 Interests
Those who've kept tabs on the Web3 music world will know that- around this time last year- Spotify first issued its intent to enter the Web3 game by posting a job vacancy on LinkedIn for a Web3-focused senior backend engineer. At a similar time, it also expressed interest in hiring another senior manager in its innovation and market intelligence department, with the successful candidate required to have 'expert familiarity with emerging trends'.
In May of last year, the steaming platform then hired DJ Steve Aoki and The Wombats to spearhead its first experiment with NFTs. Here, both artists were able to display and promote their NFT-powered merchandise via their user profiles, which fans could then purchase through clicking on a redirecting marketplace link. Whilst hosting such initiative, the company also began surveying its Twitter followers to gauge how its audience feels about blockchain technology and its surrounding offerings/content.
In July 2022, Spotify was then involved in perhaps its most innovative Web3 endeavour to date, as through the efforts of Croatian subscription management start-up Revuto (in partnership with Crypto.com), a collection of 'Revulution' NFTs launched, offering music and film lovers the chance to pay for their Spotify or Netflix subscriptions for life through the use of a digital and tradable NFT credit card.