Moonbirds emerged as an unexpected contender in the NFT space in April 2022, earning the status of a dark horse due to its sudden popularity. Shortly after its launch, the project generated an impressive secondary sales volume, amassing over 100,000 ETH, equivalent to approximately $300 million. Surpassing many well-established NFT collections within a week, Moonbirds quickly secured a spot among the top 10 highest-grossing NFT collections.
However, as time passed, the project faced challenges. Cancellations of prominent events like the Highrise metaverse and the PROOF conference have raised concerns among NFT enthusiasts. Some in the community have accused Moonbirds of over-promising and under-delivering. Let's take a closer look.
A Glimpse Back
In March 2022, PROOF introduced its inaugural series, "Grails," where members could blindly mint one of twenty NFTs for free. These exclusive NFTs turned out to be creations of renowned figures in the crypto world, including Gary Vaynerchuk, Mike Shinoda, Gremplin, and Reddit co-founder Alexis Ohanian.
The success of Grails was apparent when traders resold some of the well-known artists' NFTs for substantial amounts, with one fetching 80 ETH (equivalent to $213,000 at the time) on the secondary market, despite its initial minting cost of just 0.05 ETH ($147).
A month later, PROOF launched its flagship PFP collection, "Moonbirds," targeting a broader audience than Grails. This Ethereum NFT collection comprised 10,000 profile pictures, with two NFTs given for free to each PROOF Collective member, while the rest were available for sale to non-members.
The project's initial plan to use a Dutch auction format was altered due to growing buzz and potential gas war risks, setting the price at 2.5 ETH (approximately $7,600) and conducting a raffle to access the allowlist. The Moonbirds collection swiftly sold out upon its launch on April 16, 2022, and spurred a thriving secondary market, driving the floor price to a peak of 38.65 ETH (equivalent to over $113,000). Notably, one Moonbird NFT was sold for an astonishing 350 ETH, surpassing $1 million.
Capitalizing on Moonbirds' success, PROOF swiftly accelerated its plans and became a robust Web3 business. A significant boost came when Rose, the founder of PROOF, revealed that Seven Seven Six — the venture capital firm of Reddit's co-founder Alexis Ohanian — had invested $10 million into the project.
However, the crypto market crashes led to a significant slowdown. NFT sales dropped over 80% year-over-year in January, and Moonbirds' value declined by 95% from its peak prices. Additionally, PROOF faced challenges when Silicon Valley Bank collapsed, resulting in an almost 50% loss of its holdings, and the ambitious metaverse project, HighRise, had to be abandoned.
Nevertheless, PROOF remained undeterred, defying the crypto winter by releasing another NFT series called "Mythics," which expanded the Moonbirds universe.
But What Are Moonbirds NFTs?
On April 16, 2022, Moonbirds, a collection of 10,000 NFTs, debuted on Ethereum. The brainchild of renowned American internet entrepreneur Kevin Rose, Moonbirds was launched under PROOF Collective — a private, members-only collective of NFT collectors and artists. Before his ventures in Web3/NFTs, Rose had already achieved celebrity status as an investor, podcaster, and the founder of news aggregator Digg, among other successful endeavors.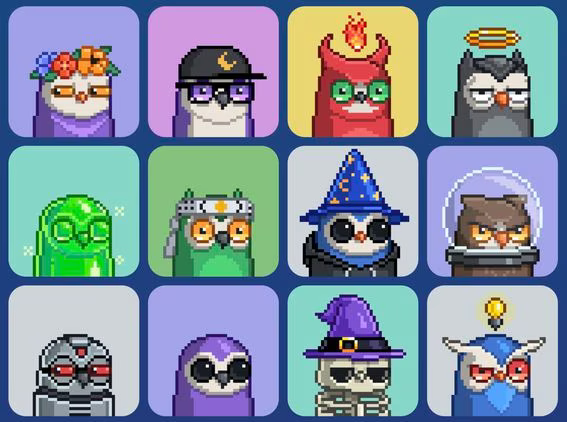 Despite featuring 10,000 NFTs, the distribution of Moonbirds occurred in three distinct stages. Initially, 2,000 NFTs were set aside exclusively for PROOF Collective members, granting them the privilege of minting these NFTs before the general sale. Since there are 1,000 member passes in the PROOF Collective ecosystem, each token provided two free NFTs to its owner — a remarkable benefit for Collective members who held multiple PROOF membership pass NFTs.
Subsequently, the collection made a pool of 7,875 NFTs available to the general public through a whitelist system. To participate, interested collectors had to enter a widespread raffle held by PROOF, and being eligible required having 2.5 ETH (the price of one Moonbirds NFT) in their registered wallet at the time of entry. The winners of this raffle secured access to purchase the Moonbirds NFTs from the public supply.
Apart from the reserved and raffled NFTs, NFTs PROOF Collective admins retained the final 125 Moonbirds for potential utilization in future collaborations, marketing initiatives, and other purposes.The idea for Moonbirds originated from Kevin Rose, but the development and creation of the final product involved a collaborative effort with numerous developers and members of the PROOF platform. Among them, Justin Mezzell, the Co-Founder and CPO of PROOF, played a significant role. Notably, Justin Mezzell is also the talented artist behind the unique pixel-art style that defines the captivating visuals of the Moonbirds collection.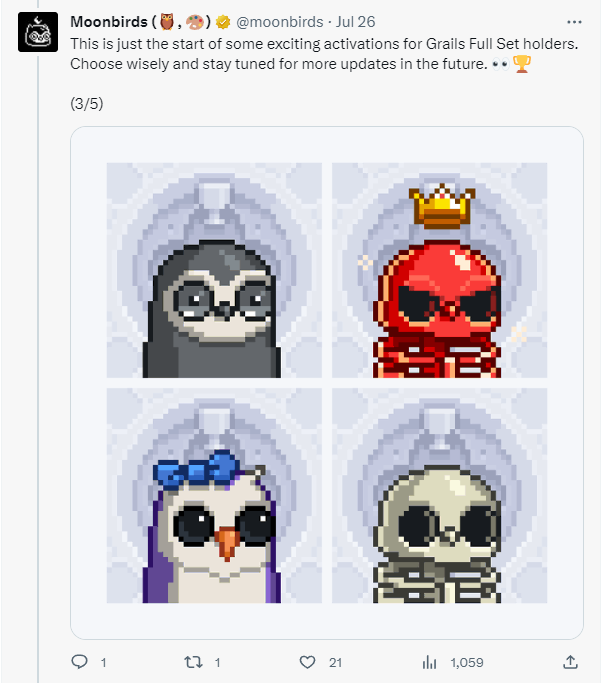 Moonbirds are distinguishable by 126 unique traits spread across nine different categories, including Background, Beak, Body, Eyes, Eyewear, Feathers, Headwear, and Outerwear. Among these traits, "Feathers-Legendary Brave" stands out as the rarest, followed closely by "Feathers-Legendary Guardian." Remarkably, only approximately 24 NFTs in the collection possess no Beaks, and these particular Moonbirds command exorbitant price tags in the market due to their scarcity.
PROOF Membership Passes

The PROOF Collective NFTs were introduced in December 2021 through a Dutch auction format, commencing at 5 ETH (equivalent to about $20,000 at that time) and gradually decreasing in price. The majority of NFT passes, around two-thirds, were eventually sold for only 1 ETH ($4,000) each, leading to a total primary sale value of approximately $7.4 million worth of ETH.
Touted as a membership pass to all things PROOF, the entity promoted Collective Passes as offering holders exclusive access to a private Discord community, early access to PROOF podcast episodes, in-person events, and other projects, including Moonbirds.
Initially, the floor price of Collective Passes experienced minor fluctuations throughout the latter part of 2021. However, it started a gradual ascent, reaching a minimum price of 30 ETH (approximately $85,000 at the time) by February and then skyrocketing to around 120 ETH (roughly $350,000) just a week after the launch of Moonbirds.
The passes were also a grant entry token to the PROOF Conference, described as a three-day event in LA featuring leaders in the Web3 movement. However, to the dismay of holders and community members, Kevin Rose canceled the PROOF Conference in February 2023.
We've made the difficult decision to cancel PROOF of Conference this year. We didn't take this decision lightly, nor did we make it quickly. We have spent considerable time pouring over all the alternatives, but ultimately canceling the conference this year was the best choice.

— PROOF of Conference (@PROOF_CONF) February 20, 2023
In a statement, Rose explained the decision: "After several weeks of sales data, speaking with potential sponsors, and talking to community members, it's clear that there is considerably less interest than anticipated for an event like this right now. Ultimately, canceling the conference this year was the best choice."
The team proceeded to refund tickets and hotel reservations without committing to a rescheduled date for the event. This cancellation has led to accusations against PROOF from many Moonbirds holders and has hurt the value of the collection in the market.
What Are The Utilities Of Moonbirds?
In addition to the typical PFP NFT roadmap promises, the Moonbirds collection stands out by offering its holders an array of enticing incentives.
One of the most remarkable utilities provided to Moonbirds holders is the ability to stake or "Nest" an NFT. It involves locking the NFT, rendering it untradeable, thereby initiating a process where the Moonbird NFT accumulates extra benefits, ascends to new tier levels, and upgrades its nest to become more profitable. This, in turn, results in enhanced drops and rewards for the collectors. However, some community members expressed disappointment after staking their NFTs for nine months, receiving only socks and fanny packs as merchandise.
Meanwhile, PROOF launched a special Moonbirds collection titled "Moonbirds: Diamond Exhibition," which featured artwork from a roster of 22 artists, including notable names like Beeple, Summer Wagner, and Terrell Jones. This collection was exclusively accessible to Moonbirds holders who achieved the "Diamond Nest" status by staking their NFTs.
The official Moonbird Beeple Everyday, featured in the Diamond Exhibition art drop on April 17.

Congrats to the 10 lucky Moonbirds who attended the event last night and won this piece! The remaining 90 will be available to claim in the Exhibition.

Who's ready for Monday?! https://t.co/O41ZgAiSzA

— Moonbirds (🦉, 🎨) (@moonbirds) April 14, 2023
Besides, Moonbirds NFT has collaborated with Spotify to introduce NFT-gated and tokenized playlists. The Moonbirds NFT playlist on the Spotify app is available only to Android users who can unlock it by connecting their wallet using a one-time key.
1/ It's official! Moonbirds has been selected to partner with @Spotify for their exclusive pilot bringing token-enabled features to their platform. Here's what holders need to know about this unique experience: pic.twitter.com/AdFByIUrxa

— Moonbirds (🦉, 🎨) (@moonbirds) May 11, 2023
Nevertheless, this collaboration between Moonbirds NFT and Spotify has elicited mixed reactions in web3 and music communities. While some see the potential value it could bring Moonbirds through this partnership, others view it as an experimental foray by Spotify into blockchain tech without offering substantial benefits to Moonbird token holders.
Furthermore, to expand its brand beyond the Web3-native community, PROOF signed with United Talent Agency in January, signaling its dedication to reaching a wider audience and continuing its growth in the NFT space.
$TALONS Token
In April 2023, the Moonbirds team announced that NFT holders could earn $TALONS tokens daily by staking their NFTs. This move is part of the team's plan to provide numerous benefits to token holders, including access to exclusive products, events, collaborative experiences, merchandise, and allowlist spots. Currently, the $TALONS token is limited to use within the PROOF ecosystem.
The speculation begins… what else do you want to see from $talons? 👀 https://t.co/8VEJ1WcmK0

— Moonbirds (🦉, 🎨) (@moonbirds) June 10, 2023
Interestingly, this shift seems to depart from the previous expectation of a PROOF ecosystem token. Like projects like Kanpai Pandas and y00ts, which have adopted "ecosystem points" instead of tokens, PROOF appears to follow suit, potentially to navigate regulatory uncertainties.
Moonbirds Monaverse
PROOF has teamed up with the 3D world-building platform Mona to introduce "Moonbirds Monaverse," a novel social and virtual world designed for the Moonbirds community. As part of this collaboration, Mona will offer technical support to assist PROOF in expanding the virtual world space.
According to the companies involved, the joint effort aims to foster engaging community experiences, including live town halls, viewing parties, and art reveals. A "100 PROOF" podcast showcased a sneak peek of the virtual experience live.
Kevin Rose, co-founder and CEO of PROOF, expressed excitement about providing unique experiences that combine immersive art and technology for their token holders. He emphasized that Mona's creation offers a fresh way for Moonbirds holders to unite and enjoy digital art in a collective and interactive setting. The collaboration between PROOF and Mona holds great promise for cultivating an engaging and dynamic virtual community for Moonbirds enthusiasts.
New to Moonbirds? Catch up on our Q1 updates:

– Uniting around a single vision of creating an art-forward ecosystem

– Moving away from the old "Highrise" design but continuing to develop products for collectors and creatives

– The future vision for the Collective and MB https://t.co/zGBWTR1sLA

— Moonbirds (🦉, 🎨) (@moonbirds) March 26, 2023
On a side note, it's worth mentioning that Moonbirds previously canceled an earlier metaverse initiative known as Highrise. However, with the launch of "Moonbirds Monaverse" in collaboration with Mona, they are pursuing new avenues to enhance the virtual experiences for their community.
Moonbirds Oddities
Moonbirds Oddities present a distinctive and intriguing addition to the Moonbirds NFT collection, forming a peculiar subset that has captured the community's attention.
Initially introduced as the inaugural airdrop reward for Moonbird holders achieving the Bronze Nest status through 30 days of NFT staking, Oddities took shape as owl pellets, small balls containing indigestible food material regurgitated by owls. The collection encompasses 10,000 Moonbird pellets, which began to crack open in July 2022, revealing unexpected life forms – skeletal rodents.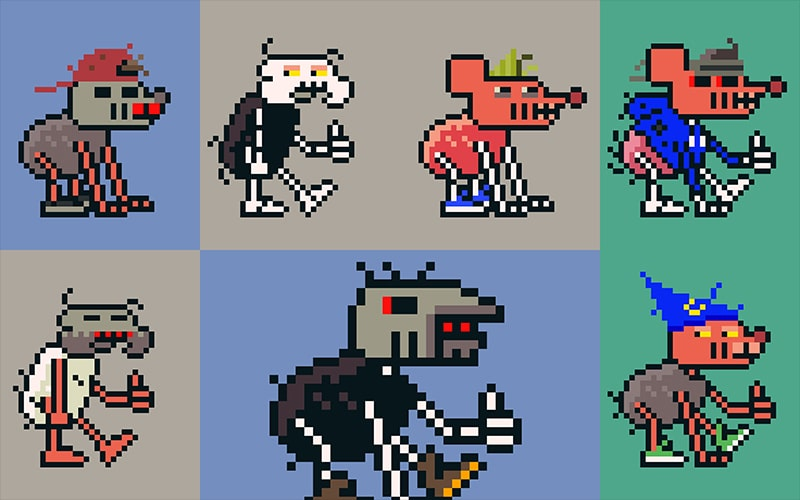 These playful little rodent skeletons showcase various poses, featuring a darker color palette and a grim aesthetic that serves as a delightful contrast to the Moonbirds' vibrant appeal. The creative genius behind this artwork lies with Gremplin, who skillfully crafted the pieces in his signature pixel art style. Gremplin is renowned for being the artist and creator of CrypToadz and the visionary founder of the Nouns project.
Before its grand reveal, the Oddities collection boasted a floor price of approximately 3.1 ETH. However, since its launch, the floor price has descended to 0.25 ETH. Presently, the collection enjoys a robust trading volume of 42.2K ETH and boasts a diverse community of 5,218 NFT owners who have embraced these fascinating Moonbirds Oddities.
Moonbirds Mythics NFT Collection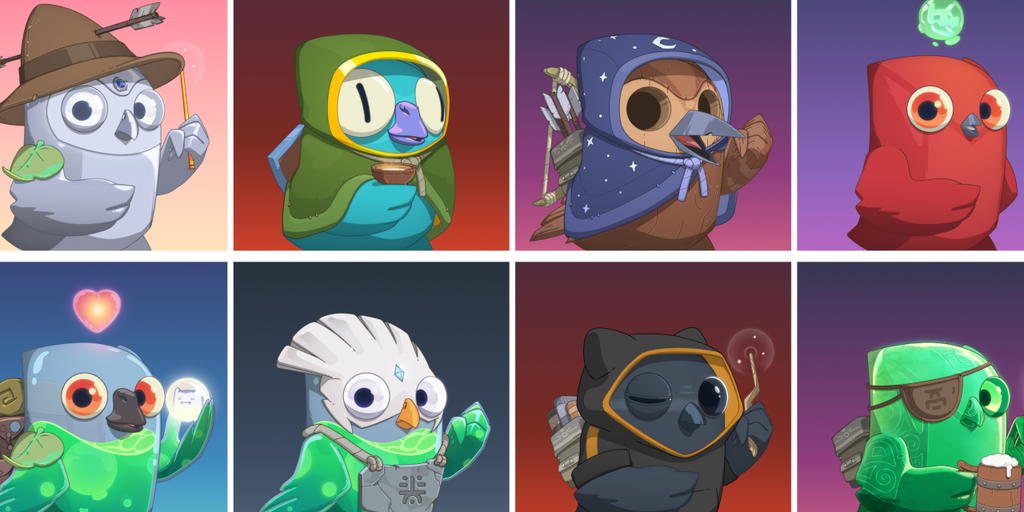 Moonbirds has finally begun unveiling its highly anticipated 20k Mythics NFT collection, but with an interesting twist. Instead of a rapid release, the project will gradually reveal the entire menagerie of fresh avian NFTs, likely extending beyond 200 days.
Learning from the lessons of the botched Azuki Elementals drop in June, where it deployed 20k new PFP NFTs all at once, Moonbirds has opted for a more cautious approach. The new tokens will be distributed in smaller increments, allowing the team to effectively assess market sentiment and navigate the current NFT downturn.
Announced in August 2022 alongside a $50 million Series A funding round with PROOF led by VC giant Andreessen Horowitz, the Moonbirds Mythics collection has been a year in the making, unveiling itself in a different market climate than originally envisioned.
The Mythics collection will be created in real-time as many are able to choose which Mythic to mint and which they'll pass up. A grand total of 37,611 Mythics were created. Any unchosen will be removed from the pool and won't be offered as an option for future summoners.
(1/13) pic.twitter.com/rF7mofHv6S

— Moonbirds (🦉, 🎨) (@moonbirds) July 12, 2023
Starting from July 20, NFT owners of the Moonbirds and its partner collection, Moonbirds Oddities, began receiving their new NFTs at a rate of 100 per day. For this latest drop, nested Moonbirds reaching diamond status (1 year) will qualify for a Mythic egg. These eggs will remain dormant until randomly selected during the hatching phase of the project, distinguished by a glowing aura signifying readiness to emerge into the world. Holders of Moonbirds Oddities NFTs can also participate, but claiming a Mythic egg will require them to burn their original NFT first.
The PROOF Collective, orchestrating all three collections, began rolling out the first Mythics on July 20. The process involves randomly selecting 50 Mythic NFTs per day, allowing owners to hatch the eggs via the PROOF website. Additionally, 50 nominated Oddities will be designated daily and exchanged for a Mythic NFT.
[1]
Oddities: the Hearth of the Odd God has awakened. You may now nominate your Oddity for the upcoming burn, which starts soon.
Up to 50 per day will be randomly selected to be burned in exchange for a Mythic.

The journey begins now in The Burrows: https://t.co/xnCbuCegnn pic.twitter.com/ViZvOEGVzt

— Moonbirds Oddities (@oddities_xyz) July 1, 2023
Each Mythic egg falls into one of three types: Stone (20%), Runic (60%), and Legendary (20%). Legendary holders will have a choice of three Mythics to choose from, Runic two, and Stone just one.
Unlike the original Moonbirds, each NFT in the Mythics collection grants its holder full commercial rights, limited access to future releases, installations, and experiences, and full membership to the Lunar Society. The Lunar Society is the Moonbirds' entrepreneurial arm, enabling members to propose and vote for supported projects.
The Mythics NFT holders will enjoy full commercial rights to their art, allowing them to utilize the characters' intellectual property.
Moonbirds Today
Moonbirds burst onto the NFT scene with unprecedented hype, launching at a sale price of 2.5 ETH. The enthusiasm was palpable as sales quickly soared to an average price of over 11 ETH on the first day, and within a mere two weeks, the average sale price surged to a remarkable 25 ETH. The highest recorded sale for a Moonbird reached an astounding 350 ETH, equivalent to over one million dollars.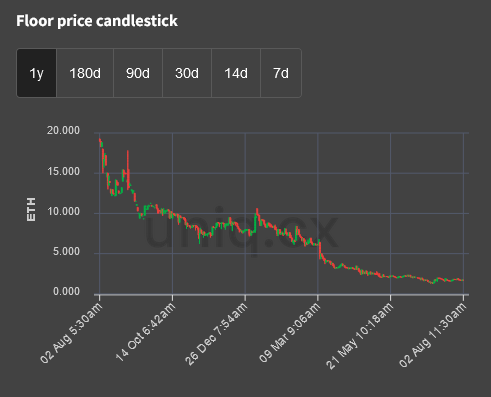 However, sustaining such momentum proved challenging. Presently, the collection only boasts a floor price of 1.6 ETH and a substantial total volume of 323K ETH.
Despite this slight dip in value, the Moonbirds launch day alone proved immensely profitable for PROOF, netting an impressive $58 million in revenue from the primary sale and royalties earned from the initial batch of secondary sales.
During better times when the NFT market was thriving, there were fewer questions about the purpose and value of NFT collections. However, as the market fluctuated and prices dropped, some holders questioned the purpose and relevance of their collections.
Different NFT projects have asserted their unique identities and purposes. For instance, Yuga Labs focused on gaming and the future metaverse as its guiding principles. Doodles took pride in being family-friendly and welcoming to children. Pudgy Penguins, on the other hand, carved their niche around toys and plushies.
Coming this summer: Foundry by PROOF, an IRL space in the Arts District in Downtown LA.

A hub for our community to connect with each other and for artists to showcase their work. pic.twitter.com/sTUfGicam1

— PROOF (🥃,🦉) (@proof_xyz) June 15, 2023
For PROOF, their focus is on the intersection of art and collectors, embracing movements like AI art and generative art. They have invested heavily in supporting artists and launched initiatives like the Foundry, which serves as a hub for artists with classes, speakers, and resources akin to a Y Combinator for artists. Owning a Moonbird gives holders a front-row seat to this captivating world.
Let me take a moment to share some highlights from the last 6 months: We've directly paid over $1.6M+ USD to artists and created opportunities for over 70+ artists. [5/18] pic.twitter.com/yZqgmIlwNZ

— Kevin Rose 🦉 (@kevinrose) July 4, 2023
Besides, Moonbirds has demonstrated a remarkable commitment by paying over $1.6 million to more than 70 artists across various collections to strengthen its artist-centric approach. Notable collaborations include Grails III, Evolving Pixels, Diamond Exhibition, Outliers Program, and Archive of Feelings by Mika Tajima.
Furthermore, Moonbirds' commitment to promoting art and artists has led to meaningful partnerships with reputed entities like Pace Verso, Venus over Manhattan, and Transient Labs, further expanding its opportunities for artistic expression and collaboration within the NFT space.
Conclusion
Despite a strong start, Moonbirds has faced challenges maintaining its initial popularity, resulting in a gradual decline over time. Whether the project can stage a comeback remains uncertain, contingent on factors such as market dynamics and the team's ability to adapt and rekindle interest.
The Moonbirds team remains confident in their brand vision, but the market's response has been less favorable this year. The collection has experienced a decline of 34% over the past 90 days, and the current floor price at the time of writing  of 1.6 ETH falls below its original mint price of 2.5 ETH. To enhance the value for Moonbird holders and boost the floor price, PROOF must take more substantial actions to revitalize the collection.