It has only been a little over two weeks since the Nakamigos were brought to life on the Ethereum blockchain by still anonymous founders, but in just these two weeks we have witnessed quite a few crazy things happen in their life cycle, and we have seen them divide the NFT community fiercely.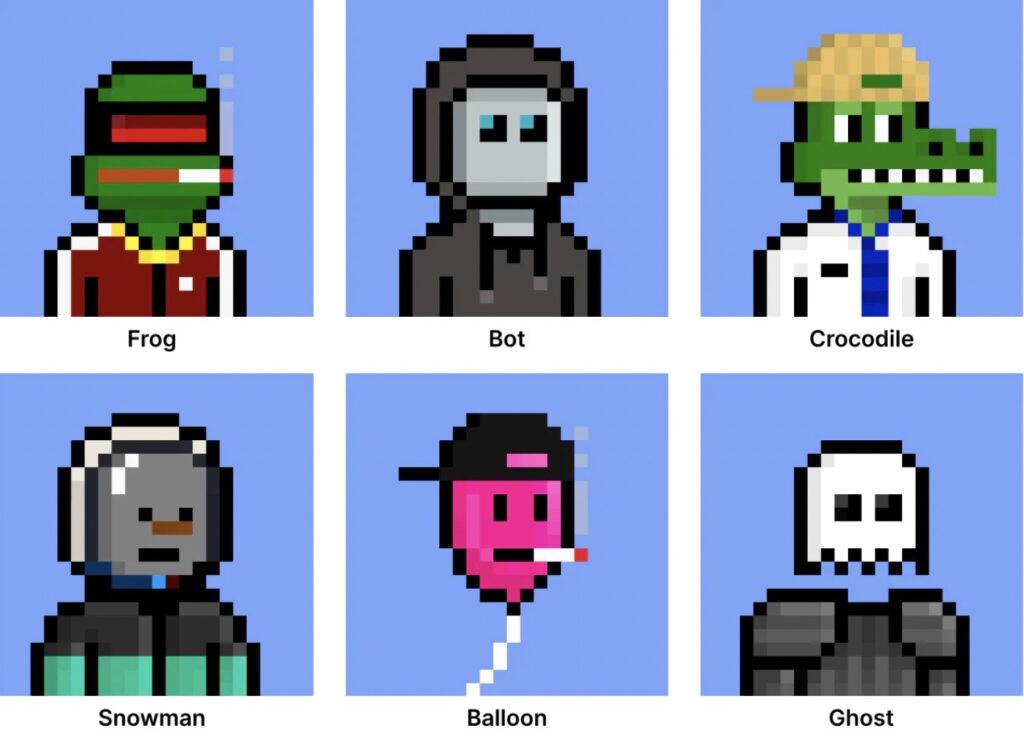 It has been quite a long time since a project was able to make such a splash and polarize the NFT community like this one has. Let's take a look back at everything that has transpired in such a short time frame to push the Nakamigos to where they are currently at, holding almost a 0.8 ETH ($1,500 usd) floor price. 

While most in the space think that this is just another fly by night project, just by going back to their first tweet shows this has been in the works for a while, as their first tweet is dated October 31st, 2022, which also inconspicuously the day that Satoshi Nakamoto published the Bitcoin white paper.
This was not just a coincidence, as according to their Whitepaper, the name of the project even comes from honoring Sartoshi's invention of Bitcoin, "The founder of Bitcoin is Satoshi Nakamoto. Nakamigos are crypto investors – in essence, they are friends of Nakamoto, aka Nakamigos.".
It is obvious that they have been building for atleast six to eight months, so it is hard to know what they have in store, but for an anonymous team known as HiFo labs who has "years of experience in NFT projects." and "An "OG" crypto artist with many years of experience in digital art. The artist is anonymous but may choose to reveal their identity at some point." It's no wonder they have been able to make so many big accomplishments in such a short time.  

From the beginning of this journey, Nakamigos were able to make splashes on the scene that most new projects can only wish to accomplish, the first step they took that lead them on this path to success was partnering with the infamous creator of MFers and End of Sartoshi pass, Sartoshi, as a way to qualify for the early access sell.
With there being 20,000 Nakamigo's, and 16,999 EOS passes, it was perfect way to reward the holders of EOS, while also getting Nakamigo's some instant credibility, but with, it is unlikely that Sartoshi would just partner with any random team or project as one of the first utilities delivered to the EOS holders. But even with this good start, not all of the stars aligned for Nakamigos from the start.
The remaining supply of NFTs was released the next day in a Dutch Auction that started at 1 ETH made it clear to its resting price of 0.01 ETH before selling out, even after minting out at this price it eventually fell to a price of 0.007 ETH on the secondary market, which is the point in the story that most NFT projects would die at, but this one has been able to write their own destiny and be the one to survive.  

Most of the NFT space has written them off as just another 20,000 supply NFT project, but a few large wallets and well known people in the space had insight for what was to come and were able to accumulate large positions in this project.
The Nakamigos were able to hold enough volume to hold themselves to the top of the trending charts for multiple days after mint out and as they did, more and more people started to feel the joy of scrolling through all of these unique NFTs, finding the ones that represented them the best, and this is where one of the most important things an NFT project can have started to form, and that is the community.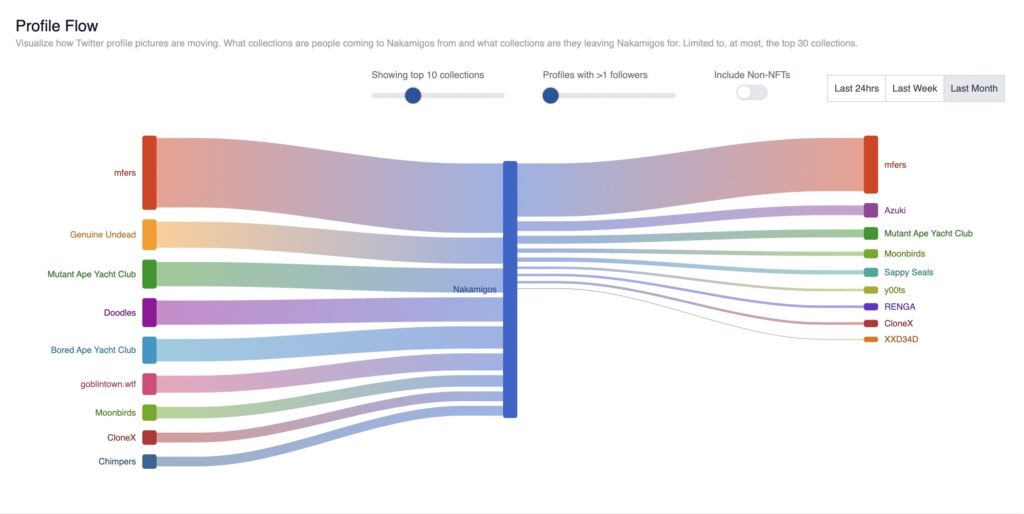 According to NFTinspect they are not only of the widest reaching communities on twitter since their launch, but they also have been one of the largest movers of twitter profiles switching their PFPs to Nakamigos from other collections, which is such an important thing for a project this early.  

But in order to be catapulted to the top of the charts like they have been in such a short time, it took more than just a solid community, and these next couple things are the main reason that the conspiracy theories have ran wild about Nakamigo's origins, and they are the largest reasons that the project is where it is at today.
Nakamigos Get Big Support
One of the most surprising catalysts was this tweet from Beeple, stating " lol, ok so how about if you crazy mofos can get this to 1E floor, I will do chapter 2 of the Nakamigo's saga. p.s. i own zero, just a dude sitting in the bleachers drawing pics." which is something very out of character for him, granted they had already seen a nice price movement from the Friday before to that Monday, this was enough to set of a short-term mania, and divide the NFT space on them even more.
After this tweet they had a run up to the 0.95 ETH range, but once they hype wore off, it caused capitulation that hadn't been seen in the community as the flippers and speculators tried to exit, eventually driving the floor back down to where it had started the Friday before back to 0.35 ETH.
Again, this would have normally been the nail in the coffin for most projects who would have bled to 0 from here, but this is where some of the largest holders doubled down on their conviction, one example was the notable holder Mooncat purchasing another 116 at the local bottom to take his collection to 349 Nakamigos.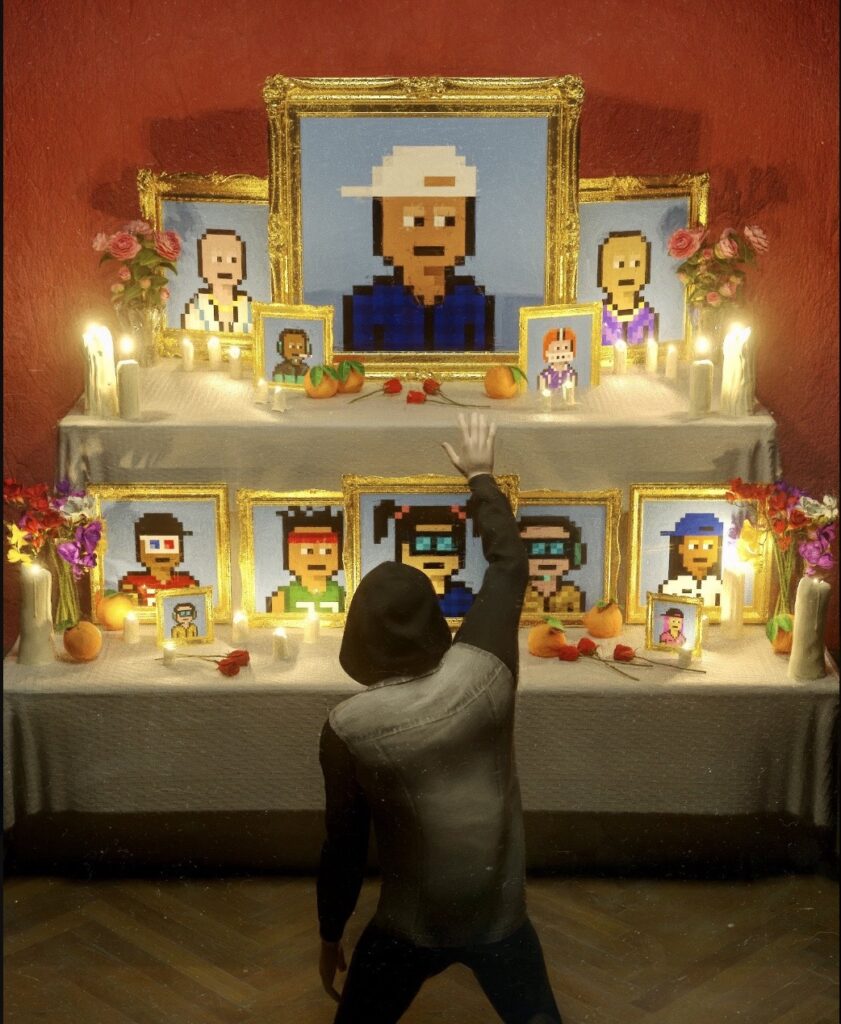 This was all it took to bring the volume back to the collection to allow it to slowly climb again. Beeple eventually went on to create two of his famousEveryday's about the Nakamigos, further solidifying the narrative.

Even after all of this the climb for the Nakamigos were still stuck behind the 0.5 ETH range and not being able to eclipse it, until the train came rolling into the station in the form of 10KTF Thursday.
10KTF, one of the most well-known projects in the space, who is also owned by Yuga, releases a new piece to their lore every Thursday, and this week was no differnece. As the story began to unfold it seemed like every other Thursday, that was until this final tweet of the story, encapsulating in my opinion the legitimacy of the Nakamigos.
While there has been no more information released outside of the wanted posted showing a Nakamigo and stating at the bottom "Serial Train Robber" it would appear there is some deep long-standing connection between the well-established 10ktf and the Nakamigos.
The reason this is so important is because a project like 10KTF is not partnering with an unknown project who may rug. This was all the market needed to see to see the floor price rise again from below 0.5 to the 0.8 ETH range, which is where it stabilized. 

It will be interesting to see where this project is headed from here. Could it be the next BAYC? Or could it just be yet another project that caught lightning in a bottle and will eventually fall into obscurity? Only time will tell.