NBA Top Shot Starter Strategies: First $100
So, you've recently joined NBA Top Shot and you're not sure where to start. What should you buy first, what should your strategy be? Should you start collecting your favorite players, the coolest moments, or the best value? All good questions but to start, you've just joined into an amazing platform that is still super early and will grow for years to come, so buckle up and get ready for a ride!
For this article I will give 3 different strategies that you can utilize and will get into specifically how you can follow these to spend your first $100! Before we get start, if you don't already have the funds in your account, be sure to check out my previous article on how to save on the fees when you do this!
These Strategies are not in order of recommendation but are all solid ways IMO that you can get started and vary based on your goals for this platform.
Strategy 1- The Investor
If you got into Top Shot purely to make money, just know the market is completely volatile (paper hands central) and has been experiencing a bleed in value for the past 5 months. Because of this, just know you have a challenge ahead of you but if you are in it for the long-term you can absolutely succeed! Also, since we have experienced some extreme drops in pricing, it's probably better that you've joined now compared to a few months prior.
For investing purposes, you must think about what moments can hold value and stand the test of time as new moments (aka supply) are continually added in the marketplace. For me it's Series 1 Top Shot Debuts, which not too long ago were not in reach with a $100 budget, but now you have many to choose from. I can go on a rant about why, but the simplest way it was explained to me that clicked instantly was Pokémon.
Yes Pokémon, specifically the trading cards which have now been around for 25 years and have new releases annually (catching on here?). Think about which Release (Series) are worth the most, are the rarest and people really want. It's the 1st Edition, aka Series 1 in NBA Top Shot Terms.
So, if you're in it for the money and are okay with holding the moments for the long-term, it's Top Shot Debuts all day for me. Here are the top 15 by Low Ask Market Cap under $100 as of today! Is Carmelo Anthony seriously in this…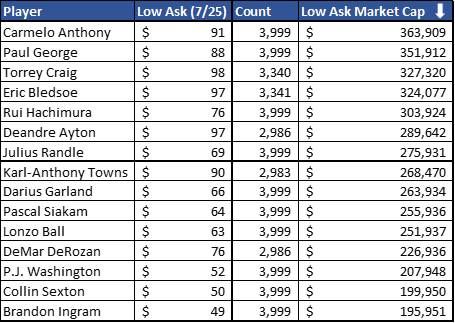 Strategy 2 – The Collector
Whether you're into NBA Top Shot because you collect NFT's, Sports Cards or because you're an NBA fan, you will find that some of these moments will have some meaning to you. Some you will just want to have and own a piece of that history. Whether it's a moment from a game you attended, a moment from your favorite player or just a special play that you must have, this is truly the "buy what you love" strategy where you really can't go wrong if you're not spending more than you can afford to lose.
The number one moment like this for me is out of the $100 budget, but it's Vince Carter's Top Shot Debut, which is his only moment on the platform and his last shot in the NBA before retiring. It's also the night the NBA shutdown due to Covid so will be a part of history. Such an awesome moment where Trae Young gives Vince the ball, all the players back away and he drains a 3 pointer! This moment may be out of reach right now for many just getting started, but I believe it will be a special moment forever on the Top Shot platform.
Within the $100 budget, there are plenty of common moments from almost any player that you can add to your collection as a fan. I'm sure Bucks fans will want some of the playoff moments from 2021! Scan the marketplace and look for these moments from your favorite players and teams and lock them away in your collection so you can own a piece of their history!
Strategy 3 – The Logical Thinker
While I would say we all use a combination of these strategies, the logical move may always be best decision at the time. So, if you're a new to the platform and you want to make the most logical decision for your first purchases, I would just buy as many $2 – $3 moments that you can and stack them up with the full $100 budget. Seriously, it's not sexy at all, it's not fun either (unless you enjoy sniping!) but it will give you a nice benefit to start out in a few ways.
First off, adding these moments is the best and most cost-effective way to boost your Collector Score. The Collector Score has already shown to be a very important measure for Top Shot and will continue to be going forward. Having a higher score will qualify you for exclusive pack drops, as well as better odds in future pack drops on some occasions. Considering most common moments will get you 4 points each, you could potentially end up with a score of ~ 150 points just with your $100. That should help for future pack drops and you will continue to build this score as you collect.
The second reason to add the cheapest moments, even if you hate the player, is for Trade Tickets. This concept was brought up a few months ago and we should expect to see it rolled out soon, but the concept essentially is you can trade in any moment for a trade ticket and these tickets would then qualify you for exclusive pack drops in the future. So, if any moment equals 1 ticket, it only makes sense to buy the cheapest! Here are a few right now for $2 right now, but they go quick so good luck sniping!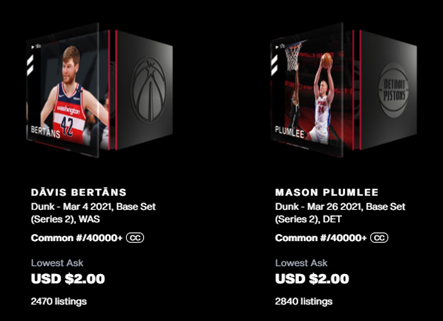 Hopefully you've enjoyed reading up on these different strategies you can execute when getting started on Top Shot, but you will learn along the way and your decision making will stay fluid. If any feedback please drop a comment below and for more NBA Top Shot content, please give me a follow on Twitter!