Exploring the Fusion of Non-Fungible Tokens (NFTs) and AI/AR, and the Rise of Immersive Virtual Environments
The NFT Market is spiking back to life after months of flatlining. June 1st has seen an upward trend for some projects, as indicated by the abundance of green on leaderboard ranking charts. This resurgence aligns with the success of gaming, immersive tech, AI, and generative art collections. Coincidence? Unlikely. Let's delve into the convergence of these trends and the lucrative opportunities they bring.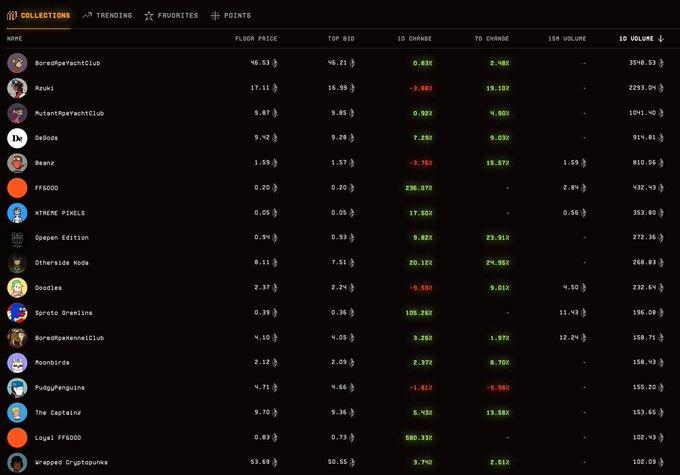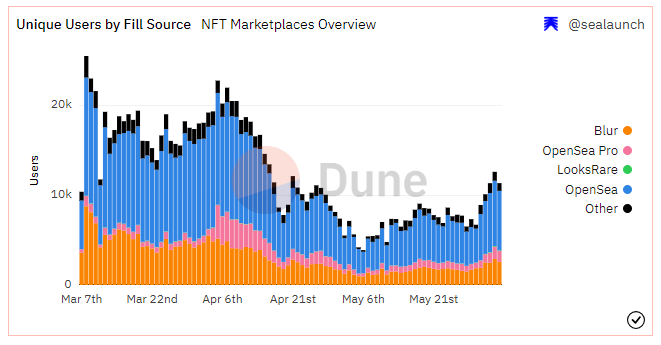 I. Resurgence of the NFT Market
The NFT market is displaying a surge in positive momentum, with daily unique traders reaching their highest level since April 28. Remarkable market activities encompass a notable 20% increase and the 6th highest all-time sale in FewoWorld at $70.9K on May 31st, the occurrence of a new all-time high (ATH) sale on Opepen, and substantial price fluctuations within Jack Butcher's ecosystem. Furthermore, notable projects like ZkShark's OMB and Spirit DAO comics have witnessed significant rises in their floor prices.
Another factor actively fuels this market revitalization. The emergence of Blend, Blur's lending protocol, also had a profound impact on the NFT market. It accounts for 50% of Blur's trading volume, indicating the growing popularity of borrowing against NFT assets. This increased liquidity circulation has driven buyer interest in blue-chip projects such as Bored Ape Yacht Club (BAYC), Crypto Punks, Mutant, Penguins, Beanz, and Azuki. These projects have demonstrated remarkable innovation and their content has garnered substantial attention. Their proven ability to engage with and reach their holders further solidifies their appeal in the market.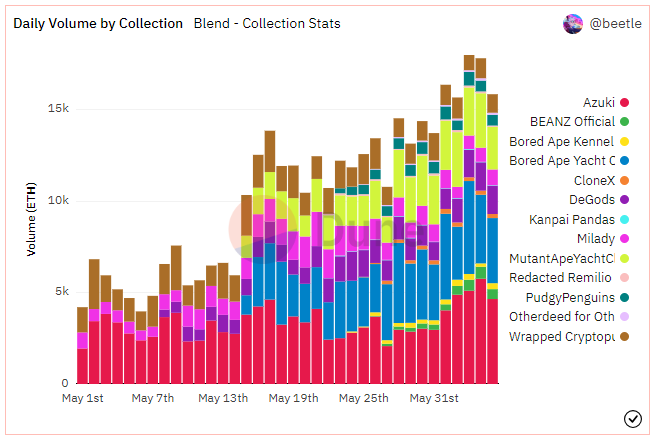 II. Market Trends
AR is the next frontier for NFT holders in the fast-paced world of digital assets. With the AI content creation market projected to reach $16.4 billion by 2026, it's clear that embracing AR and AI-generated content is crucial.
This growth is driven by the increasing demand for personalized content, the need for cost-effective content creation, and the growing adoption of AI in various industries, including the NFT space.
By leveraging these technologies, NFT creators can boost the value and engagement of their offerings, standing out in a competitive market. To stay ahead, NFT holders must tap into the transformative power of AR and embrace its potential for success.
III. The Convergence of NFTs and Immersive Experiences: A Promising Trend
Immersive technologies arrive at an opportune time. AI and AR are poised to usher in endless possibilities when it comes to creating utilities and enhancing user experiences in the NFT space. If you take a closer look at your timeline, a palpable shift has emerged in the NFTs and crypto space, fueled by innovation and a desire to move beyond rugs.
Within this landscape, immersive technologies unlock higher engagement, untapped revenue streams, and a potential runway to mass adoption. The adoption of AI and Immersive technologies has been growing proportionally with people craving amazing experiences, whether virtual or in the real world, and immersive technology can enhance community engagement and create memorable interactions.
In an interview with NFT Talk, XR Creator Don Allen Stevenson III shares that, at the moment, technologies, such as NFTs, virtual universes, and augmented reality provide numerous ways to enhance NFT holder's experiences. By leveraging AI, creators can develop personalized and dynamic NFT content that adapts to user's preferences. AI and AR also enables creators to create and trade digital wearables, or "skins" and traits, for gaming or NFT characters which is a booming sector. Augmented reality, on the other hand, allows for the integration of digital assets into the physical world, creating interactive and immersive experiences for NFT collectors.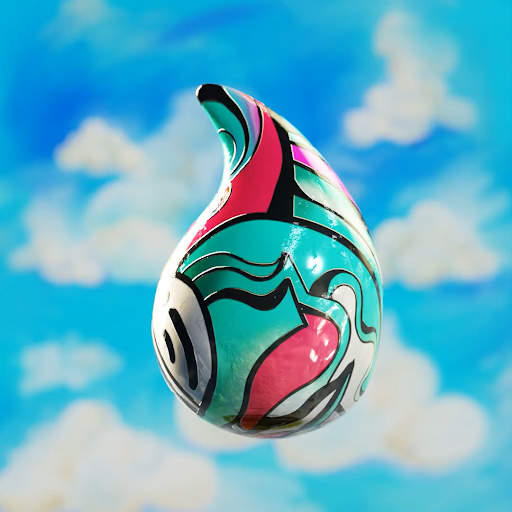 IV. Brands and NFT Projects Using AR/VR Now
Paintdrop #19(201 paint) sold at $70.9K on May 31st.
Merely six months ago, NFT artists and creators embarked on the journey to harness AI and forge groundbreaking art and NFTs.
Today, a select few are fearlessly venturing into the uncharted realms of AR and VR. Join us as we delve into the forefront of NFT innovation, where these trailblazers courageously push boundaries and seize untapped opportunities.
Pudgy Penguins
"AR will be our next big thing."

Luca Netz
On the Lucky Lead Twitter space, Pudgy Penguins' CEO Luca Netz hinted augmented reality is the next project the brand plans to tackle, believing AR to be the future of Web3. Things are looking up: sold out first round of the toy drop, a book, a traits market place, Pudgy World, and an upcoming movie? All great blocks to build towards a fully immersive future for the Pengus..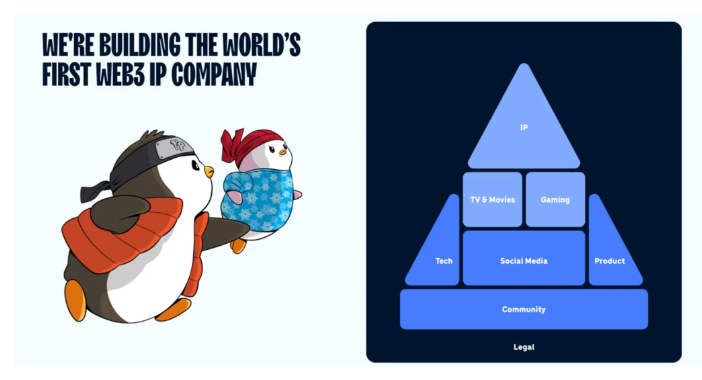 After Stoodio, Doodles Invites You to Camp
Doodles generated positive engagement by teasing AR on @Burnttoast's account. Additionally, they partnered with Camp to launch their first retail flagship, allowing families to immerse themselves in the Doodle world. Visitors can engage with their Doodles and experience the brand emotionally in the 6K square feet of interactive space. Now the brand is expanding their reach into gaming. MapleStoryUniverse teased Doodles' upcoming appearance in its 180M-user game ecosystem on Polygon.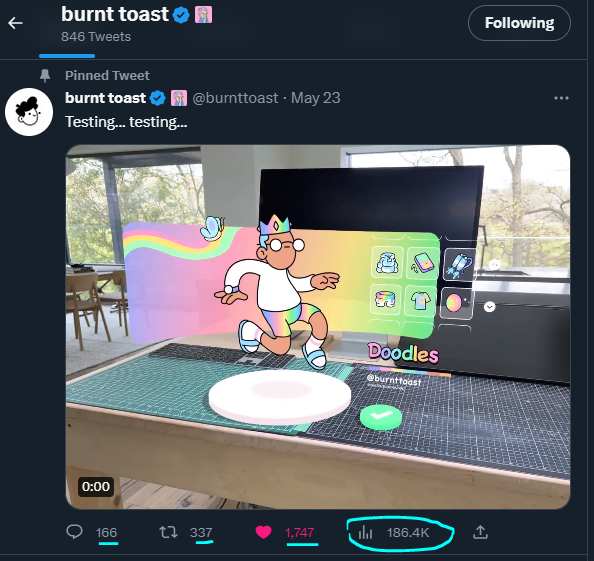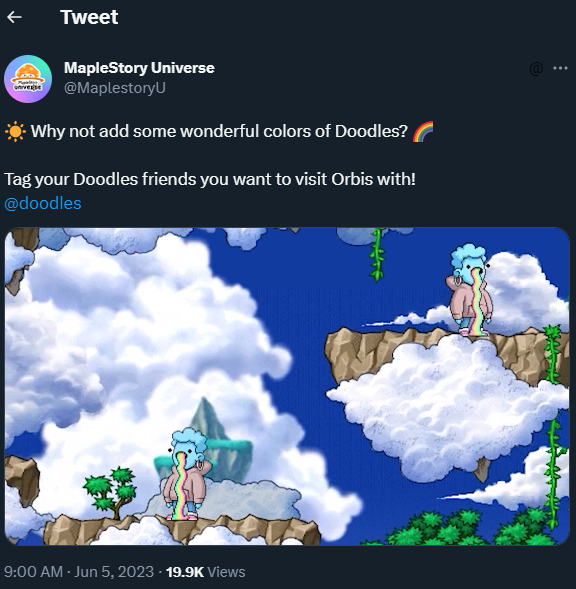 AR/VR and NFT Projects
V. The Amplified Appeal of AI-Generated Content:
Director of threads Wale Swoosh delivered this bar in a thread on breaking down why only a few people win. Wale essentially explained that many projects' floor price drops because they fail to create anticipation around iterations of what they build and sustain that excitement over time. Frank DeGod confirmed this principle in his latest appearance on Coffee with Captain. He contextualizes your narrative that builds up to the next phase of your project or your next event to keep people entertained for a while until you build your next.
Such as what Azuki is doing with their Follow the Rabbit event at the end of June. It keeps people talking and speculating about what's about to happen. Created content around those events keeps the excitement going. This is where using AI for content can help you leverage and scale that excitement easily, without any limitations.
AI-generated content offers numerous benefits for NFT creators. It enables scalability, allowing artists to generate large volumes of unique and diverse pieces efficiently. Additionally, AI algorithms can explore uncharted artistic territories, producing captivating visuals and concepts that push boundaries and captivate collectors.
VI. Strategies for Success
To leverage the opportunities presented by immersive technologies, NFT projects should consider the following strategies:
Collaboration: Partnering with AI and AR experts can bring advanced capabilities and technical expertise to NFT projects, enhancing their value proposition and user experience.
User-generated Content: Empowering users to create and customize their NFTs using AI-generated tools and augmented reality platforms can foster deeper engagement and a sense of ownership.
Gamification: Introducing gamified elements within NFT projects, such as metaverse gaming experiences or interactive AR quests, can attract gamers and enthusiasts, driving adoption and increasing demand for NFTs.
Education and Awareness: Educating the community about the potential of immersive technologies and their applications within the NFT space can help build confidence, trust, and understanding among collectors.
Long-term Value Creation: Focusing on sustainable growth, utility, and meaningful experiences can establish NFT projects as long-term players in the market, ensuring the retention and loyalty of collectors.
As NFT holders explore the possibilities offered by AI, AR, and other immersive technologies,
Conclusion:
In conclusion, the NFT market presents a realm of constant evolution and opportunity, reminiscent of a captivating arena. Those who embrace the potential of AI and AR technologies, adhere to regulatory frameworks, and prioritize utility will find themselves poised for success. It is time for NFT holders to take center stage, stepping into the metaphorical ring to unleash their creativity and innovation. By delivering captivating experiences that captivate audiences within the emerging metaverse, NFT creators can position themselves at the forefront of this ever-evolving landscape.