Cars and Web3 is a content combination that's becoming more and more prevalent over time, as whether you're talking about Ferrari, Mercedes, McLaren, or most recently, Porsche, every big-name manufacturer seems to have begun its acceleration into the next stage of the internet.
The latest automobile giant to take the plunge into Web3 is Nissan, as per a reveal from USPTO licensed trademark attorney Mike Kondoudis earlier this month, the Japanese company has filed four United States trademark applications in relation to its Infiniti, Nismo, and Nissan divisions.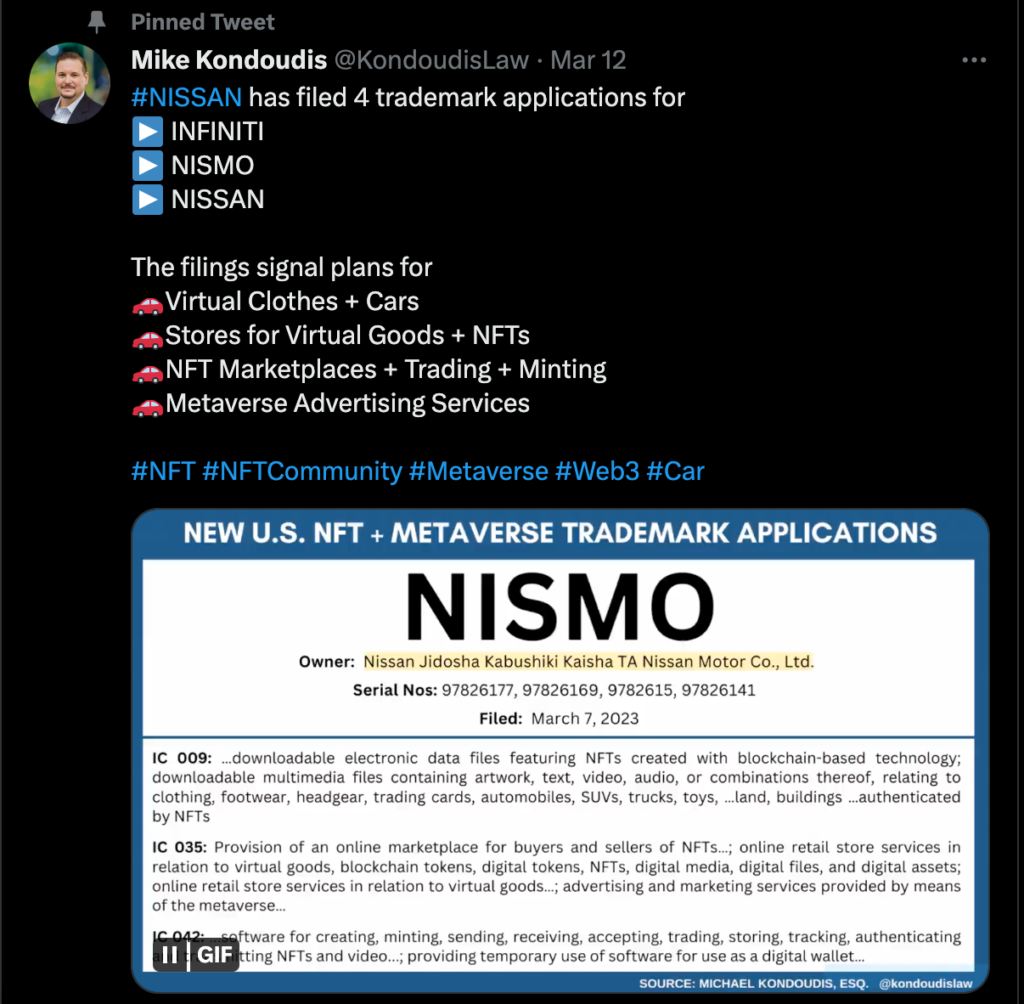 Nissan Web3 Products
The company's plans entail multiple projects, including virtual content (such as cars, clothes, accessories, toys, tickets, and NFTs), 'stores' for 'virtual goods' and NFTs, a coinciding NFT marketplace for minting and selling Nissan NFTs, and metaverse advertising services and other 'entertainment' series- which cover areas such as online video, images, artwork, tickets, audio, sounds, music and trading cards.
In a ploy to streamline Nissan Web3 products, the company is also looking at creating a website for explaining how all proposed Nissan NFTs will work, as well as a "downloadable computer software for use as a digital wallet".
In relation to the all-encompassing aim of the above endeavors, the company is striving to provide "entertainment services, namely, providing online, non-downloadable video, images, artwork, tickets, audio, sounds, music, and trading cards; informational services, namely, hosting an interactive website providing information regarding NFTs, and video, images, artwork, tickets, audio, sounds, music, and trading cards for authenticating non-fungible tokens (NFTs)".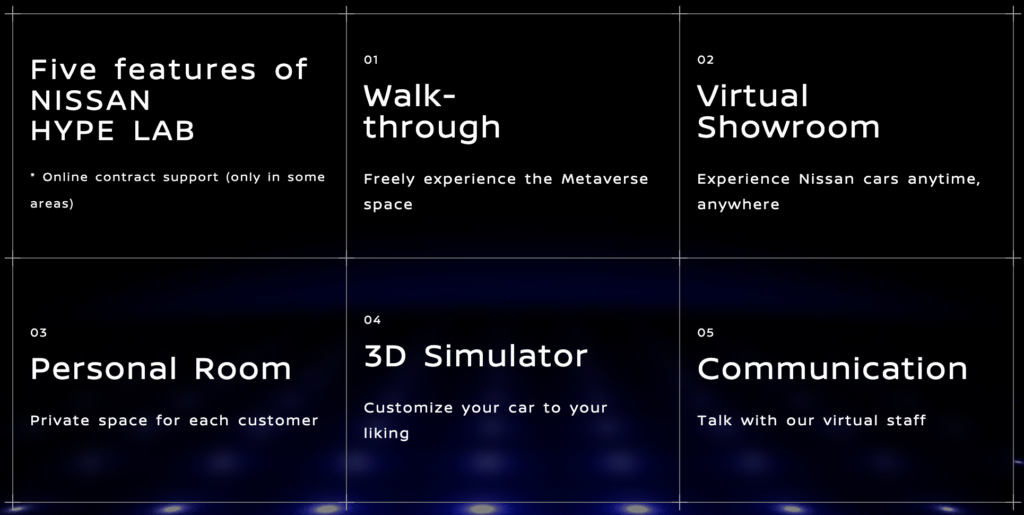 The day following the reveal (March 8th), Nissan Japan then announced its three-month 'demonstration experiment' of its virtual store 'Nissan Hype Labs'. Here, Nissan Hype Labs' is said to be the place for studying, consulting, test driving and purchasing Nissans in the metaverse.
Trial Period
The trial has commenced and will run until June 30th, with customers able to enjoy 24-hour access to the company's new virtual storefront (via smartphone or PC) to further create their own customized avatars and interact with virtual sales staff (as particular times of the day). Through the virtual sales office, customers will be able to order the car they want and finalize its purchase on the metaverse.

March's filings also come four months after the company filed five trademark filings for iconic models such as its GTR, Skyline, and Z. Such move comes in line with abundantly observed Web3-adopting ethos of the car industry, as be it NFTs, gaming, or other forms of digital content, the ever-popular realm has synonymous with blockchain in recent months/years.