Presales Are So Hot Right Now
What is the hottest trend in NFTs right now? No, it's no longer free mints, that is so last week at this point. It is presales, whitelists, pre-mints, reserved sales, whatever you want to call it. OK, maybe SUITSON4CHRISTIES, Lazy Lions and AlienBoyNFT deserve recognition too, but I'm not talking about a specific project! The NFT space is spectacular, not because it changes so rapidly, but because people were so fed up with the gas wars that they decided not to drop mints the traditional way anymore.
If you read my article Stop the Gas Wars you know I could not be happier with this outcome. Projects are using forms, collecting wallets, whitelisting supporters, and saving their communities so much Eth. These projects are keeping the Eth where it should be, available for individuals to buy more NFTs.
We're going to take the time to highlight a few of these projects, saving us all our hard-earned Eth. I know there are other projects with whitelists and I'm proud of all this community is doing if you want a future shoutout sound off on twitter and @drucritt.
Non-Fungible Heroes (NFH) is brought to you by the combined teams that brought you Bored Bananas and Weird Whales. Yes, these combined teams have some great experience under their belts and the art is spectacular. NFH ran a presale whitelist through their discord, gas prices were low, and the mint went off without a hitch! They are doing some very cool community engagement activities, heroes vs villains in the discord, these decisions driven by the community will shape the way the roadmap is unveiled. These activities in discord will dictate how the comic comes to fruition as part of Act 4 in their roadmap.
From a secondary market perspective, their floor is hovering above mint in the .11-.13 range, but volume has been moving! It's quite confusing to see how this hasn't gone on a run quite yet. If the team can maintain the hype, I think this project has legs, and this could be tied back to saved funds in their communities' wallets from avoiding the gas wars!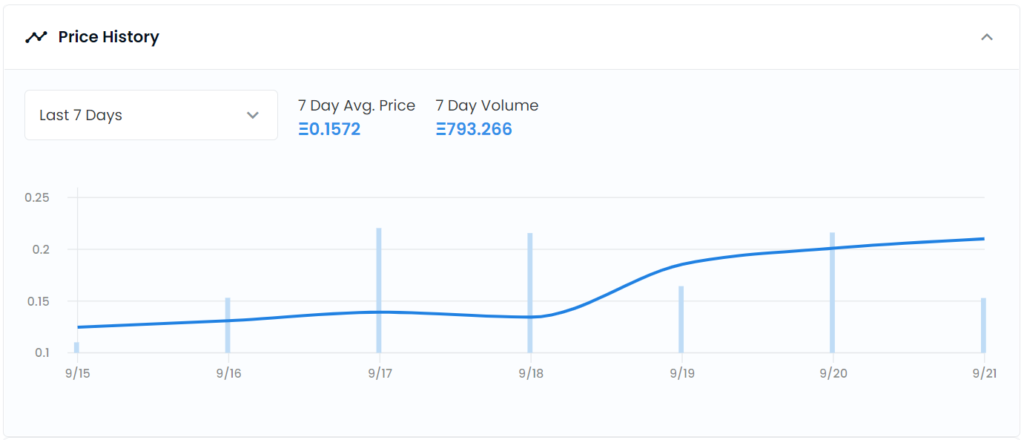 Superlative Secret Society (SSS) Their public mint is today (9/22) and the presale list had a ton of interesting ways to make the cut. They were allocated to their earliest supporters, they ran a series of invite contests, AND the artist had some previous works which could be used as a mint pass. These are creative ways for projects to build their followings quickly and reward their community. The project then held a presale for a few days where volume remained steady, and excitement brewed for the public sale and reveal!
SSS has a lot going for it, the discord is super exciting leading up to the public mint, the art is pretty cool, and the team seems very engaged with the community. The end goal is to get folks to Bali, and I won't complain about that roadmap item. When you mix those things together AND save your community the massive gas bills…the sky's the limit.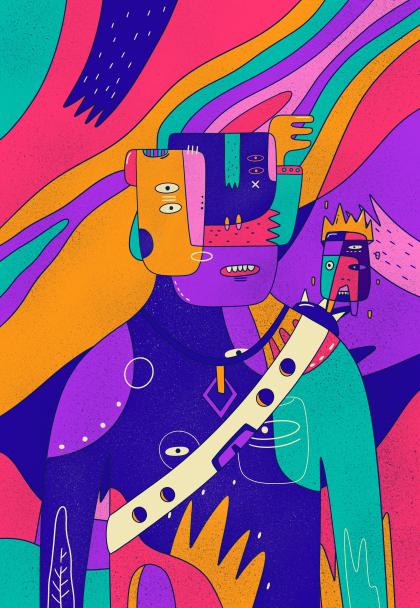 MonsterBuds for a presale they zigged where these other projects zagged. MonsterBuds utilized a free NFT which is used as the mint pass for this project. Given the nature of the project the name is perfect, it is the Puff Puff Pass (PPP). The Puff Puff Pass allows holders to mint up to 28 buds during the presale for this project. The PPP also has rumored long term utility as it will not be burned at time of mint. This is exciting for a few reasons, first is that the mint pass TOOK OFF at the drop (Disclosure: I sold mine), second is that these types of mint passes with long term utility encourage people to hold them to stay engaged in the project longer term.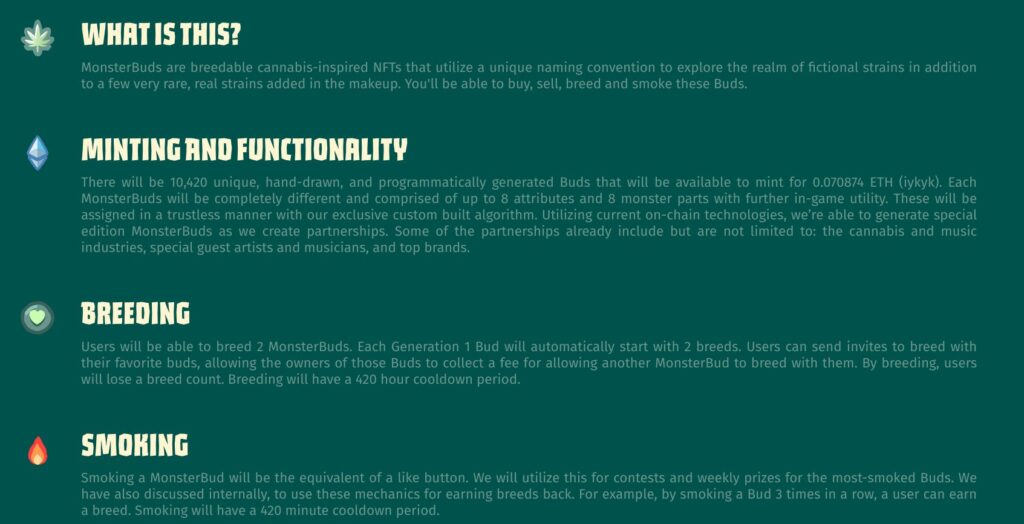 MonsterBuds is a project with a lot going on in the project, they are offering breeding, smoking and more through their website. The user interface (UI) is already being built and will offer ways for holders of buds to increase their holdings OR offer their breeding services to others. This strategy has been successful in other games like Axie or Zed, combined with many NFT fans favorite pastimes and we seem slated for growth.
NFT Red Zone is the marquee project in this list. The team is INSANE and is littered with the biggest names in the industry like BunchuBets, Premium Carrots and CaptainZwingli. If you're not following this project, NGMI /endshill. Honestly though, this is a project from some of the core team at dgen.network. They recently closed their presale list after hitting 80% reserved during the opening period.
They are running a fantasy football league and the community has a chance to collect NFTs that are aligned with each team. The result is that when your team wins their spotlight matchup, you'd have the possibility of winning a ton of great NFT prizes. The plan for this project is to redistribute almost all the mint proceeds back into the community via weekly events.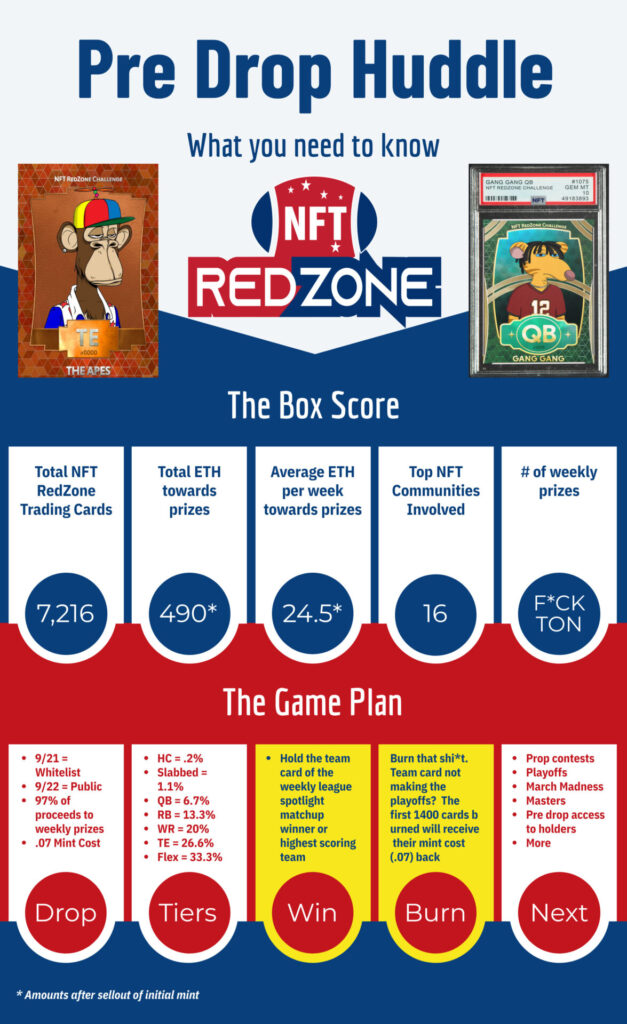 Disclaimer: This article is not financial advice. I own 2 NFH, 3 SSS and am a contributor for dgen.network which is partnered with NFT Red Zone Cryptocurrency markets are very volatile. Don't invest what you can't afford to lose. Always do your own research before investing.