Rhthm and the future of NFTs in music.
Almost everyone in the NFT world has, at one point, used the music industry as a classic example of NFT utility. It's one of the easiest ways to explain NFTs to people who aren't familiar with the new technology. It goes something like…
Imagine you own an NFT by your favorite musical artist. That NFT gives you special benefits, like early access to concert tickets, meet and greets with the band, and access to special merchandise. The more successful the band becomes, the more that NFT is worth. You get to profit alongside your favorite band, simply by being a fan.
Even my parents, who still regularly use a landline phone, can understand how this Web3 solution is impactful. But nobody has done it yet. Enter Rhthm.
Rhthm brings music fans closer to their favorite artists
A lot of the NFT folks reading this are already starting to connect the dots – Rhthm is going to be the NBA Top Shot of the music industry. Those people are correct. They'll bring artists and large musical platforms to Web3, connecting fans with musicians and musical institutions in a whole new way. With slick-looking digital collectables, a collector's score model, and seamless payments in fiat to encourage platform adoption, Rhthm will feel familiar to anyone who has used NBA Top Shot. In fact, it's parent company Unblocked is backed by Dapper Labs and their CEO Roham Gharegozlou. Other heavy hitters, including Shawn Mendes, Jay-Z, and Oaktree Capital are also along for the ride, funding this powerhouse project.
Real world utility
One area where it differs from Top Shot is that the NFTs will immediately carry benefits beyond simply being digital collectables. While the NFTs themselves look great, each drop will have NFTs that have utility in the real world. Some benefits will come with a single purchase, while others will require collecting multiple NFTs like a Top Shot challenge.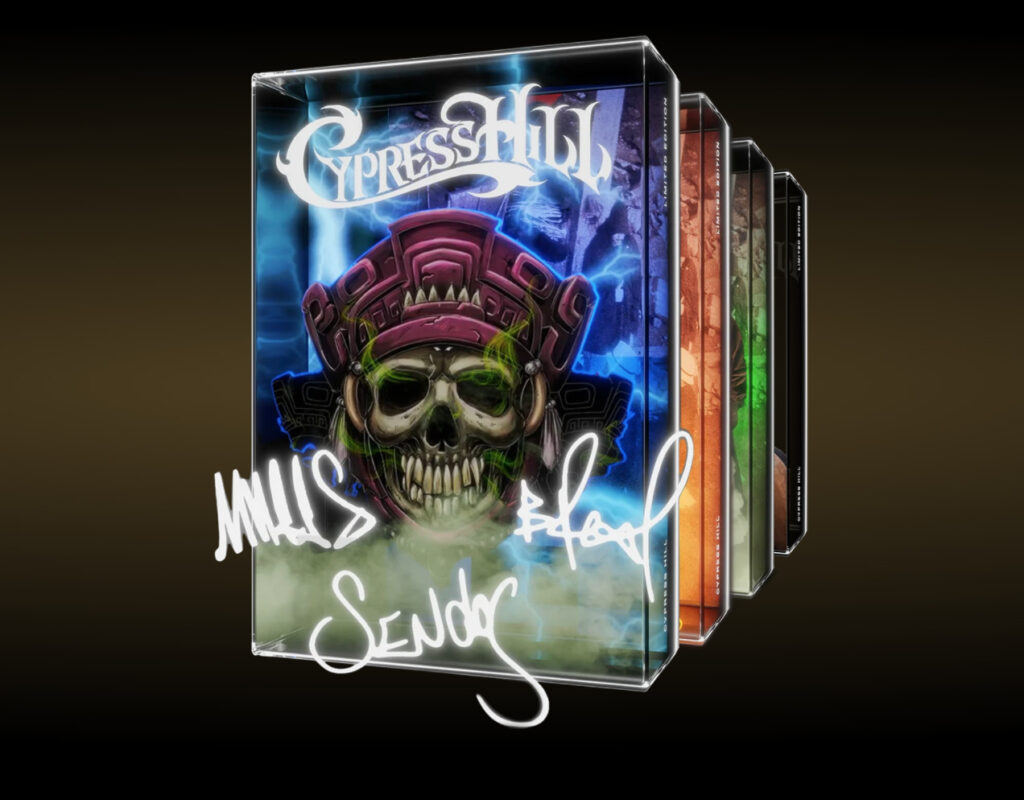 Insane in the Membrane…
To kick off the platform, Rhthm will be releasing 1,988 NFTs with Cypress Hill, to commemorate the band forming in 1988. There will be a total of six NFTs in this drop. The breakdown of the rarities and cost is as follows:
30 Legendary, one type, for $200 per NFT
218 Rare, two types, for $50 per NFT
1740 Common, three types, for $15 per NFT
I mentioned above that there will be utility attached to these, and I wasn't kidding. While they could always add additional benefits, the following utility is already locked-in for this drop:
Anyone who collects all six NFTs by 2/28/22 will receive two tickets to an upcoming Cypress Hill concert in 2022 and meet the band in person.
People who collect one Legendary or Rare Cypress Hill NFT will receive access to a special party before the concert.
Owners of any Cypress Hill NFT will be entered in a raffle to win exclusive items from the band, including a signed poster and set lists.
All owners of Common Cypress Hill NFTs will receive access to presales for future drops, which will include some big-name artists.
The Common benefit really stands out to me, because in addition to being a raffle ticket, it's effectively a mint pass for the future for $15. To ensure you don't miss the drop, you'll want to sign up for an account on Rhthm, which takes about two minutes.
Bottom line
I've been waiting for a platform like Rhthm for a long time. The opportunities to connect artists and fans are endless, and the fact that fans can pay with a credit card is going to bring a lot of people on to the platform. I was a bit late into Top Shot (I started my account in March) so I missed out on a lot of early benefits. I'm not going to make that mistake again – I'll be using Rhthm to start collecting immediately, beginning with the Cypress Hill drop.
Disclaimer: This article is not financial advice. The NFT and Cryptocurrency markets are very volatile. Please don't invest what you can't afford to lose. Always do your own research before investing.