The Sentiment Score: Bobby Quinn's Best NFT KPIs – Volume 2
The Sentiment Score – what it means and where it's headed
Written by: bobbyquinn.eth
"Fashion is a form of ugliness so intolerable that we have to alter it every six months."

Oscar Wilde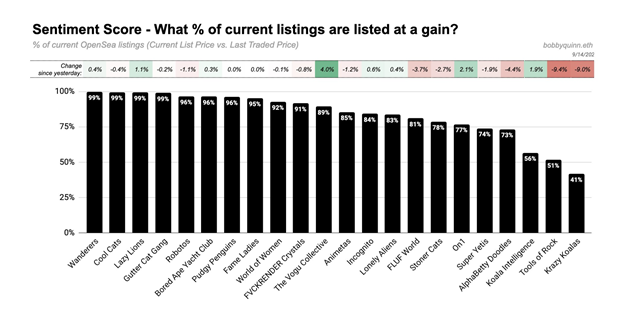 Welcome to the second volume of my ~weekly-ish newsletter about smarter metrics for a healthier NFT ecosystem! In my first volume, I outlined my sort of philosophical thoughts on the current state of analysis in the NFT world (an obsession with floor prices, daily trading volume, and unique holders) and what might make for a more relevant set of metrics for tracking value.
In short, most NFT analysts are former DeFi analysts, so the community focuses on 'trading' metrics. I believe we should be bringing concepts from the Media & Entertainment world to start thinking about these collections as true IP with massive commercialization potential, not just tokens or commodities (by definition, right?). As Oscar Wilde so rightfully points out, the world of culture is a fickle world – how can we use smart KPIs to stay ahead?
The Sentiment Score – the method behind the madness
I started posting this metric to my data-driven hot-takes twitter account back in late August, and it got some real traction. I've posted it daily for the last several weeks now, and I've found it to be incredibly useful for a couple reasons. Before I dive into its utility, I'd like to do a quick deep dive on how I'm calculating it and what it means.
To illustrate, I'm including a screenshot of an OpenSea listing for two Bored Apes (for which I have no affiliation). The ape on the left, #1755, is currently listed at a price of 42E, and it last traded at 33E. If it were to sell at its current list price of 42E, the current owner would be locking in a 27% gain – nice!
By contrast, the ape on the right, #9159, is currently listed at a price of 49E, but it last traded at 50E. If it were to sell at its current list price of 49E, the owner would be locking in a 2% loss – not nice! If these were the only 2 listings in the BAYC collection, the Sentiment Score would be 50% – one listing is 'at a gain' and one listing is 'at a loss.'
Pretty cool, right? In reality, there are a lot more than 2 listings for BAYC, so I'm pulling every one of those listings and comparing those two price points for each (List Price and Last Price). If an item is 'in the black,' it's counted towards the Sentiment Score, and if it's 'in the red,' it's counted against it.
I think this says a lot about the optimism behind a given collection – in our BAYC example above, it's probably not great news to hear one of their members who bought in at 50E is looking to lock in a loss, right? Of course, each individual example will have a story (e.g. hopefully this holder is going to pay for his house, his kid's college, or something awesome!), but when aggregated across hundreds of listings and compared across 20+ collections, it can tell a lot about the general optimism, or SENTIMENT, amongst holders of a collection. I think it's an incredibly powerful metric.
Using the sentiment score in practice
So, what do we do with this powerful knowledge of sentiment? Can we make perfectly-timed flipping decisions based on sentiment trends? Is this some badass alpha in the making?
In full transparency, this metric has NOT correlated strongly with floor price movements on a leading basis… yet. Said a different way, it's not *predicting* future changes in price; however, it has been an extraordinarily helpful lagging indicator, and I think it will likely be a strong longer-term predictor of success as the market matures.
As a short-term lagging indicator
Sentiment can move extremely quickly, and it's usually tied to major announcements or market activity. When I wake up and refresh my sentiment analysis, I look for the biggest moves in either direction, and I research the shit out of them – what happened and why?
It's near impossible to keep up with 25+ Discords and all the craziness on Twitter and Telegram (although that's not stopping us all from trying!), and what the Sentiment Score does, for me at least, is help me focus my efforts to understand and interpret the major changes in the market.
It's a great measure for knowing instantly each morning what significant developments occurred in the last 24 hours. It's not real-time alpha, but it's a smart way to prioritize research and filter the signal from the noise.
As a longer-term measure of community
I'm super bullish on this metric telling us about longer-term strength and resilience of a collection, and I'll give one example. Over the last several weeks, Wanderers has climbed from mid-tier to a consistent top 5 and even #1 collection on their Sentiment Score.
Their price hasn't done anything special during this period, but for whatever reason, the holders went from listing MANY of their items at a loss to listing NONE of their items as a loss. Interpret this how you will, but I see this as a likely indication that the flipping hands have left and the remaining holders are bullish on long-term project success and not in need of liquidity.
Full disclosure, I have one dope Wanderer NFT, but I'm telling this story not to pump my own bag but to suggest there's a lot of belief around top-sentiment projects, especially those with fledgling floor prices! Keep an eye out and include this metric in your research toolkit.
Wrapping up
I love the opportunity to learn about the NFT world out-loud using sexy data & analytics. This Sentiment Score is my first and, in my opinion, most powerful KPI, but I'm developing an array of them to approach the market from a range of different angles. I think we'll have to continue to think outside of the box to assess the right projects to participate in, and I think we'll learn a lot along the way.
This is a fully new asset class and it's unlocking genuinely new business models, engagement strategies, and community participation – how to measure and track such a dynamic market is a fascinating challenge. If you're in the crypto world and aren't learning something new every single day (or hour or minute), I think, respectfully, you aren't doing it right, ser!
Stay tuned next week for…..The PASSION INDEX.
Let the data set you free.
gn,
bobbyQ