Fashion, the ever-evolving trendsetter, refuses to be left behind as the world moves forward. With the metaverse taking shape, apparel brands are embracing emerging blockchain tech, including NFTs, and exploring new creative avenues.
Renowned brands have ventured into the metaverse. Recognizing the web3 space and embracing the metaverse is not only financially viable but also brings additional perks. April 2023 saw the second edition of Metaverse Fashion Week in Milan. The event saw the participation of big names like Coach, Balenciaga, and Adidas all taking part. Undoubtedly, the world of metaverse fashion is a thriving and rapidly growing industry.
A Look into the Past
The notion that luxury brands and fashion are fading away is far from the truth. In fact, it signifies the dawning of a new era for these industries. The journey began in March 2019 with the creation of Iridescence, the world's first NFT couture piece, born out of a collaboration between Dapper Labs, The Fabricant, and Johanna Jaskowska.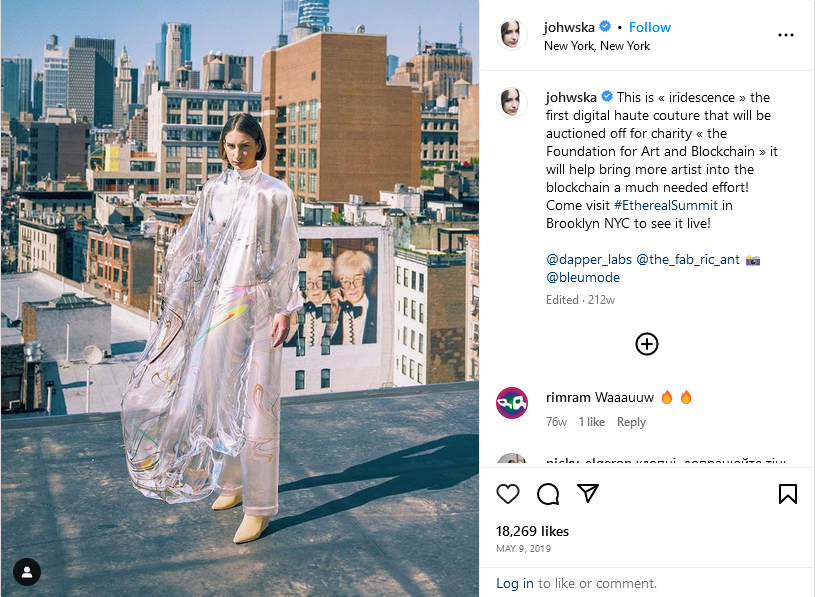 This groundbreaking creation set the stage for the metaverse's immense potential. Iridescence fetched a remarkable $9,500 at auction, merely hinting at what lay ahead.The metaverse, an immersive internet experience, holds limitless possibilities for luxury brands. In February 2021, the RTFKT witnessed a jaw-dropping feat as 600 pairs of digital sneakers sold out in under seven minutes, amassing a staggering $3.1 million in sales.
RTFKT cofounders say their NFT sneakers (sold 600+ pairs for $3.1M in collab with @fewocious) have already appreciated ~50% on the secondary market.

@SquawkAlley @RTFKTstudios pic.twitter.com/kLFLpCbokj

— Deirdre Bosa (@dee_bosa) March 16, 2021
Just a few months later, in June, a virtual Gucci bag sold on Roblox for over $4,000, surpassing the price of its real-life counterpart.
Balenciaga, Jimmy Choo, Dolce & Gabbana, and other esteemed brands now offer rare digital garments across various NFT marketplaces, catering to the growing demand for statement pieces to be flaunted in the metaverse. Even sportswear giants like Adidas and Nike have jumped on the metaverse bandwagon in recent years.
Experts view this as a "natural progression" in the fashion industry's digital transformation.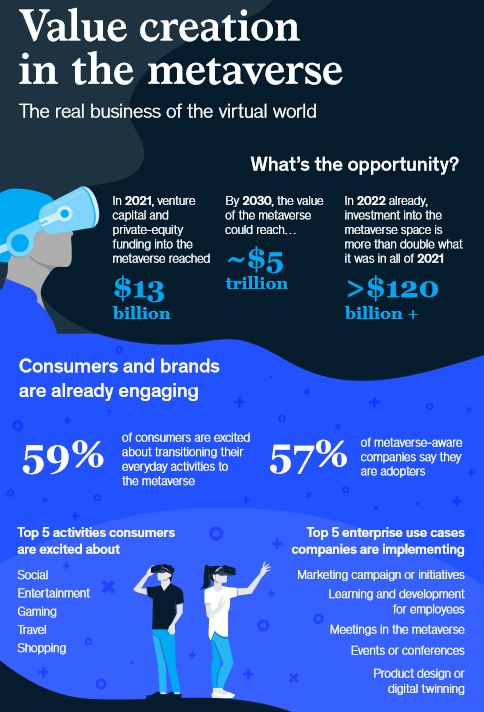 A study by McKinsey revealed that 59% of consumers are excited about embracing the metaverse for their daily activities. Virtual shopping experiences have gained early acclaim, allowing customers to immerse themselves in novel forms of retail therapy.
In virtual worlds, fashion will mirror the self-expression and status symbolism we witness in everyday life. Perhaps you might be unconvinced, but some believe this concept has tremendous potential. Investment giant Morgan Stanley forecasts that the virtual fashion market could exceed $55 billion by 2030.
Moreover, we can begin to see what the future has instore and the impact of metaverse fashion. Several brands have already launched metaverse-exclusive collections and generated millions from these types NFTs.
The emerging metaverse allows brands to establish genuine connections with their customers through virtual events or personalized shopping experiences. For luxury retailers, the virtual realm provides a platform to showcase limited-edition products that transcend the physical world—the metaverse beckons, promising an immersive haven where fashion thrives anew.
Why Metaverse Fashion?
Understanding the concept of digital fashion can be challenging for many, as the idea of buying or trying on clothes that exist only in a virtual world may initially seem peculiar. However, with the rapid growth of this niche market, experts are starting to take the notion of the metaverse reshaping the future of fashion much more seriously.
A recent study highlighted the environmental benefits of digital clothing compared to its physical counterparts. The study found clothing existing solely in the digital realm to be significantly more eco-friendly than its physical counterpart, emitting 97% less CO2 and consuming approximately 3,300 liters less water per item. Moreover, replacing physical samples with digital ones during the design and development phases can reduce a brand's carbon footprint by an impressive 30%.
Digital clothing also proves highly advantageous in various pre-production stages of a garment. Companies can use it for modeling, sampling, and marketing purposes before manufacturing their physical counterparts, thereby minimizing the overall environmental impact throughout a luxury item's lifecycle.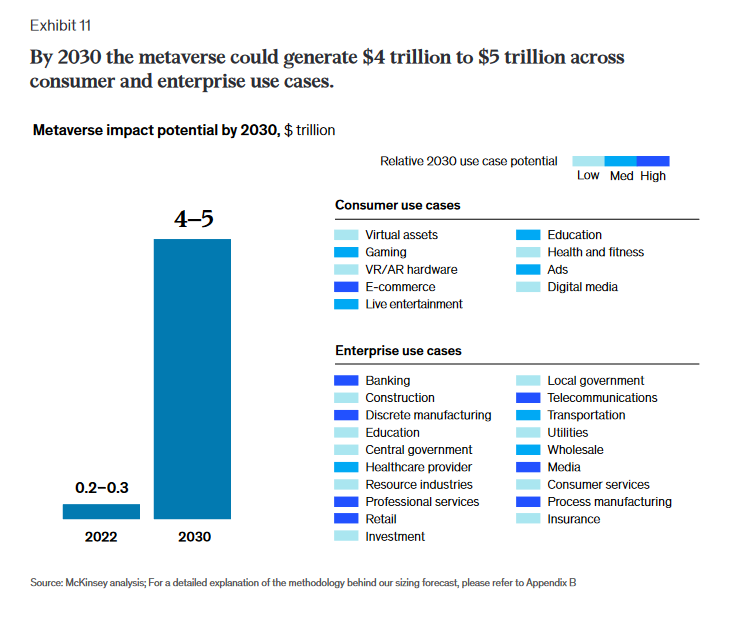 On the sales front, digital clothing offers a solution to the problem of overproduction, a significant hurdle the fashion industry faces today.
Besides, McKinsey's "The State of Fashion 2022" report highlights the importance of personal expression to Generation Z, with fashion being an area where they allocate a significant portion of their spending. Gucci's Chief Marketing Officer, Robert Triefus, believes that the underestimated desire for self-expression in the virtual world through avatars is a compelling reason for the fashion industry to take an interest.
The success of Instagram or TikTok filters further emphasizes the appeal of virtual clothing. Just as we transform our faces with animal features or place ourselves in virtual backgrounds to share our lives and dance, it is only natural to desire to "dress up" with high-fashion digital models.
A year later, in "The State of Fashion 2023," McKinsey suggests that luxury brands must embrace creative campaigns and new channels, including the metaverse, to achieve more significant marketing ROI and gather valuable first-party data that can deepen customer relationships. The metaverse presents an opportunity for brands to engage with their customers innovatively and harness this emerging platform's potential.
Fashion's Paradigm Shift
With augmented reality (AR) technology already embraced by younger generations, luxury brands in the metaverse are stepping up to meet their expectations. Digital fashion shows and immersive experiences are becoming the norm, transporting viewers into the captivating world of designers.
Through virtual reality (VR) and AR, brands can create digital spaces that closely resemble their physical stores. It allows shoppers to explore virtual clothing racks, virtually "try on" outfits, and interact with store personnel in real-time.
Platforms like Instagram, Snapchat, and TikTok have introduced AR-powered features and try-on experiences, revolutionizing how people engage with fashion. It opens up new opportunities for brands to reach a wider audience seeking sustainable and affordable luxury options while building a global following. With Apple's recently announced AR headset the birth of this movement has just gone mainstream.
Moreover, virtual reality fashion shows eliminate the limitations of physical space, enabling the presence of people from all corners of the globe. Models can take the form of three-dimensional avatars, offering unique and innovative experiences.
Events like Metaverse Fashion Week replicate the style of renowned fashion weeks in Paris, New York, and Milan- but hosted in a virtual world. Leading brands like Dolce & Gabbana and Elie Saab have already embraced this concept, proving that physical and virtual fashion shows coexist harmoniously.
Besides, the metaverse also presents luxury brands with the opportunity to experiment with new business models based on community interaction. By hosting interactive experiences such as virtual games and challenges centered around their collections, brands can foster a sense of community and engagement among customers. These experiences encourage competition and collaboration, providing opportunities for customers to win prizes and rewards. It not only enhances customer engagement but also cultivates brand loyalty.
Virtual stores bridge the gap between the transactional nature of e-commerce and the personalized shopping experience in physical stores. These virtual spaces offer intimacy, personalization, and inclusivity, attracting interest from various industries, including financial institutions, universities, and entertainment.
For instance, Bloomingdale's holiday virtual store exemplifies this concept, bringing together multiple brands under one virtual roof, each with its unique space and identity. The centralized checkout process and cohesive user navigation simplify the shopping experience, allowing brands to shine individually.
Furthermore, integrating gamification adds an extra layer of engagement, particularly for Gen Z users, fostering stronger brand loyalty. By incorporating game-like elements, brands can meaningfully reward users and drive deeper engagement. This approach addresses a challenge that many retailers face in today's market.
More importantly, tracking users' movements within virtual stores and learning their shopping preferences, product affinity, and habits allows brands to personalize the user experience further. This data-driven approach enhances the shopping journey, creating a more tailored and satisfying customer experience. As luxury brands venture into the metaverse, they embark on a transformative journey that redefines how we experience and engage with fashion.
Navigating the Path to Digital Fashion's Consumer Base
Experts have identified several key facets of digital fashion's utility, from digitally native garments to blockchain-based proof of ownership. While these innovations hold promise for solving issues in the fashion industry, there remains a crucial question: who are the intended consumers of these technologies? Establishing target markets and facilitating mass adoption is essential for the growth of digital fashion in the years ahead.
Builders and industry insiders are examining the consumer base' current existence and evolution for digital fashion. Understanding the potential impact of these technologies requires a learning curve encompassing the breadth and depth of their influence.
Many brands lack comprehensive knowledge of virtual worlds' functionality and demographics, posing challenges in leveraging this new channel for greater customer engagement. Brands must clearly define the "why" behind the digital fashion experience and its relevance to customers.
To successfully navigate this landscape, brands must address two crucial considerations:
Dispelling metaverse misconceptions: Overcoming skepticism and showcasing the metaverse's value beyond mere hype is essential. Brands must emphasize their long-term benefits and opportunities rather than focusing solely on short-term marketing events.
Balancing theoretical knowledge with practical experience: Brands must bridge the gap between theoretical understanding and practical application by conducting pilot programs and embracing experimentation. This hands-on approach will deepen their knowledge of the metaverse and its potential.
The metaverse can disrupt the traditional marketing model, blurring the boundaries between the real and virtual worlds. By harnessing this power effectively, brands can create a compelling channel that extends relevance to all aspects of consumers' lives. However, this requires a strategic approach, understanding the target audience, and adapting to the evolving landscape of digital fashion.
The Market Landscape
Once a hot topic of conversation, the metaverse has evolved significantly since Facebook's rebranding to Meta in October 2021.
Notable metaverse moments followed suit. In December 2021, someone paid a staggering $450,000 to become Snoop Dogg's virtual neighbor in The Sandbox. The virtual concert by Lil Nas X in the Roblox Metaverse captured attention, and Coca-Cola even introduced a virtual vending machine in Decentraland that dispensed branded NFTs. The list goes on.
Yet, despite the initial excitement generated buzz, public interest has waned, according to Google Trends, showing an 85% drop since its peak in January 2022. However, the fashion metaverses are steadily gaining momentum within the metaverse, with big fashion conglomerates like Louis Vuitton, Prada, and Gucci pushing the boundaries of metaverse Fashion.
Gucci and Yuga Labs team up to 'blur boundaries between physical and digital' https://t.co/rQjCutIWza

— The Block (@TheBlock__) March 27, 2023
Fashion brands have embraced the metaverse with innovative initiatives. Dolce & Gabbana's digital auction of the Collezione Genesi set a record as the most expensive fashion NFT, selling for $5.7 million. Adidas partnered with Genies for avatar creation, while Nike acquired the digital sneaker brand RTFKT. Gucci joined The Sandbox, created Gucci Vault Land, and established partnerships with Yuga Labs for metaverse clothing and NFT collaborations. Even fast fashion brand Zara made its metaverse debut with the Y2C Creatures and Lime Glame collections on Zepeto. In addition French luxury brand Louis Vuitton is making its most famous piece of luggage, the Louis Vuitton trunk, into a digital treasure to speed up its move into the Web3 space.
In the metaverse, luxury brands are fetching higher prices than their physical counterparts, selling virtual items at a premium. For example, Gucci sold a virtual Gucci Dionysus bag for approximately $4,115 through the gaming platform Roblox, surpassing the cost of its physical equivalent, valued at around $3,400.
Metaverse Fashion Week in 2022 showcased the metaverse's potential, as users spent $26,000 on wearable skins and claimed 76,000 free virtual items. Moreover, the event attracted nearly 70 brands, offering runway shows and immersive experiences.
While these figures may pale in comparison to the billions of dollars generated by these fashion brands annually, they signify the untapped potential of virtual worlds in captivating younger audiences. A pivotal factor contributing to the success of metaverse fashion lies in its ability to enable Gen Z users to express their individuality and enhance their self-confidence.According to Roblox's Metaverse Fashion Report, around 50% of Gen Z users surveyed expressed that dressing up their avatars on virtual platforms offers a means of personal expression and uplifts their spirits.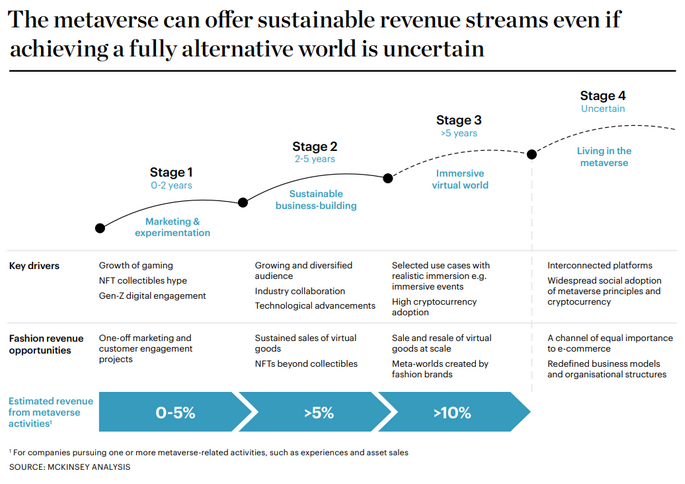 Although many current metaverse endeavors are primarily promotional, McKinsey & Company's report suggests that as the metaverse continues to gain popularity, pioneering fashion brands could anticipate generating up to 5% of their revenue from metaverse activities in the coming years. This projection underlines the significant potential for monetizing the metaverse within the fashion industry.
The metaverse market's growth trajectory is equally remarkable. According to estimates, the global metaverse market is rapidly growing, projected to reach $82 billion in 2023 and a staggering $936.6 billion by 2030.
While the metaverse initially faced skepticism and hype, its future as a powerful platform for fashion is gradually solidifying. As the industry continues to explore and embrace the possibilities, the metaverse is poised to become a significant component of fashion's evolution, catering to the changing preferences and behaviors of digitally native consumers.
Conclusion: Future Outlook
With its revolutionary blend of AI, blockchain, machine learning, and NFTs, the metaverse holds immense promise for the fashion industry. Although the realization of a world solely inhabited by digital fashion may still be distant, the journey has only just begun.
Accessible technology for all remains crucial in driving the widespread adoption of metaverse fashion. Nonetheless, the organic growth of the metaverse will continue, reshaping our perception of reality and transforming the fashion industry in parallel.
As consumers increasingly spend their time online and the metaverse hype cascades into the realm of virtual goods, fashion leaders have a unique opportunity to engage with younger generations and tap into untapped value streams. Moreover, the metaverse offers a sustainable approach to fashion. Going digital and virtual allows the industry to reduce its environmental impact significantly.
By embracing the metaverse, luxury brands can increase their profits, avoid controversies surrounding low wages, and eliminate expenses associated with warehousing and storage. It is an opportunity to maintain their legacy while embracing a sustainable strategy.
The future of the metaverse in fashion is bright. As technology becomes more accessible, the boundaries between the physical and virtual worlds will continue to blur. Fashion brands that embrace this transformative shift and harness the potential of the metaverse will be at the forefront of innovation and sustainability.
Undoubtedly, the metaverse will redefine fashion, and now is the time for brands to embark on this exciting journey of exploration and reinvention.