The Sandbox is an Ethereum-based virtual world where players can build, own, and monetize voxelized gaming experiences.
Formerly a hit web2 platform with over 40 million downloads on iOS and Android, the platform was given its blockchain spin back in 2018 by developer Pixowl.
Its premise is built around blockchain technology and NFTs, and how through leveraging such areas of Web3 tech, players can truly own their own user generated content (UGC)- be it gaming experiences, metaverse avatars, wearables and accessories, and virtual real estate etc.
The Platform's Driving Forces
Experiences across The Sandbox are cultivated through three innovative products.
The first is Voxel Editor (a.k.a VoxEdit), a simple and free 3D voxel modelling and NFT creation tool for PC and Mac which allows users to create animated 3D objects such as humans, animals, vehicles, scenery, tools, and other items.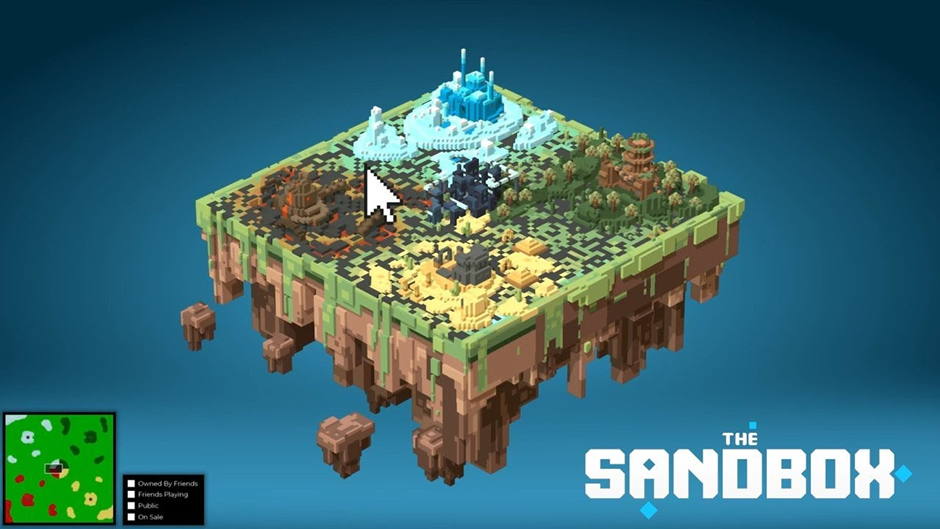 Next is The Sandbox Game Maker; a tool which allows users to build 3D games for free and without the need to code.
Last is The Sandbox NFT Marketplace, which as you guessed, allows users to upload, publish, and trade VoxEdit-created NFTs.
Players' creation experiences can also be enhanced through the $2 million 'Game Maker Fund' which is provided and supervised by The Sandbox Foundation DAO.
The Sandbox NFTs and Native Token
The player-owned experiences that are created using the aforementioned tools are centred around three types of blockchain-residing digital assets; virtual real estate NFTs known as LAND, user generated content (UGC) NFTs called ASSETS, and the platform's native ERC-20 token, $SAND.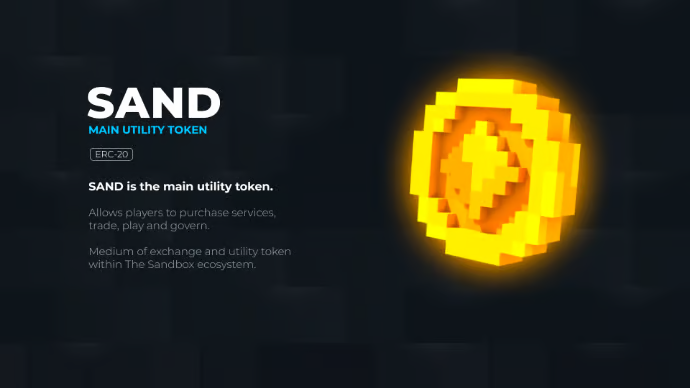 Intuitively, virtual real estate LAND serves as foundation for all of the platform's creations, as without it, there's essentially nothing to build on.
Through its ownership, players can create their own gaming experiences and other activations- such as virtual museums, social spaces, or metaverse homes- that can further be embedded with monetisation dynamics.
As is the case with real life, the price of LAND largely depends on its location, size, and existing features. In addition- and similar to fellow metaverse platform Decentraland – players can also acquire multiple LAND plots next to each other to create ESTATES- i.e., vaster spaces for creating 'larger and more immersive online experiences'.
ASSETS are NFTs which depict a wide array of voxelised UGC. They can be sorted into five categories, 'Entities,' 'Equipment,' 'Wearables,' 'Art,' and 'Blocks'.
Here, 'Entities' are non-playable characters (NPCs) which can be used to enhance a particular metaverse experience, be it a lion in a zoo, or a paramedic within a hospital environment. What gives these assets an extra flair of immersion is their ability to interact with player's metaverse avatars, as for example, a lion is classed as a 'predator' that can harm other playable and non-playable characters, whilst a paramedic will have the ability to heal.
Equipment ASSETs relate to objects that be placed in player's inventories, as well as equipped in order to complete particular missions. These can include items such as clothing, weapons, and armour etc.
Wearables are cosmetic accessories in which players can kit-out on their metaverse avatars. Given the creative scope of the platform, these can vary from traditional clothing garments to outlandish or themed props.
Quite simply, Art ASSETS in The Sandbox essentially do the same job as their IRL counterparts- i.e. serve as visual decorative items that can spice-up the vibe of a particular environment.
And finally, Blocks are literal 'environmental blocks' that make up a LAND's theme. They usually take form as traditional resources such as water, mud and sand etc., which can also be jazzed-up with particular themes and colours (i.e. sparkly purple lava for example).
Of course, all of the above NFTs require $SAND in order to be minted and traded. Through $SAND ownership, players can also partake in governance and voting decisions within The Sandbox DAO.
The Sandbox Metaverse Avatars
As is the case with all metaverse platforms, The Sandbox players navigate the platform via their metaverse avatars. Here, The Sandbox avatars are of course voxelised, and can be customised using an array of cosmetic features and garments to reflect their personalities. These include customisable hair, skin tone, clothing, accessories and more.

Each avatar also possesses its own set of skills and abilities than can be improved through completing various activities and challenges. Through such accomplishments, they can also earn $SAND (i.e the platform's native token).
On the social side of things, players can interact with one another's metaverse avatars through chatting, gaming with one another, or exploring the platform's vast array of UGC.
Closing Thoughts
With its popular voxelized aesthetic- which takes inspiration from the likes of Minecraft and Roblox- The Sandbox is reported to have over 200,000 active users each month (at the time of writing), making it one of the most popular metaverse platforms on the market.
And with the array of creative opportunities on offer, the platform is also famous for its flurry of celebrity and brand partnerships with the likes of Snoop Dogg, Paris Hilton, Tony Hawk, Atari, Dapper Labs, and more.
Further, covering such list of collaborations is almost an impossible job, as per the announcements on The Sandbox Twitter page, the platform seems to make exciting new partnerships on a (seemingly) weekly basis.