As consumers look to purchase NFTs, aggregators and pro-trade platforms have grown increasingly popular, allowing users to view NFT listings at the lowest prices across all marketplaces. While several pro-trade platforms exist on Ethereum, like Blur, OpenSea Pro, and Magically, recently, the battle for supremacy has been heating up as marketplaces compete to incentivize consumers to use their platforms through token airdrops and NFT claims.
While Polygon has long been home to major NFT projects like ZED Run, Aavegotchi, and Chicken Derby, its popularity for NFT projects did not grow as swiftly as other blockchains like Solana and Ethereum. In recent months, Polygon has begun exploding in trade volume. Between November 2022 and April 2023, Polygon NFT sales volume increased by over 500%, rising from $7.3 million to over $39 million.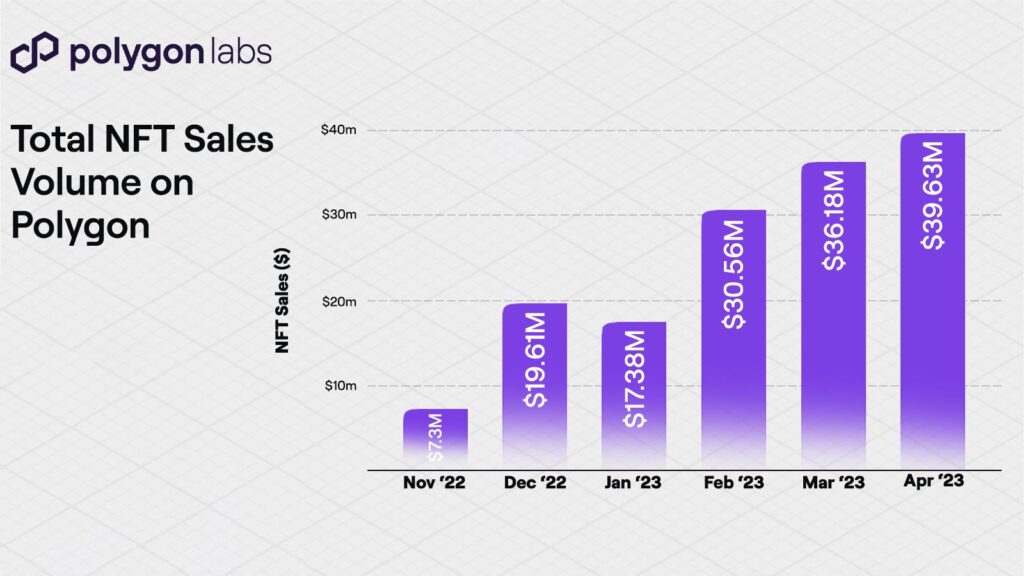 This catalyst comes as major brands like Y00ts have bridged their assets onto the chain, and new projects like Owlpha, Brozos, and WildCard have recently launched their operations on Polygon. Building on Polygon, projects can leverage Polygon's zkEVM technology which allows for enhanced security and increased scalability while minimizing financial fees and environmental impact and maintaining compatibility with Ethereum-based applications.
Seeing a window of opportunity in this burgeoning market, a new platform, Dew, has emerged to simplify the trading process of Polygon NFTs.
Who is Dew?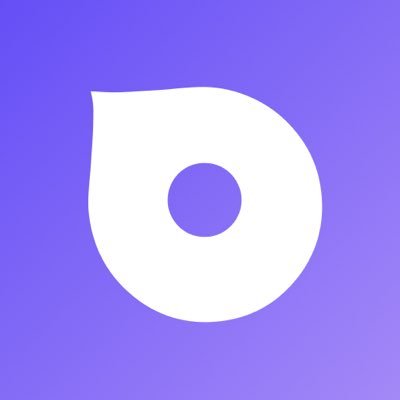 Aiming to become the top aggregator for NFT traders on Polygon, Dew is one of the first pro-trade platforms solely focused on Polygon; Mintify offers similar a pro-trade experience on Polygon in addition to supporting Ethereum collections. Before starting Dew, its co-founder, Kang, co-founded Nomme, an online food delivery service company acquired by Doordash in 2018.
As a lifelong gamer and ardent fan of World of Warcraft, Kang discovered STEPN and was fascinated with the concept of gamifying and rewarding the customer experience. After Nomme, Kang helped start and build a Web3 gaming company.
Successfully leading the company through a seed funding round, Kang ultimately left the company due to internal conflicts. Upon leaving, the passion instilled for Web3 and GameFi stuck, and he began building Dew as he saw the promise of enabling and enhancing business by utilizing blockchain.
In an exclusive interview with Kang, the founder spoke about building in the startup environment and adapting to volatile market conditions: "We've been through a lot, and many of our thoughts have changed. For example, we thought the Polygon ecosystem was much bigger. However, we have realized it's still small, almost infantile relative to Ethereum, so we have had to pivot strategies." Through this, Dew aims to cater not only to "pro-traders" but to all participants in the Polygon NFT ecosystem. One avenue Dew is exploring in this regard is partnering with current and up & coming projects on Polygon to promote and grow the ecosystem as a whole.
How to Get Involved
While Dew is currently in invite-only beta, gaining access through Dew giveaways on social media or receiving invite codes from current users is possible. In return for beta-testing, Dew has unveiled several rewards for its users.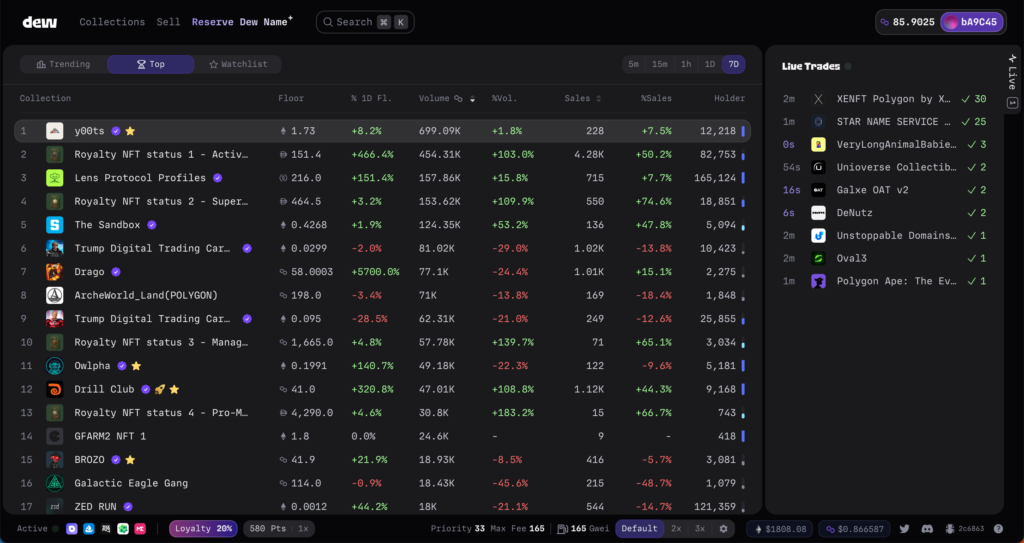 D Points
The D Points (DP) system of Dew consists of three components: Basic Points, Invite Points, and Extended Invite Points:
Basic Points: Upon joining, participants receive DP based on their historical trading volume (past 180 days) across the Polygon Network, Ethereum, Arbitrum, and BNB Chain. Different chains have varying weights in the calculation.
Invite Points: When someone uses your invitation code to join the platform, you earn 1/5 of your invitee's DP without affecting their DP balance.
Extended Invite Points: You can obtain an additional 1/25 of DP when your invitee's invitation code is used by their invitee (a second-degree connection).
However, you will not receive any DP if your invitees have no DP. Participants can also boost their DP through promotional activities, such as retweeting about the platform's launch within a limited time window, which grants a 50% DP increase. Higher DP may lead to enhanced rewards in future chapters of the platform. More info on DP may be found here.
Ambassador Program
To help promote its launch, Dew has opened an ambassador program for passionate and knowledgeable individuals to promote its platform. Ambassadors represent Dew across social media, Discord, Twitter Spaces, and other channels, sharing knowledge, insights, and showcasing its features to earn points and increase their reward. Benefits of being an ambassador include:
Dew merch.
An airdrop box.
Access to in-person events.
Early access to new features.
Dew Name
One of the most exciting announcements has been Dew Name, a decentralized personal domain feature for Dew's devoted users. Dew Name offers exclusive benefits like airdrop box boosts, replacing wallet addresses, early access to features, and continuous trading yields.
One of the key aspects of the Dew Name feature is its continuous trading yields system. When users claim or trade a Dew Name, a portion of the price paid is saved in a vault and distributed equally to all Dew Name holders. Another part is paid to other registered combination Dew Names, allowing users to benefit from the ongoing activity on the platform.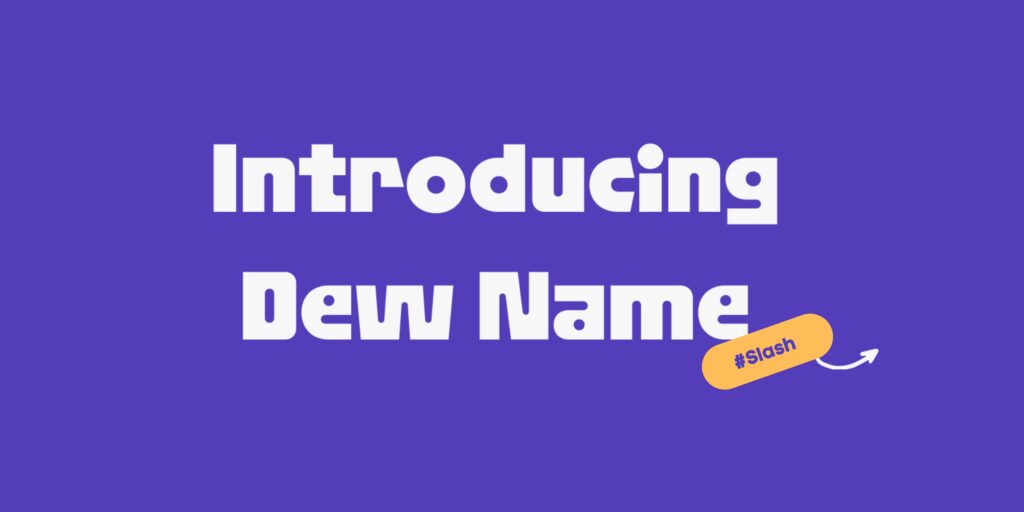 The Dew Name registration process involves a pre-reservation stage for users with the highest loyalty, followed by a public registration where everyone can mint their own Dew Names. During the pre-registration phase, users can reserve one unique name consisting of a combination of two letters or numbers. Afterward, users can ask friends to "slash" the price, potentially allowing them to mint a Dew Name for free. The price slashing depends on the friends' D Points and is limited to new users only. Owning a Dew Name unlocks potential during trading on Dew.
| | | |
| --- | --- | --- |
| Feature | Dew Name | Ethereum Name Service |
| Scope | Specific to Dew.gg platform | Designed for the broader Ethereum ecosystem |
| Purpose | Exclusive benefits, loyalty, and rewards for Dew.gg users | Simplifying Ethereum addresses and supporting decentralized services |
| Benefits | Airdrop box boosts, early access to features, continuous trading yields | User-friendly addresses, decentralized websites, and services |
| Domain Pricing | Price depends on length; friends can "slash" the price | Domains purchased through auction; price determined by the market |
| Use Case | NFT trading rewards on Dew.gg platform | Applicable across various platforms and services in the Ethereum ecosystem |
Performance To-Date
Since the launch of its beta in late March, Dew has experienced tremendous user volume. By April 24th, just under one month after the beta began, Dew had over 3,700 unique active wallets transact on its platform. In that time, Dew had processed over 9,000 transactions amassing over $894,000 in volume traded, according to DappRadar. On Twitter, Dew has reached over 66,000 followers.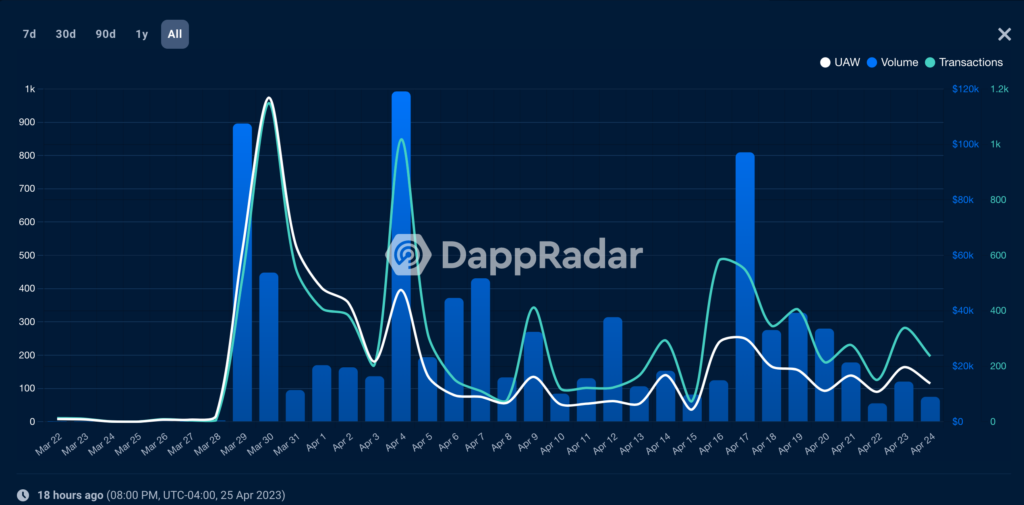 Check out Dew's Twitter and Discord for more information and to keep up-to-date on the latest Dew news.