Uniswap has officially entered the ring of NFT aggregator marketplaces today with the launch of the aggregator tool.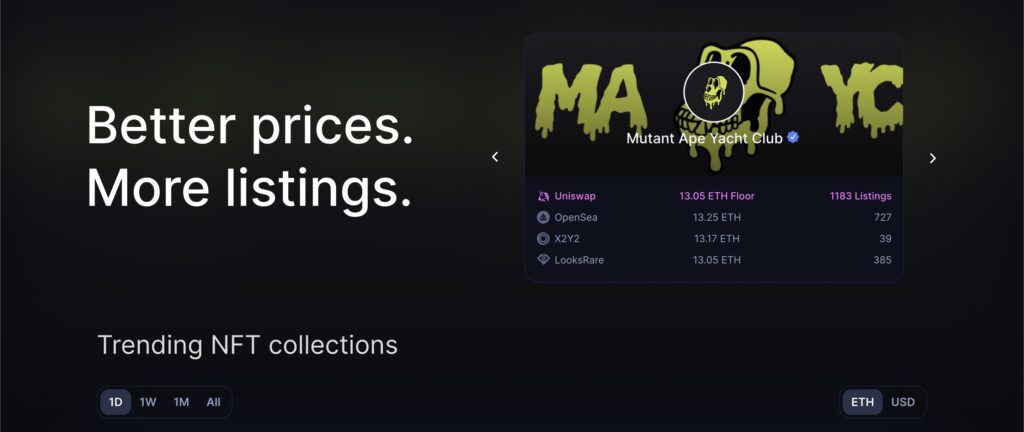 This tool will allow Uniswap users to trade digital collectibles across OpenSea, X2Y2, LooksRare, Sudoswap, Larva Labs, Foundation and NFT20 marketplaces using the platform. This new platform will be a direct competitor of other aggregators such as Blur and Gem. Uniswap is able to make all of this happen due to their acquisition of the Genie aggregator back in June. 
At the time of this acquisition, it was also announced that Uniswap would be rewarding historical users of Genie with a long-awaited airdrop which has also arrived today with the launch of the marketplace. 
Uniswap versus the competion
It is interesting to compare the strategy that Uniswap has taken with this airdrop in comparison to their main competition of Blur, and how they are handling their airdrop. Uniswap has decided to reward their users with an airdrop of USDC instead of a native token which most airdrops have been.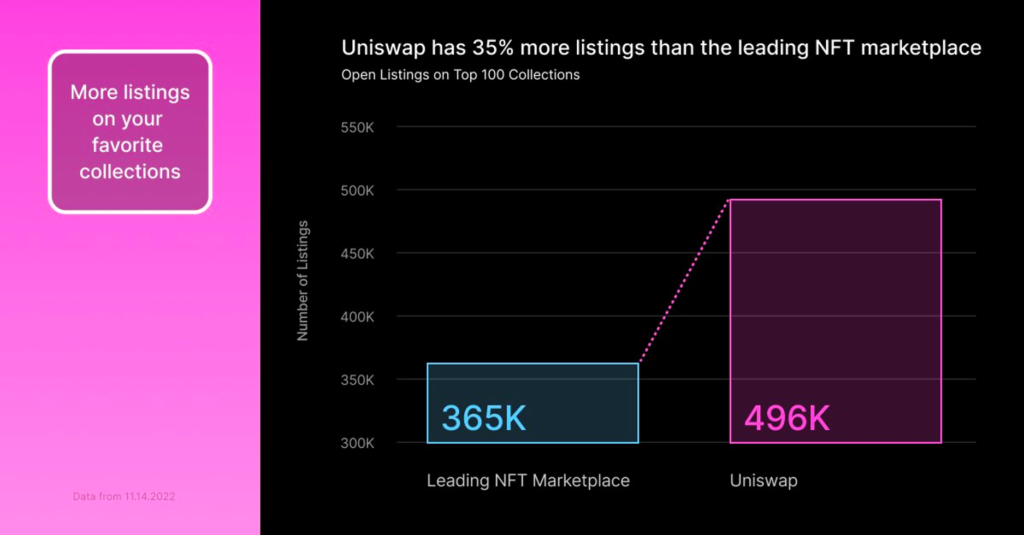 They have also decided to reward the users upfront for previous merits instead of making the users use their platform like Blur has. This airdrop from Uniswap is estimated to be returning over five million dollars in funds back into the hands of NFT traders, at a time that it is definitely needed. 
$300 USDC Airdrop
Any user that had completed at least one transaction on Genie before the snapshot date of April 15th was eligible to claim $300 USDC as of today, and any user who held Genie: Genisis NFT at the time of the snapshot was able to claim $1000 USDC. This airdrop is able to be claimed by all eligible users for up to the next twelve months. It will be interesting to see after the Blur airdrop in January which method proves to be more effective for the marketplaces. 
It is worth noting that at the time of writing I have seen multiple posts on Twitter referring to users reinvesting the current airdrop into NFTs listed through the Uniswap marketplace. This feels as if it is driving organic volume to the marketplace instead of trying to force users to use the marketplace as we have seen Blur do with their vampire strategy, which is where they use the incentive of the airdrop to force people to use their platform instead of promoting organic use.
While it will be some time before we are able to collect data to see which methos has had better results, it feels as if in the long run the Uniswap method will be healthier overall for the marketplace and the NFT community as a whole. 
Gas rebates
In addition to the airdrop Uniswap is also encouraging users to try out their platform by providing gas rebates for the first 22,000 new users who purchase an NFT through their marketplace, with the rebate capped at 0.01 eth.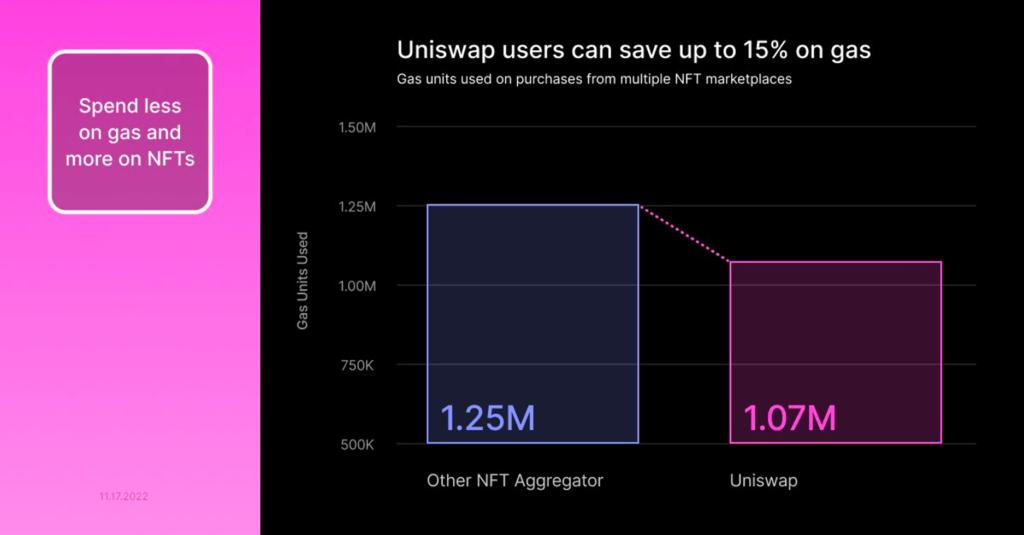 The gas rebates promotion begins today, ends on December 14, 2022, and is claimable on January 16, 2023 through the Uniswap app for 12 months. In addition to the gas rebate, Uniswap has stated "Our latest Universal Router smart contract can save you up to 15% on gas costs compared to other NFT aggregators, saving our users tens of thousands of gas units over other marketplaces."
This is a huge step in the right direction for an aggregator as gas units can drastically increase when trying to purchase multiple NFTs in one transaction. While we have not seen astronomical gas fees as we did during 2021 lately, the more that is saved in gas fees is more liquidity than can continue to flow back into the NFT market.  
The future for Uniswap
This is a huge step forward for the NFT world with the adoption coming from one of the largest decentralized exchanges in the crypto world. In a statement from Uniswap "NFTs and ERC-20 tokens have largely existed as two separate ecosystems within crypto, but both are essential to growing the digital economy.
Launching NFTs on Uniswap is our first step in building more interoperable experiences between the two. To bring users the first-rate experience they've come to expect with Uniswap, we built the aggregator to deliver better prices, faster indexing, safer smart contracts, and efficient execution." It is very encouraging the lengths that Uniswap has went to make this a successful product, and to make themselves a known name in both crypto and NFTs.  
On top of all of this, Uniswap has always been committed to being trustless, transparent, and open source. They have brought this philosophy to the NFT side of the platform and open-sourced all of their front-end code, making them the first major NFT platform to do so. 
This is a huge step forward for the whole NFT space if Uniswap's contract is as effective as they have stated, as this will help the other aggregators to either improve their services, or get passed up by superior products, while also pushing Uniswap to consistently be improving their products so that they are not passed up by other improved iterations of their own code.  
Final thoughts
At the end of the day, we may not see all of these aggregators be able to all thrive under current market conditions, but it will be interesting to see how the constant competition will be able to drive each aggregator to continually deliver the most value to holders. 
Uniswap may have the leg up on most of the competition currently just based off of their longstanding history within the crypto space. They are a trusted name with an already quite large user base. This may be one of the events that we see more traditional crypto enthusiasts that have used Uniswap in the past start to dip their toes into the world of NFTs.
It will be interesting to see where Uniswap's marketplace falls in with the other marketplaces, and how well it is able to perform, but my bet is that they will be one of the top aggregators come the next bullrun.