VOLT: The SupDuck Token is Absolutely Lit
I've been relatively vocal, both on dGEN and Twitter about my love for SupDucks. The community is dope, the lead artist is a heavy hitter with a following beyond NFTs, the team is great, and the art is fantastic. The floor on the project is lava, too. So much so that when I wrote my original article linked above, I had to edit it before I posted because the floor moved from 0.9 ETH (when I wrote it the night before) to 1.2 ETH (when it went live).
Last week, they released a token called VOLT. Each SupDuck holder got 100 VOLT immediately, and the process for redeeming it was pretty cool. Upon coming to the site, they had a pop up to add VOLT into your wallet as a visible token like ETH. I know for many people, SupDucks are their first NFT, so having this (rather than getting a token ID on Etherscan) was a nice touch.
Then, you claimed the VOLT. If you look at the picture below, you can see my current bag of VOLT for owning two Ducks as of 9/18/2021. I simply had to click that lightning bolt, sign a contract in my wallet, and pay gas. The left number is VOLT I claimed, the right number is VOLT I can claim at any time. I'll probably claim once a month or so.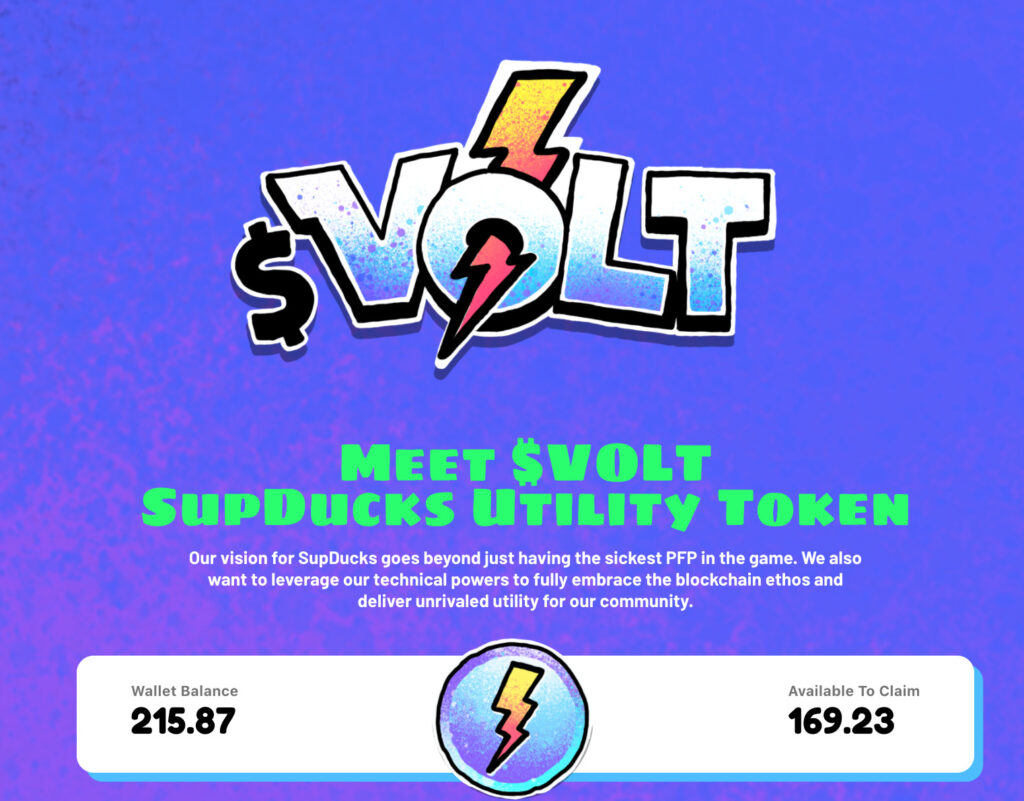 You earn 10 VOLT per day for every Duck you own. There's liquidity available on Uniswap, and each VOLT is currently worth around 80 cents. In other words, you get paid – at current ETH prices – roughly $2,900/year for holding a duck. Now, the fact that they introduced the token at all is awesome, the immediate liquidity is great, and the current value is sweet…but that's on scratching the surface as to why this is so cool.
This token is expected to have real utility to the project. The plan is to allow you to use it for various things – from upgrading NFTs (there are rumors of "science experiments" on the upcoming companion, King Frog) to unlocking new content. One of the founders even posted a SupDuck (the project currently has a 1.6 floor) for 25,000 VOLT. VOLT will have a very real place in the ecosystem. Below you'll see different ways you can earn and spend VOLT from the SupDuck Website.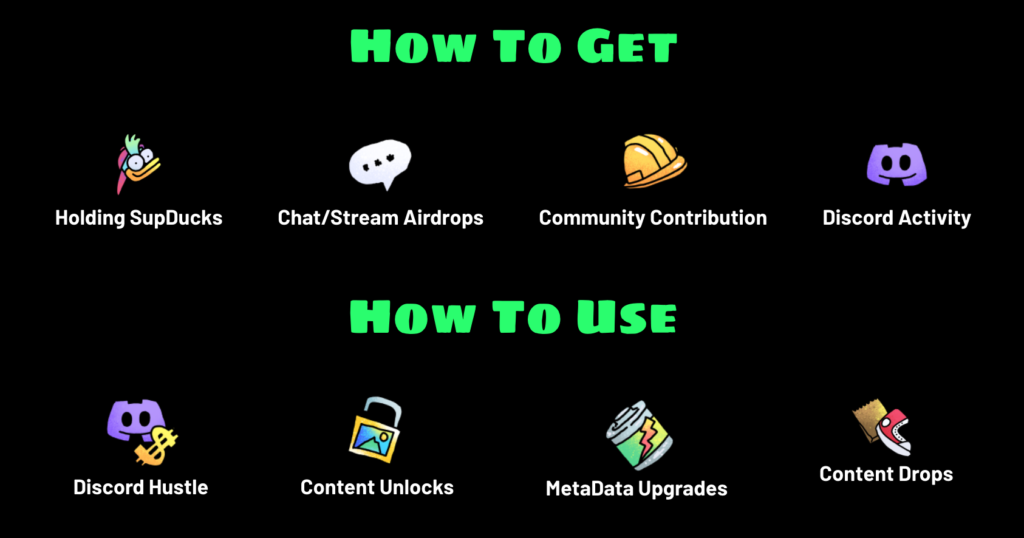 What's even cooler is that in the community, VOLT is taking on a life of its own. In the Discord, Ducks are allowed to award VOLT to one another as a "tip" for something. That can be a meme, an act on behalf of the community, or really, anything you want.
While in the weekly What's Quackin' Twitter Space, I heard Scott Kominers give a really cool assessment of VOLT. If you don't know Scott, he teaches economics and entrepreneurship at Harvard. He's also a proud SupDuck. I'll do my best to paraphrase, knowing that my brain is about 14% the size of Scott's.
Scott noted that a currency in general doesn't have innate value, but instead it has assigned value based on what people decide it's worth. VOLT, before the intended use is even in play, has its own internal economy, where the currency is being regularly traded and moved. That means it already has an ecosystem in which to operate. That drives value. Within that economy, even the memes Limp posts (Limp proclaimed himself a "meme whale" on What's Quackin') are an asset that brings value which is traded in VOLT. This also incentivizes the community to continue, for lack of a better term, their Discord shenanigans.
The bottom line here is that this project continues to impress me. The VOLT launch went off completely smooth, and the token already has value, both in dollars and utility. It's no surprise this team knocked it out of the park, and other projects could learn from SupDucks in how they implemented VOLT. And I hope they do.
Like this article? Check out some of Steve's other articles here.
Disclaimer: This article is not financial advice. The NFT and Cryptocurrency markets are very volatile. Please don't invest what you can't afford to lose. Always do your own research before investing.