With the NFL season just around the corner, people are flocking back to fantasy football. We are all familiar with the usual fantasy formats, there's season long, the emergence of best ball format, and the ever popular DFS format. However, there's a new way to play fantasy football this year and it's brought to you by DraftKings, the pioneers of DFS. It's called DraftKings Reignmakers, and in this article we'll break down all you need to know to get up to speed quickly.
DraftKings Reignmakers: What do you need to know
DraftKings Reignmakers allows players to build a collection of gamified NFL player cards through pack drops, auctions, and secondary marketplace and then have the ability to use players from their collection to build a lineup into Fantasy Sports-style games on a weekly basis. These player cards are backed by NFT technology on the Polygon blockchain which allows for players to verifiably own their digital player card assets. The NFT technology also allows for proven digital scarcity for player cards which introduces a TON of unique game theory and game mechanics to the format which simply do not exist in other fantasy football formats.

How does scarcity factor in?
In the Reignmakers Football game, the Player Card NFTs each have a rarity tier.
In order of least scarce to most scarce, those tiers are…
CORE
RARE
ELITE
LEGENDARY
REIGNMAKER

Holding scarcer Player Cards matters, because contests have minimum scarcity requirements to create a valid lineup.
ELITE, LEGENDARY, and REIGNMAKER tier Player Cards have "guaranteed scarcity", which means only a pre-defined, limited amount of Player Cards for each player will be created throughout the entire 2022 season. This is an extremely important factor in this format because unlike the normal DFS format in which as long as you have salary, any user can play any given player, in Reignmakers you can only make a lineup with players you own.
For example if you own a Legendary Cooper Kupp (there are only 50 at this tier), that means a MAXIMUM of 49 other people could possibly play Kupp in those legendary contests. This creates some very interesting market mechanics and lineup strategy which are super intriguing to me personally.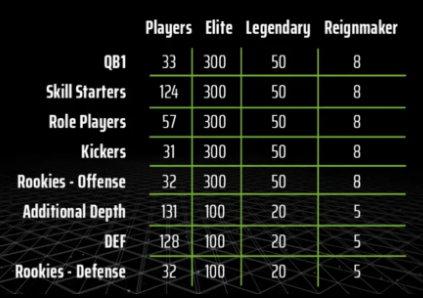 So how do you actually play?
Reignmakers fantasy is similar to classic daily fantasy sports but with a twist, you can only enter players you own in your collection into Reignmakers contests.
The fantasy football game for Reignmakers Football lives inside the DraftKings Fantasy Sports app. If you've played Daily Fantasy Sports on DraftKings before, it's the same app you have already. If not, use promo code dGEN when you sign up for a free core pack!
In each of the 22 weeks of the 2022-23 Football season, including the playoffs, you will have your choice between dozens of different no-fee Reignmakers Football contests with various prizes.
Contest offerings will include Classic (multiple games) and Showdown (single game) formats, as well as contests requiring different Player Card NFTs across all Rarity Tiers – from CORE to REIGNMAKER.
* I want to stress the importance of the fact that there is NO additional entry fee to Reignmakers contests outside of buying cards for your lineup. Once you own a lineup you could play contests for free all year with prize pools sponsored by DraftKings.

Contest Gating and Why It Matters

As we've covered, all Reignmakers cards have a series of properties associated with them that impact the way you can play the game.
Card rarity is the most commonly used property to gate contests. Every contest will have rarity rules tied to entry.
Holding scarcer player cards matters in the fantasy game because contests have scarcity requirements to field a valid lineup.

TLDR: The scarcer your collection of NFTs, the more exclusive contests you'll have access to and the smaller the player pool you'll be competing against.
In the graphic below you can see how the rarity of your cards determines which contests you can enter. The higher up in contest tiers you go, certain card rarities will no longer be eligible for your roster (e.g. CORE cards aren't eligible for any contests above the RARE tier, etc).

Contest Example
In the contest below, you can see that there are multiple rarities required to field a valid lineup. In this example you must have four elite level cards, and one rare card.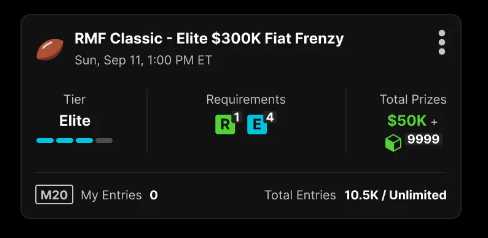 As the season goes on, there may be contests that require other specific card types to enter. For example, a rookie only contest, or genesis set only etc.
Superstar Cards
There are some players that have been tagged as superstars. This deliniation may be updated and changed throughout the season. Each contest has a limit of ONE superstar player per lineup. This is something you MUST take into consideration when creating your lineup and buying cards. It will impact how you construct your lineup. For example you could not play Justin Herbert and Cooper Kupp in the same lineup as they are both tagged as superstars. This adds an extra game theory element and keeps the game from allowing the deepest pockets to stack their lineups with the best players.
Scoring, Rosters and Contest Types
Classic Contests
Classic contests are multi-game slates where you can complete your lineup from a number of different football games. The roster format for classic contests is:
QB, RB, WR, WR/TE, FLEX
*Note: In classic contests, FLEX players can be any RB, WR, TE, K or defensive player
To complete your lineup, you'll need to draft at least one player from two different teams in the contest.

Showdown Contests
Showdown is a single-game contest where the rosters will have a CAPTAIN position, which gets a fantasy score multiplier, and FLEX positions.
For Reignmakers football, Showdown slates will typically be available for all primetime games each week (TNF, SNF & MNF).
CPT (FLEX), FLEX, FLEX, FLEX
Notes:
FLEX players can be drafted from any position (QB, RB, WR, TE, K or defense).
You cannot draft two of the same player in a lineup but you CAN draft multiple different defensive players from the same team (see defensive player scoring rules below).
As with DFS Showdown contests, you will still need to draft at least one player from both teams in a game to complete your lineup.

Scoring
Scoring matches DK's classic DFS scoring system which can be found here.
Tiebreakers
In the event any players tie for a specific contest, the edition number (serial numbers) of the players cards will decide the tiebreakers. The player with the lowest cumulative serial numbers will win the tiebreaker.

Example: If your 5 cards have a cumulative serial number of 100 and mine add up to 201, you would win the tiebreaker. So, when buying cards, if there is a lower serial number available at a similar price, that should factor into your decision just in case.

How does card usage in contests work?
Cards can be used in one contest at a time. A card becomes playable in another contest once the card's game starts.
For example: You play your Elite card in a Sunday Classic contest. The contest starts at 1PM and the player's game starts at 4PM. Your rare card locks into that contest at 4PM and becomes playable in other contests at the same time.
Separately, you'll only be able to play each individual player 1X per lineup in a contest. This means if you own two cards of the same player, you'll have to choose which one you want to use for your contest entry. You may create a different entry or join another contest with the other card.
For contests that allow you to play individual defensive players, you may play multiple defensive players from the same team, but you may still only play the same player once per lineup.
Wrap Up
Personally, I am SUPER excited about the potential of Reignmakers. It combines fantasy football, card collecting, market dynamics, game theory, supply and demand and fun. DraftKings is very committed to this product and is offering over 1 million dollars in prizes across contests EVERY week of the football season. In future articles, I will break down some early strategies I've been employing and track some results.

While this is a very exciting format, please be aware that with anything new, it may take time to be adopted. Being early usually pays off. There will be a ton of opportunities to win some amazing prizes just by being in the game. I would recommend spending some time to really understand the full opportunity of this brand-new format!
See you on the virtual gridiron.