6 Best NFT Projects Under 0.2 ETH
Today, I was browsing around my timeline on Twitter, and a tweet from @FogoNFT got me thinking.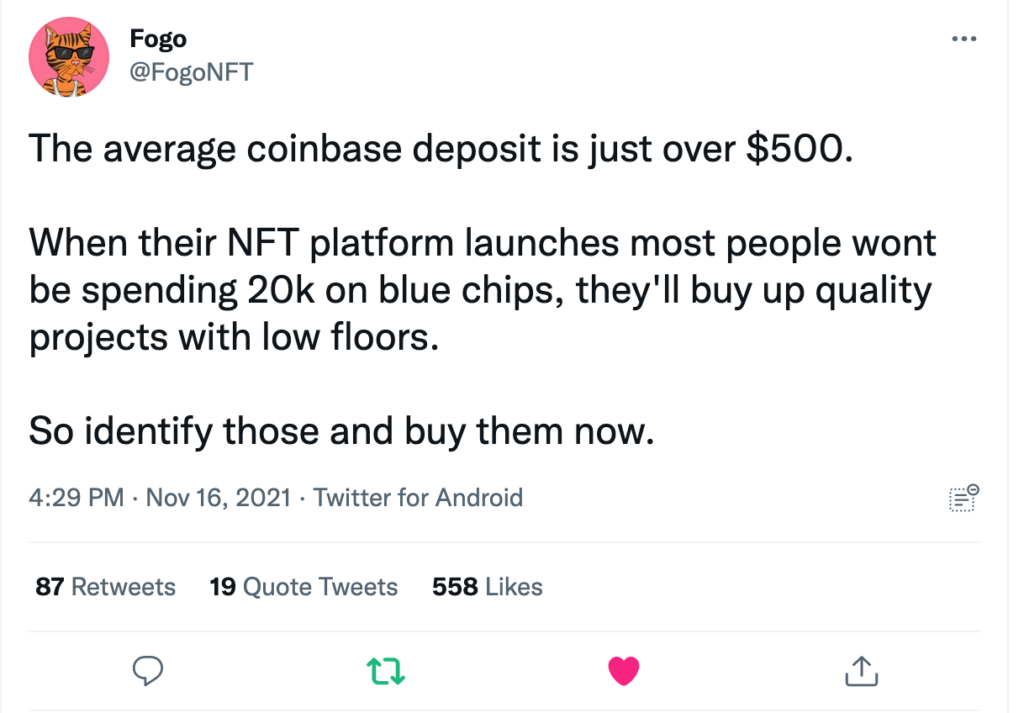 I've been saying for a while that as new people come into NFTs, most aren't going to buy NFT projects like Punks, Bored Apes, or Cool Cats. Most of these newbies are thinking in terms of fiat currency (dollars, euros, etc.) so spending $50,000+ on an internet picture is out of the question. The tweet brought a key piece of data to support that theory. With over 55 million users, Coinbase will be a huge catalyst for NFTs when they open their NFT marketplace. With the average Coinbase deposit being just $500 (around 0.11 ETH), people will likely be doing one of two things:
Looking for new projects with great communities that take off (Lazy Lions, SupDucks, Doodles, etc.).
Looking for establish projects that are somewhat within their price range.
Back in September, I wrote an article about the five best NFT projects under 0.25. Since then, a couple projects from that list have taken off. Today, I'm going to give you my six favorite NFT projects under 0.2 ETH.
Okay, now that I'm done writing a lengthy preamble that most of you likely skipped (don't feel bad, I do it too when I read listicles), here's the list.
Alien Boy (Current Floor: 0.07 ETH, My Holdings: 3)
Alien Boy has the makings of a top-level project, but every time it runs, the floor falls back down. The founder, Georgie Boy, is a coding genius who creates dynamics that no other project has, like the ability to actually name your Alien Boy.
Fang Gang (Current Floor: 0.1 ETH, My Holdings: 0)
I hold zero Fang Gang, but the art is super fun and I see a lot of Fang Gang profile pictures on my Twitter timeline. And truthfully, I just kinda dig the vibe. They had a free+gas companion drop which were pixelated versions of the Fang Gang, and they celebrated that drop with a fun web browser game. The game feels like old school NES, so it's right up my ally.
Goatz (Current Floor: 0.07 ETH, My Holdings: 6)
This one was on the list back in September. Since then, my conviction about Goatz has only gotten stronger. The community is really starting to rally and create a welcoming culture, the game theory and deflationary mechanics continue to be fun to play along with, and they dropped an adorable companion in Kidz.
Dapper Dinos (Current Floor: 0.12 ETH, My Holdings: 0)
Good founders are the bedrock of any project, and the Dapper Dinos founders have shown they can handle adversity. A contract hack that could have derailed the project when it dropped was not only avoided, they did extra work to ensure they completed the drop right. Plus, this project is loosely tied to Gary Vaynerchuk, so you know he's invested in its success.
This project has a great founder in Zeev Klein and continues to provide giveaways, regular poker tournaments with real cash prizes, and great in-person events to token holders. The value for holding a single card can be recouped by simply being active and taking advantage of any of these benefits. To me, this one is a no-brainer for my collection for that reason, plus I love the art.
NBA Top Shot (Current Floor: $2 in fiat, My Holdings: 317 moments)
Look, 0.2 is currenly $840 in US currency, and that goes a long way on NBA Top Shot. You could start an account and complete both the Hustle and Show Series 2 set and Summer of '21 Series 2 set for that amount of money. With a little more investment you can also complete The Gift Series 2 set. That's just one way to spend it, too. You could look at some rare moments, moments from your favorite team, or just keep it in your account and rip packs as they come out.
Bottom Line
Getting started in NFTs is difficult and expensive, so as the tweet at the top of this article alludes, those less inexpensive projects are likely to see a bump once more people enter the market. That bump will provide money to the project founders, bring in new community members, and could lead these projects to a higher value for token holders.
Disclaimer: This article is not financial advice. The NFT and Cryptocurrency markets are very volatile. Please don't invest what you can't afford to lose. Always do your own research before investing.