Last week, I wrote an article about what I look for in an NFT project before I invest. This week's Jenkins the Valet: A Project You Need to Know About covers every single base (and then some). Let's dig in.
What's the project?
Jenkins the Valet is a character built around one of the Bored Ape Yacht Club apes. The team behind Jenkins (and it's a powerhouse team…more on that below) took that creative energy and is channeling it for something we haven't seen in the NFT space yet. They plan to create the world's first community generative full-feature book.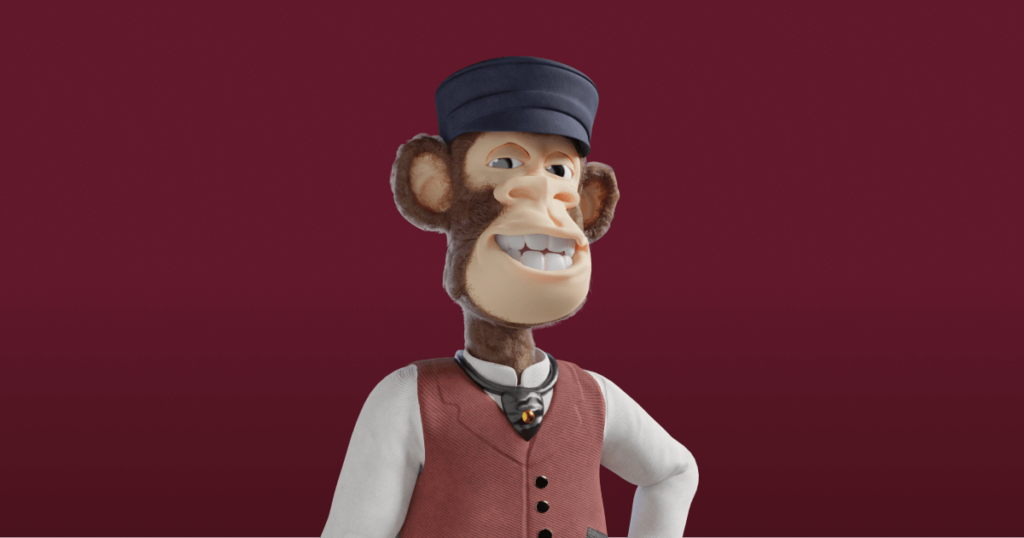 Start to finish, token holders will have creative direction of the book….from voting on the genre of the story to various parts of the storyline. Additionally, token holders of various levels will have the chance to have their NFTs featured as characters in the books. Now it's limited to apes, but they're talking with other avatar projects to try and bring them into the fold. Jenkins doesn't plan for this to be the last book they write, either. The hope is to continue a series of books. It's unclear if it'll be a linear storyline (please be a linear storyline!) or an anthology, but regardless, this project is something brand new with high ambitions.
Why I love this project
As always, this isn't financial advice, and do your own research. My opinion isn't the be-all-end-all, but I'm a big fan of this project. Off the top, before you even dig in, just look at the team. It's full of well-known people in the community, so in addition to their collective brain power, I feel confident this isn't a rug pull. As I mentioned in the article last week, the founder (or in this case, the team) is the top thing I look at in a project. For me, this team is a homerun.
The second thing I love (and probably what I love most) about Jenkins the Valet is it's one of the first decentralized projects to truly take advantage of a major benefit of our avatars – full commercial rights. Simply put, Jenkins the Valet is harnessing the power of those rights through storytelling and is building a brand which could create greater value for any avatar included in the story. Imagine you owned the rights to Katniss Everdeen or Bugs Bunny. If there weren't stories built around them, nobody would care. But their lore and cannon make them priceless characters with valuable intellectual property rights.
The last thing I'll put in as a reason to love this project is it's doing something new. In a sea of sameness, this one stands out with its ambitious undertaking – crowdsourcing a book – while building a community. As a person who loves the NFT history all we're building together, I want to be along for the ride of this part of history.
What are the drop details?
The drop is on Wednesday, August 4, at 7PM EST (11PM UTC). There will be 6,942 total tokens, at a mint price of 0.069420. Minting will take place directly on the website. There are four levels of rarity with different benefits, all based on a blind/random mint. With that said, all token holders will receive:
Access to the Writer's Room to vote on creative direction
Opportunity to license a Bored Ape if you own one in exchange for licensing fee
Fraction of final 1/1 book via partnership with Fractional.art
Physical copy of final book (I'm a sucker for physicals so this alone makes it worth it for me)
Access to a Writer's Room in the Metaverse (first one is in the Real Estapes Sandbox plot)
Opportunity to license other avatars in future stories
Opportunity to control creative direction for future stories
Access to exclusive Writer's Room and Yacht Valet merch
Those are the base benefits. If check out the website, you'll see how the benefits go up (including extra votes in the Writer's Room) with more rare tokens. For reference, the four levels of rarity are:
69 yachts (0.99% chance)
297 valet stands (4.28% chance)
1371 yacht keys (19.75% chance)
5205 valet tickets (74.98% chance)
Jenkins…fetch my car…I need to ready some ETH
Full disclosure – I plan to mint a few of these this week, so I guess to some degree, I'm pre-pumping my own bags here. And, if the floor skyrockets, it's certainly possible I'll sell a couple to cover my investment (but not my entire position). I also think it's worth saying I'm a terrible flipper and a solid long-term investor. Long-term value is what I look for, and this project has major potential in that area.
Disclaimer: This article is not financial advice. The NFT and Cryptocurrency markets are very volatile. Please don't invest what you can't afford to lose. Always do your own research before investing.