When it comes to the true trailblazers of Web3, it's safe to say that there are only a handful in existence. Intuitively, the likes of Bitcoin and Ethereum are the leaders in the blockchain race, whilst on the NFT side of things, Blue-Chip empire Yuga Labs most certainly takes top spot.
Of course, things aren't as simple as just blockchains and subsequent projects being built on them, as in reality, the Web3 space is driven by a whole host of other markets, economies, and innovations. For example, one of these areas is venture capital (VC), which, in the context of Web3, has been led by American firm Andreessen Horowitz (a16z) thus far.
Other examples of Web3 developments include blockchain gaming, decentralised finance (DeFi), decentralised apps (dApps), decentralised oracles, decentralised online identities, Web3 governance (DAOs), privacy and security, and more.
In getting to the premise of this article, there are also several entities dipping their fingers into a number of these 'Web3 pies' – with perhaps the most notorious of these being Hong Kong-based game software and VC company Animoca Brands.
Animoca Brands
Animoca Brands was co-founded in 2014 by Yat Siu and David Kim, with its initial focus being pointed towards mobile game development. However, come 2018 – i.e., when bullishness for Web3 began to build momentum – the company then switched its focus towards blockchain gaming and NFTs.
For the large part, the company's Web3 journey began with adding a blockchain spin to its pre-existing game 'The Sandbox' – which, as you'll all already know, is one the leading metaverse platforms of today. To do so, it raised $2.5 million in funding, with another $2 million being raised from investors such as gaming giant Square Enix and B Cryptos.
With regards to its Web3-related acquisitions and partnerships, the company first acquired digital collectibles marketplace Quidd back in August 201 for $8 million. This was then followed by the company leading a $1.5 million funding round for blockchain gaming developer Sky Mavis – i.e., the creator of Axie Infinity.
In 2020, Animoca Brands then went on to launch the 'REVV' token, which, to this day, serves as the native coin to the flourishing blockchain gaming ecosystem 'REVV Motorsport'. In the years following, the company has launched, partnered, and funded a whole host of other Web3 projects. Here are some of the most notable talking points from the past year or so:
Led $5.5 million seed funding round for guild management platform Infinity Force (2022).
Partnered with the 'Play Magnus Group' to launch blockchain-based chess games across multiple platforms (2022).
Led $10 million funding round for NFT platform 'Ucollex' (2022).
Partnered with 'Planet Hollywood' to create the mass 'MetaHollywood' NFT collection.
Led $3.5 funding round for NFT innovator 'Metakey' (2022).
Acquired Prague-based gaming company 'Notre Game' (2022).
Launched 'Cool Cats FC' NFT collection in collaboration with Cool Cats and OneFootball Labs (2022).
Such list comes without mentioning the countless endeavours of its subsidiaries and games – such as The Sandbox, nWay, REVV, Grease Monkey Games, TinyTap, Crazy Defense Heroes, Crazy Kings, Blowfish, MetaHollywood, GAMEE, Pixowl, Fort, Lympo, Animoca Brands Japan, Deden Games, Darewise Entertainment, Be Media, WePlay Media and more.

The list also omits the company's more trivial (albeit innovative) projects, such as its launch of NFT bikes with 3D printing startup Arevo, or its teaming with OliveX to launch an allowlist campaign for move-to-earn blockchain game 'Dustland Runner'.
In-fact, Animoca Brands has literally countless iterations of such small-scale projects, where throughout so, it has utilised the intellectual properties (IP) of household names such Disney, WWE, Snoop Dogg, The Walking Dead, Power Rangers, MotoGP, and Formula E.
In turn, and with hefty investments from the likes of Ubisoft, Sequoia Capital, SoftBank, Temasek, Mitsubishi UFJ Financial Group (MUFG), and GGV Capital (amongst a flurry of others), the company was valued at $6 billion in August 2022.
Such valuation is of-course bolstered by the company's 380+ (and growing) investment portfolio, which includes shares in Colossal, Axie Infinity, OpenSea, Dapper Labs (NBA Top Shot), Yield Guild Games, Harmony, Alien Worlds, Star Atlas, and more.
The Launch of Mocaverse NFTs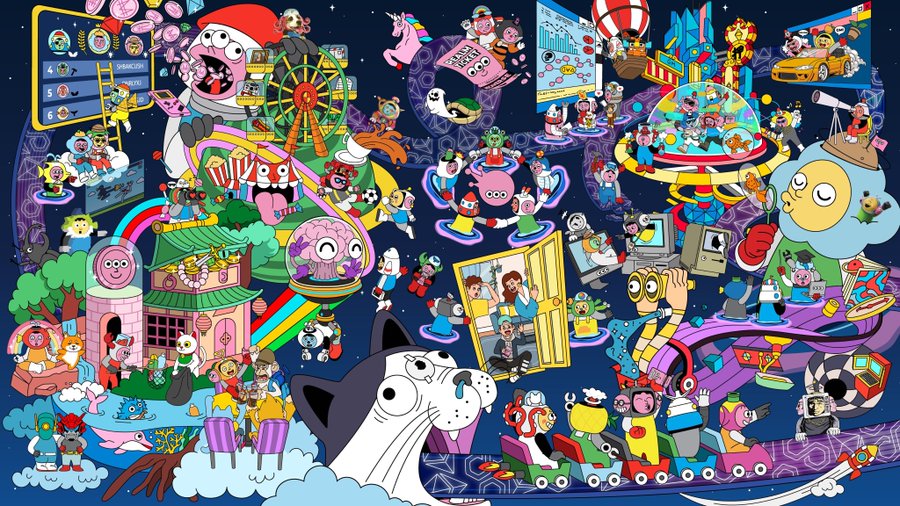 More recently, 2022 closed with the multi-billion-dollar entity joining the 'Open Metaverse Alliance' (OMA3) alongside the likes of Yuga Labs and Dapper Labs, in an effort to develop the standards for an open and interoperable metaverse.
Perhaps more poignantly, the year's closing days also saw it unveil a $2 billion metaverse fund called 'Animoca Capital'. Through using such capital, the company then announced 'Mocaverse,' a new metaverse ecosystem which offers community members the chance to foster, challenge and cultivate new values and ideas.
In general, Mocaverse represents the shared values and ethos of Animoca Brands and its portfolio subsidiaries and partners – which in turn means that it's designed to strengthen such ecosystem of Web3 projects, wider portfolio names, cross-project collaborations, and the other forms of utility found across the Animoca Brands ecosystem'. As previously explored, these sectors can include blockchain gaming, eSports, NFT marketplaces, crypto, or any other more niche area of Web3 innovation.
The world is centered around 'four main categories of utility' which 'represent the collection's core pillars; learn, play, build, and do good'. Here, each realm serves as a place for users to 'exchange ideas, seek new knowledge, and grow as a community' – where to do so, Mocaverse serves as an intersection where the 'best builders, thought leaders, and early adopters' can come together to 'innovate, create, and grow a supportive Web3 community'.
"We are delighted with this strong start for the Mocaverse, an exciting milestone for Animoca Brands. The interest and support emphasizes the power of community and shared values in Web3. Mocaverse NFTs are not only unique profile pictures, but also a gateway to the ever-growing Animoca Brands Web3 community of individuals, companies, and projects that share our values and vision for the open metaverse. By bringing together like-minded enthusiasts, we want to build a better Web3 industry for everyone."

Co-Founder and Executive Chairman of Animoca Brands Yat Siu
Mocaverse NFTs
As ever in the Web3 community space, membership to the Mocaverse ecosystem is denoted through ownership of a Mocaverse NFT.
Further, a total of 8,888 Ethereum-residing PFP NFTs hit the blockchain back in March, with each depicting a unique member of the Mocaverse's 'Mocas' population (with each having a unique semblance of 20 traits, including arms, background, cheek, dialogue, eyes, face color, hair, head middle, head top, left hand, mouth, name, nose, prop, right hand, shirt, special tool, suit, vehicle, and tribe).
The final trait here is of most importance, as each NFT character comes pre-inscribed into one of the following 'tribes': Dreamers, Builders, Angels, Connectors, and Neo-Capitalists.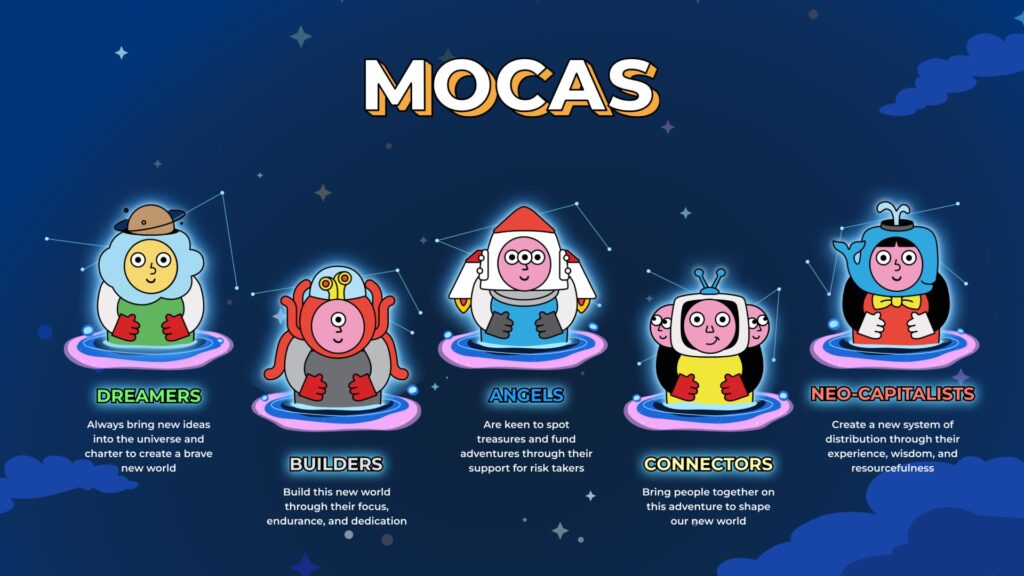 As their titles suggest, each tribe symbolizes the 'diverse yet complementary personas of changemakers in Web3'. Further, through such a societal system in which the world adopts, each tribe is led by one (or multiple) of its brand ambassadors.
This includes serial entrepreneur Jaeson Ma (Dreamer), BDE Ventures founder Brian D. Evans (Connector), Sky Mavis co-founder Aleksander Larsen (Builder), The Sandbox co-founder Sébastien Borget (Builder), NFT Whale collector WhaleShark (Angel), and VC fund Liberty City Ventures (Neo-Capitalist).
When it comes to the actual utilities of a 'Mocas' NFT, they grant holders with access to an array of perks that refer to the collection's pillars, including 'learning' tools such as expert AMAs and masterclasses, 'playing together' experiences through game passes and exclusive in-game assets,' 'building together' opportunities such as 'accelerator programs,' and chances to 'do good' by getting involved in social and community causes.
The 'MocaMint'
March saw the mint of the Mocaverse's first NFT installment. Going by the name 'MocaMint,' the event saw all 8,888 of PFP NFTs join the hands (or crypto wallets) of the company's many supporters, shareholders, employees, partners and investors etc. In wake of a successful mint, Animoca Brands stated that the collection's first 48 hours of activity amassed 3,552 ETH (or approximately $5.5 million) worth of sales volume.
At the time of writing, the collection has garnered 7,595 ETH (approximately $13.5 million at today's ETH price) worth of secondary sales on OpenSea, with its floor price sitting at 0.715 ETH (around $1,270). Such price is in-fact a huge drop from the collection's post-mint floor price-peak of 1.745 ETH.
For now, the project's several 'tribe versus tribe' contests/votes come as part of its long term roadmap – however, per the words of the Mocaverse Twitter account, it is "no ordinary roadmap" due to the fact that it isn't linear in nature, but rather, "is everything, everywhere, all at once (almost)".
For example, in wake of issuing cryptic clues, Animoca Brands – or perhaps Animoca Capital – transferred 1.5 million ApeCoin ($APE) into the MocaApe.eth wallet back in March. Intuitively, this was done to not only allow the project to gain voting power to the Yuga Labs-powered ecosystem, but to also strengthen the relationship between both industry-leading communities.
With the project opting for an exciting 'cryptic' route when issuing its future plans, it's since tasked those interested to inspect the following image in order to decode what's to come in the future.