In April, I was fortunate to have the opportunity to present on the main stage at NFT NYC about brands in web3. It's a topic I'm quite passionate about because it's where my past, present, and future all come together.
It lets me combine my experience leading marketing and communications disciplines at Fortune 500 and multinational companies with my current work in Web3. It also happens to be the topic of a book I'm coauthoring with Scott Duke Kominers, where our goal is to reach businesses, big and small alike, to demystify NFTs and show them how this novel technology can make sense for their respective companies (link here if you want to learn more about that).
Recently NFT NYC released the video of my talk on its YouTube channel, so I decided it would be worth sharing some tips from the talk, which was intended to be informative and actionable for businesses consider jumping into NFTs.
Here are four questions you should ask yourself if your company is considering using NFTs for your business, with examples of brands that have done it well so far. And, if you prefer audio/video, I've embedded the 10-minute talk below.
What's the Brand Purpose?
Just like any other tool, the NFTs should strategically fit your brand. Starbucks is a great example of this with what they're doing with Starbucks Odyssey. For disclosure purposes, I work as the Community Lead for Starbucks Odyssey, but I don't speak on behalf of the brand, and my observations here are from another "hat" I wear as a market commentator. I've long been a fan of the coffee company's Web3 strategy, and even wrote an article about my excitement for Starbucks Odyssey prior to coming on to the team.
Starbucks has more than 30 million people in its customer loyalty program, and its mobile payments and rewards system is so strong that some Wall Street experts have suggested they spin the technology off and sell it. So, when the world's largest coffee brand decided to jump into NFTs, using the new technology for an experiential loyalty and rewards platform just made sense.
I won't go over all the details of the program, you can read them straight from Starbucks here, but the important part is they thought of how the tech logically plugged into their company strategy. They considered how it made sense for current and future customers and added elements to make it uniquely their own. While I respect all big brands that have dipped their toes into NFTs, too often the products they emerge with feel completely disconnected from their brand. You wouldn't start a social media account for your company with a different brand voice and brand colors, so don't do it in Web3.
Does the Blockchain Solve a Problem?
Don't look at NFTs as a novelty, look for where they can account for existing market failures. Think about where they can provide a more efficient process for something the market actually needs. In 2022, DraftKings rolled out its Reignmakers platform, which cleverly combined daily fantasy sports with traditional season-long fantasy sports.
If you're not familiar with daily fantasy sports, to play, you create a different lineup of players for each individual contest. The players you pick are only used for that contest, and you can form different lineups with near infinite combinations of players in each contest.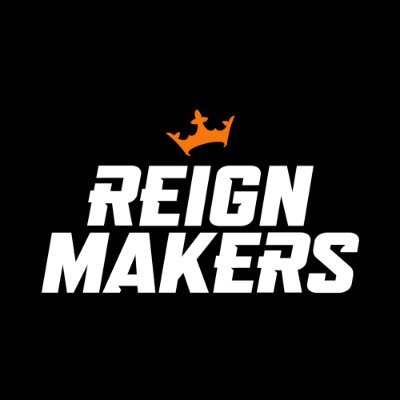 Reignmakers combines that with season-long drafts, where you have one draft and hold your players the entire year, by having you buy packs that, once opened, reveal randomized player cards. You then have the choice to hold onto those cards and play them each week in contests for cash and prizes or sell the cards on the open market to someone who wants to gamble on those contests. It creates a nice game theory, and is enhanced by making the packs and cards NFTs.
For Reignmakers, DraftKings used NFTs as a single software solution which does the job of several database and trading systems. It allows them to introduce their customers to digital ownership, while getting a tradable asset that is securely and transparently bought and sold on an open market. The world will decide if there's demand for this new version of fantasy football, but regardless, the blockchain was a better software solution for this program.
Do You Have the Right Partners?
Partnering smart is mission critical at the current stage of NFTs. Until we have WordPress-like solutions in Web3, the right advisors, consultants, and partners can make or break an NFT program. Tiffany & Co. did this very well when they released 250 digital necklaces for $50,000 each in a program they called NFTiff. The purchase of an NFTiff included a digital and physical diamond encrusted necklace of the buyer's NFT. The jaw-dropping price may have scared people if they had not made the decision to exclusively sell them to the CryptoPunks community.
CryptoPunks are a high-end historical NFT brand with an affluent holder base, and at the time the Tiffany & Co. NFT dropped, it cost more than $150,000 to get a CryptoPunk. From a target market fit perspective, anybody who has made the decision to not sell a six-figure NFT likely can afford a $50,000 NFT which comes with a physical element that speaks to their identity as a holder.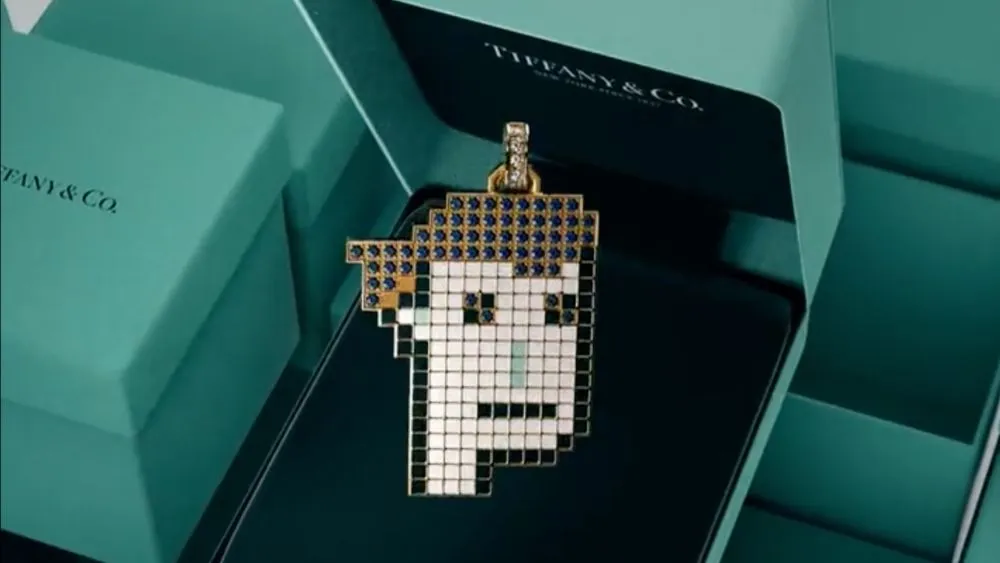 From a branding perspective, having the product exclusive to a high-end community ensured that the pricy chains would only have expensive NFTs on the final product, keeping the luxury feel of Tiffany & Co. The exclusivity and choice of partner with CryptoPunks ensured that it didn't just sell out, they had more demand than the 250 supply.
Adidas also partnered extremely well when it launched its Into the Metaverse line in December of 2021. The world's second largest footwear brand utilized the help of two of the hottest NFT companies at the time, Pixel Vault and Bored Ape Yacht Club, as well as Web3 fashion disruptor GMoney. In addition to the instant credibility the partnership gave them, they curated an immediate community by giving people holding those collections the right to buy the Adidas NFTs. They also had the advantage of gaining access to the best developers in Web3, so when the site had an issue upon launch, it was fixed in short order.
How Are You Going to Market?
Knowing your target market for your product is important, and Web3 is no different. Reddit showed this when they sold more than $5M worth of profile pictures (PFPs) to its users in just a couple of months. What made these numbers particularly noteworthy is that most of the buyers didn't even know they were purchasing NFTs. The digital collectables were bought and sold using a Reddit custodial digital wallet and could be purchased with a credit or debit card.
Reddit knew there was a market for real ownership of PFPs on a website where that is your digital identity, and thus they did what was necessary to avoid the tech barrier of purchase and focused on what their customers needed. They knew their community didn't want to hear about the blockchain, Web3, or NFTs. They were happy to buy a PFP they could call their own, and eventually sell if they decided to move on to another PFP.
Just as is the case in any other product marketing, go-to-market strategy is not "one size fits all." The inexact, not-to-scale chart below shows where each brand I've mentioned thus far falls in how they went to market to start their NFT journeys. Each one has a different approach with price and target consumers, splitting up NFT native and non-NFT native audiences.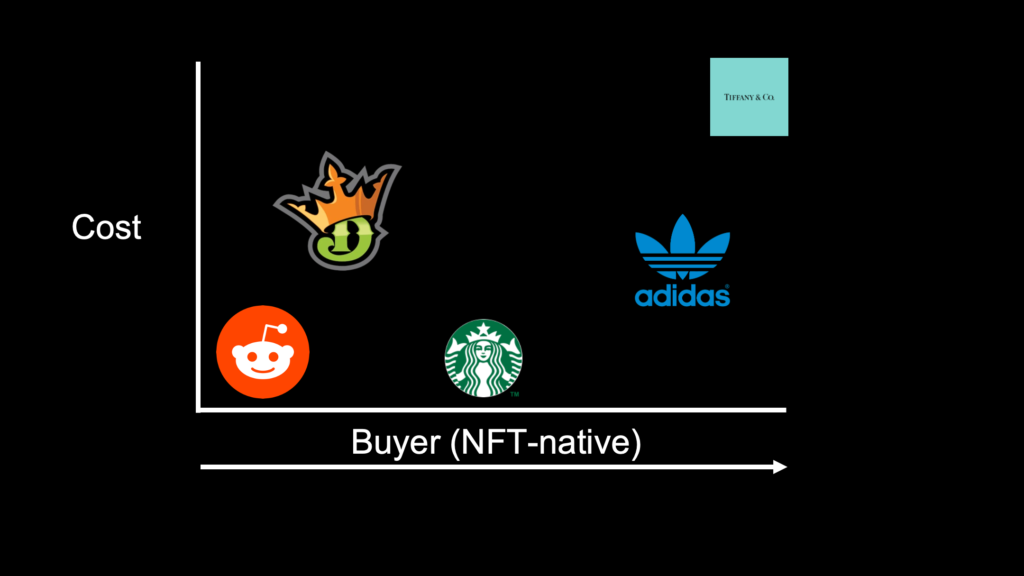 Bottom Line
When your company is considering entering Web3, asking yourself the four questions above will give you a leg up and allow you to ensure your strategy is grounded in the proper insights for your brand. NFTs can fundamentally disrupt a variety of industries, so as brands dive in, it's imperative they have a strong foundation in their approach.